10/20/30 PowerPoint Rule: Relevant or Irrelevant?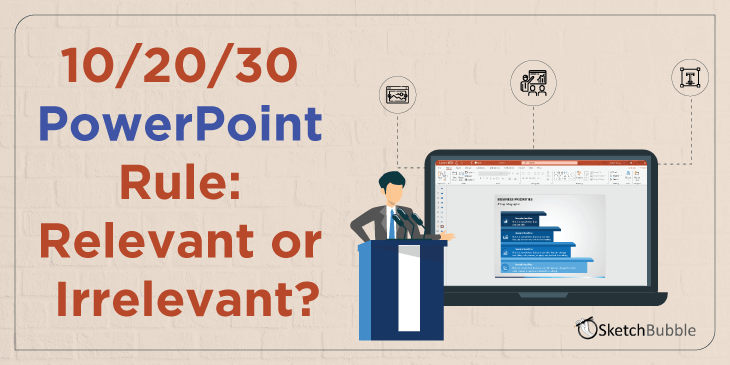 You may have attended several meetings and conferences and have seen several speakers using different presentation formats. And after attending these presentations, you might be wondering how a perfect PowerPoint presentation looks like. Does that sound familiar?
Well, several books and articles have been published to educate the readers about how to create an effective and creative presentation. But they don't talk about any standard or universal format to make engaging presentations. To help presenters win more clients with their presentations, Guy Kawasaki introduces the 10/20/30 rule that helps structure and organize your business and marketing presentations and provides them a unified design and layout. 
Let's dig deeper into this rule!
How the 10/20/30 Rule Came into Existence?
After listening to hundreds of pitching ideas from entrepreneurs to get funds for their businesses, Guy Kawasaki, a former member of the original Mac team at Apple and currently working as the Silicon Valley venture capitalist, concluded that most of the pitches were crap. So, he thought of creating a universal presentation rule to help entrepreneurs pitch more effectively to venture capitalists. He came up with the 10/20/30 rule that completely transformed the PowerPoint presentation.
What Exactly is the 10/20/30 PowerPoint Rule?
The 10-20-30 rule states that a presentation should not have more than 10 slides, which must be presented within 20 minutes, and the font size should not be less than 30 points. By applying this rule, you can make your presentations more direct, memorable, and winning.
Check here what Guy Kawasaki has to say about his 10/20/30 rule.
The Rule in Detail:
10 PowerPoint Slides
The audience tends to pay more attention to the crisp, short, to-the-point, and visually engaging presentations. So, don't bombard them with too many slides. According to this rule, 10 slides are enough to convey your message in a compelling manner. But refrain from stuffing these slides with heavy content.
Guy Kawasaki proposed the following 10 slides for the venture capitalists:
Title – As per the topic, provide a suitable name/title to your presentation.
Problem/Opportunity – Illustrate the opportunities that you are providing or the pain points you are resolving.
Value Proposition – Explain the value that you will be delivering through your solutions.
Underlying Magic – Explain the secret recipe of your product or the technology you are using to make the difference.
Business Plan – Describe where you want to take your business and how.
Go-to-Market Plan – Explain the marketing strategy that you will implement to take your product to the market.
Competitive Analysis – Showcase the strengths and weaknesses of potential and current competitors.
Management Team – Showcase the key members of your management team, such as the Board of Directors, advisors, investors, etc.
Financial Projections and Key Metrics – Explain future revenues and expenses as well as key metrics to measure financial performance.
Current Status, Accomplishments to Date, Timeline, and Use of Funds – Explain the achievements, current status of the product, and how the money will be utilized.
20 Minutes Presentation
As the attention span of the audience is narrowing, the presentation should not last more than 20 minutes. The lengthy presentations will make your audience lose interest. A 20-minute speech, on the other hand, will help the presenter include only relevant and important information and deliver the presentation with precision and efficacy.
The perfect 20-minute presentation is structured this way –
Introduction – 1 minute
Talk about the problem/ask a question – 4 minutes
Main body – 13 minutes
Conclusion – 2 minutes
Watch how beautifully Sir Ken Robinson, a British author, speaker and international advisor on education, summed up his presentation within 20 minutes.
30 Font Size
More text is more convincing – it's a myth. Keep the size of the fonts 30 in your presentations to include only important points. A font size lesser than this will negatively impact the readability. Contrary to this, the font size of more than 30 will compel the audience to focus more on what has been written on slides than what is being said.
Is the 10/20/30 PowerPoint Rule Relevant in Today's Context?
Though this rule has been criticized by many people who have a habit of loading the slides with loads of text, this rule has been highly appreciated by marketers for creating a powerful presentation. 
Each element of this rule works in tandem with other elements. Including 10 slides means you need to include only relevant points. A 20-minute time helps you deliver only important information. 30-point font lets you inculcate key points. In a nutshell, the rule emphasizes on keeping the audience hooked through the valuable information that they want to take away.
What's your opinion about this rule? Do let us know your thoughts in the "Comment" section. If you like the blog post, do share it on your social media handles.