12 Keynote Tips to Deliver an Outstanding Presentation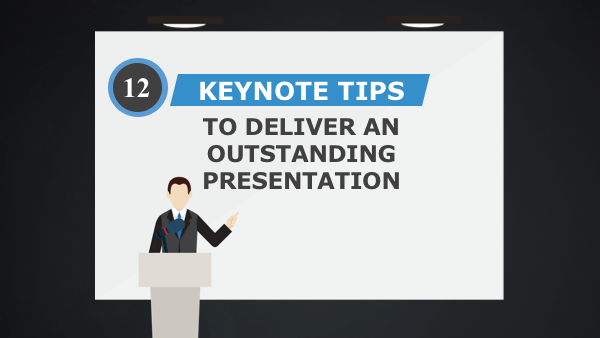 If you have a Mac or work with the iWork productivity suite, then you must already be familiar with Keynote. The tool is developed by Apple and lets us create visually appealing presentations pretty easily. In the world of PowerPoint and Google Slides, you can simply stand out by taking the assistance of Keynote.
To help you achieve the same, we have come up with this informative guide. Keynote allows us to include numerous themes in a single presentation and control the slideshow remotely. Read on and learn how to draft a stunning Keynote presentation by implementing these suggestions.
1. Make fast edits with Master Slides
Too many times, we make a lot of effort to edit each slide separately when we need to apply an identical change everywhere. This is exactly when a master slide can help you. Any change on the master slide will automatically be reflected in the entire presentation.
You can go to Keynote toolbar and click on the "+" button. From here, you can add a master slide and later place it wherever you want. Modify the master slide as per your needs and click the "Done" button on the slide canvas to apply these changes everywhere. Furthermore, you can go to View > Guides > Show/Hide Master Slides to make the master guide visible (or invisible) to your viewers.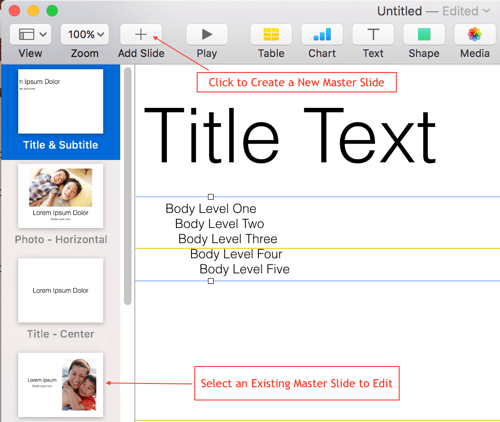 2. Set ruler and alignment guides
Too often, users find it hard to create a uniformly designed presentation. To make sure that all the slides look symmetric, you can set ruler and alignment preferences for Keynote. Simply go to Keynote Preferences > Rulers to access this feature. You can set rulers in inches, cm, points, etc. This will also let you know how the page will look after getting printed as well.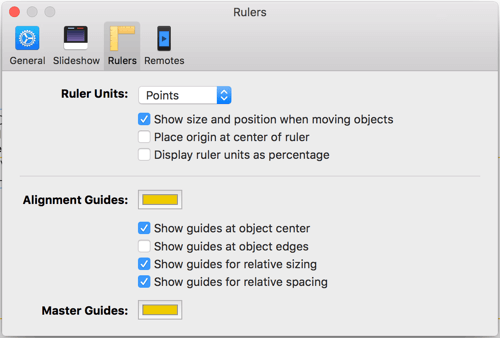 Afterward, whenever you place an object outside the ruler, you will be notified. Designers usually set ruler ratio in percentage to make sure everything is uniformly placed. The overall design can further be improved with the Alignment guide. You can view alignment related to the canvas center, edges, relative sizing, and relative spacing. The feature can also help you divide your canvas to design it in a better manner.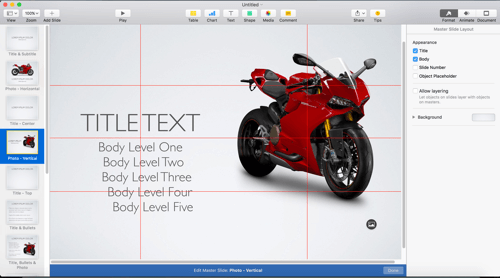 Once the designing is finished, you can get rid of guides by visiting View > Guides and selecting "Clear All Guides".
3. Add a Magic Move transition
Apple has certainly worked on minute details while developing Keynote. One of the best ways for transitioning from one slide to another is by adding a parallax-like effect. This can be implemented by using the Magic Move transition. It also makes our presentation more interactive and appealing.
In order to attain the magic move transition, you need to duplicate the slide and rearrange the elements. While it might seem a little tedious in the beginning, you can surely master it in no time. Here is an informative tutorial that can help you add the magic move transition to your presentation.
4. Use animations for transition
Another cool way of transitioning between different slides can be done by adding animations. Keynote has tons of animations that can readily be used. You can also copy and paste animations or format them easily. Though, to make your presentation look uniform, you should use a single animation for every transition (even when you would be tempted to use all of them).
Select any slide and go to its sidebar. In the Animate section, you can choose to add effects for the transitioning of the slide.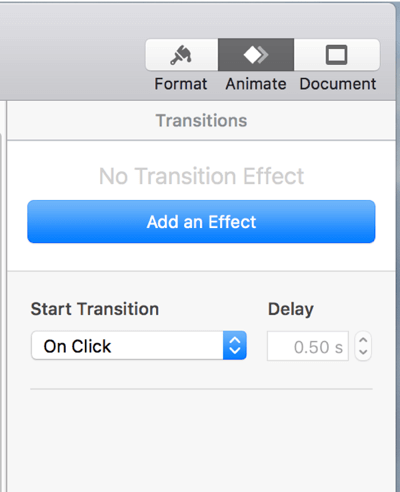 You can also go to the Format menu to copy and paste the animation on a slide. Keynote fully supports all the major types of animations and will let you work on them freely.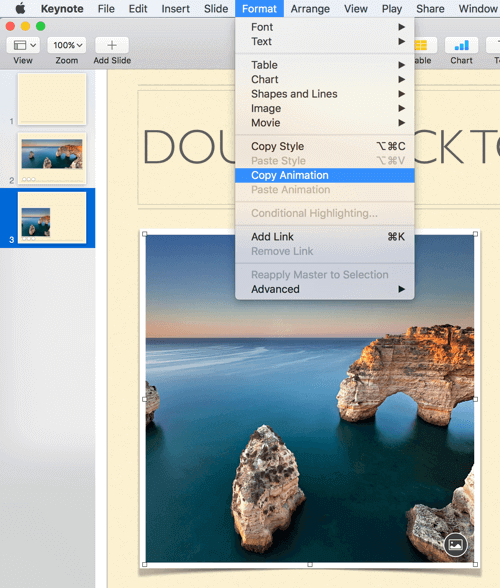 5. Play with themes
Keynote has got tons of advanced features to make your slides visually stunning. If the presentation is pretty lengthy, then your audience can lose their interest in between. To avoid this, you can categorize your presentation by applying different themes. If you want, then you can have a different theme for every slide.
There are several options for themes that Keynote provides. Simply select the slide and click on the "Change Theme" option. Though, you need to make sure that the presentation doesn't have any master slide to apply different themes.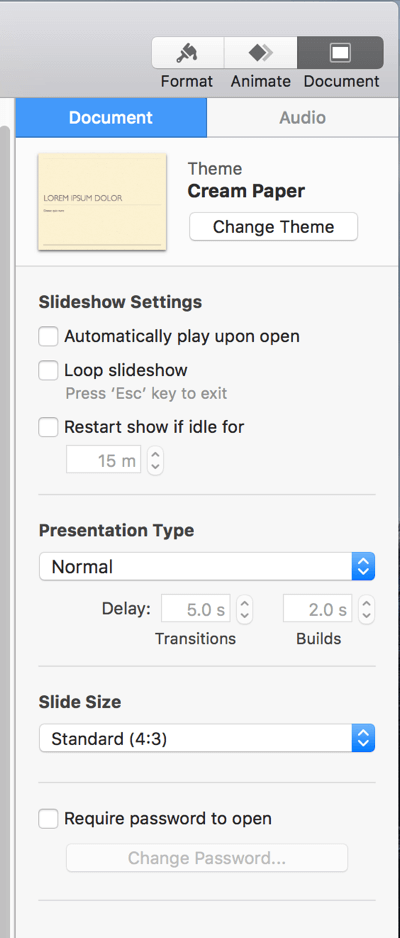 6. Edit videos without using any other tool
We all know that almost all the popular presentation tools support videos. Though, you can only add videos in most of these tools and can't edit them as per your requirements. Thankfully, Keynote can help you make small edits in the imported videos to let you save your time. Simply select the video and go to its sidebar. From here, you can set the start and end time for the video, trim it, change the poster image, and do so much more.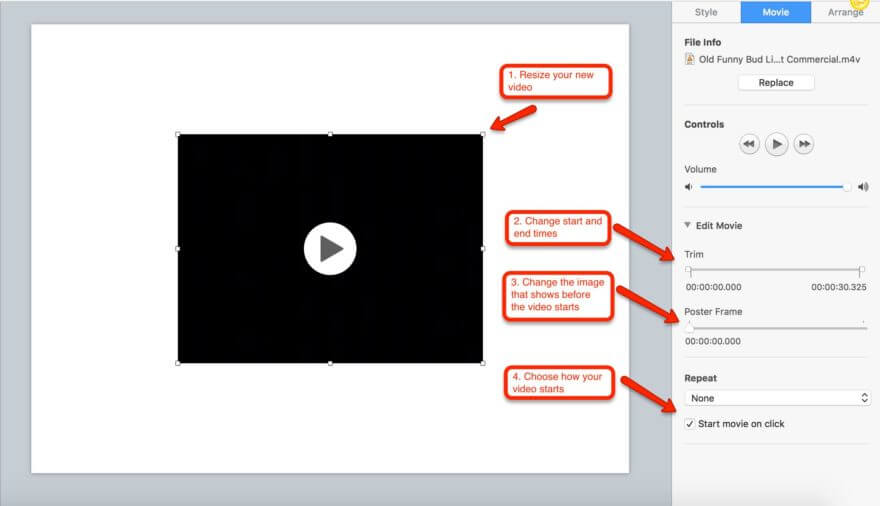 You can even make some amazing video edits by using Keynote's native interface. For instance, did you know that you can create a video overlay effect using Keynote? Have a look at this tutorial to learn the same.
7. Work on pre-designed templates
If you want to make sure that your audience would remember your Keynote presentation for a long time, then take the assistance of professionally designed templates. You can easily alter these HD templates and work on a remarkable presentation without spending a fortune or investing your precious time. SketchBubble has a wide range of Keynote templates as well that are designed by experts and are easy to edit and deploy.
8. Include stunning charts and graphs
Keynote also provides a fast and hassle-free way to add aesthetically pleasing charts and graphs on any slide. You can access the feature from the "Charts" option on the toolbar and choose to add 2D, 3D, or interactive charts. Later, you can edit the chart or alter it as per the provided data.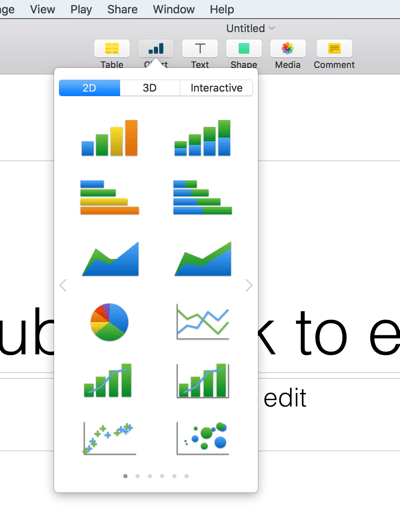 You can walk an extra mile to make your imported charts even more appealing. For instance, you can add special effects to 3D charts by watching this informative guide.
If you want to create donut pie charts that are unlike those run-of-the-mill pie charts, then you should go through this quick tutorial as well.
9. Export Keynote to different formats
Since not everyone out there uses Keynote, you might need to convert your document to different formats. This will also let you run your Keynote presentation on other systems that don't have the software installed. To do this, simply go to File > Export and select the target format. You can export your Keynote file to a PowerPoint, PDF, HTML, and a few other formats.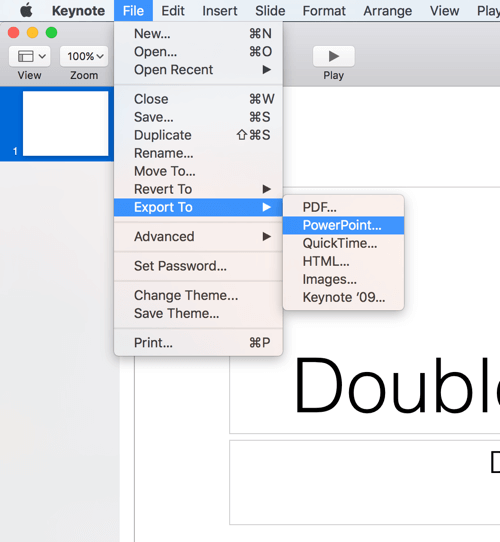 10. Outline your presentation with zero distractions
Every artist knows that creativity can strike anytime. Chances are that you might think of a brilliant idea while working on a project. Keynote has an Outline Mode that can let you write pointers quickly without any distraction related to designing. The interface has four viewing modes. The navigator mode is the default one that lets us design a Keynote presentation and add our content.
Though, you can change it by visiting the View option and selecting the Outline mode. The interface will be changed instantly, letting you add pointers and the outline of the document that can later be used for reference.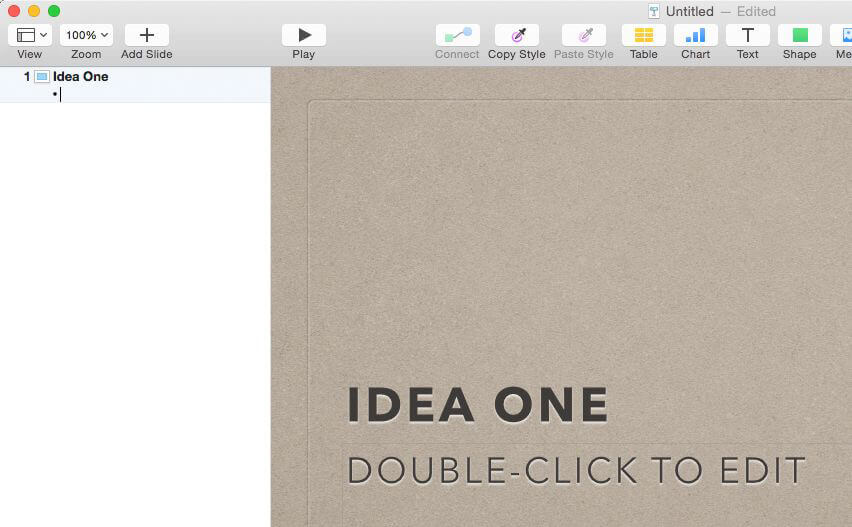 11. Record slideshow for playback
If you own a YouTube channel or are making a presentation for educational purpose, then this trick will be of a great use to you. All you need to do is visit Play > Record Slideshow to start recording. The interface will alter a bit and start recording the slideshow of the presentation. You can stop it anytime you want. As you stop it, the red recording icon will be disabled.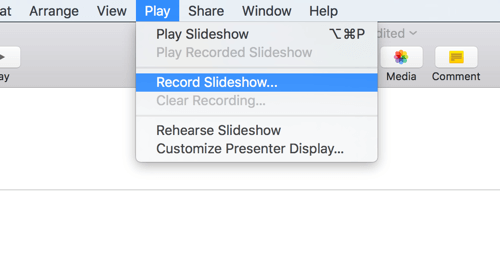 Furthermore, you can customize the recording as well and make some changes. Before you start recording, go to Play > Customize Presenter Display. From here, you can change the layout, timer, and make other adjustments. By default, the inbuilt microphone of your computer would be used. To change (or test) it, you can go to System Preferences > Sound.
12. Control the slideshow remotely
This trick will certainly impress your audience and let you control your presentation from your fingertips. If you have Keynote 6.1 (or later versions) on your Mac, then you can use your iOS device (iPhone, iPod Touch, or iPad) to control your presentation remotely. To do this, launch Keynote on both the devices and make sure they are wirelessly connected. Now, go to the Preferences option on your Mac's Keynote. Under the "Remotes" option, you can choose to link your iOS device.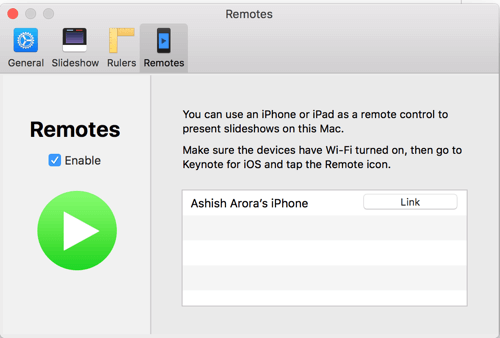 A one-time code would be generated that needs to be verified to build a secure connection. Once the iOS device is connected, you can use it as a remote control to play the presentation and switch between different slides.
Besides controlling the flow of the presentation, you can also make annotations, doodles, and marks as well that would be reflected on a real-time basis.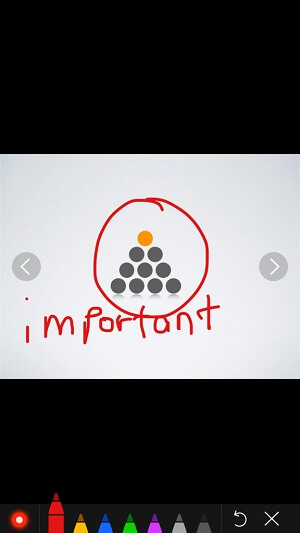 We are sure that after getting to know about these Keynote hacks and tricks – you would certainly be able to use this incredible tool at its best. If you are familiar with some other expert Keynote tips that our readers should know, then feel free to drop a comment below and share your feedback with the rest of us.