5 Good Reasons to Incorporate Videos in Your Upcoming Presentations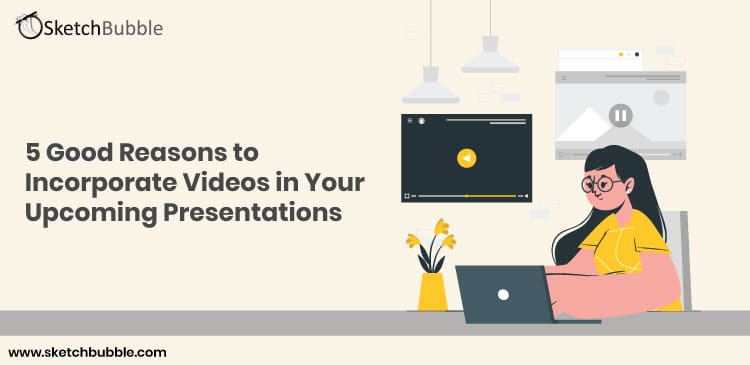 Let's go back to the school/college days and recall the worst and best lectures you have had! How much did you remember from the class where the teacher/professor droned on for one hour? Probably not much. Contrary to this, you still remember a lot from the class where the lecturer used interesting images, graphics, visuals, animations, and videos to deliver lessons. Isn't it? How about applying the same concept to your presentation to engage the targeted audience?
You can make all the difference by incorporating videos in smarter ways. Videos are a great way to add persuasion to the content and enliven your presentations. If you are also one of those who overlook the power of videos and hesitate to include them in their presentations, it's high time to think again and go with the trend!
Some Statistics that Emphasize the Importance of Videos
The inclination of people towards videos is quite evident from the statistics that state that millions of viewers watch videos on YouTube, Metacafe, and Vimeo every month. Looking for some more good reasons to include videos in your slideshows? Go through these studies/predictions made by different sources!
1. Videos Elicit an Emotional Bond
Want to evoke any particular emotion (hope, happiness, sadness, or any other) with your presentation? A video can do it better! Videos add personalization to your message and let you establish authority. Further, videos trigger both the auditory and visual systems of the brain, providing an emotional input to influence the audience's choices, decisions, or actions.
Example: Watch this video prepared by John Lewis, a department store chain, as a part of their Christmas campaign. The video tells a sad story with a happy ending, emphasizing the significance of the holiday season.
2. Keep the Audience Intrigued
Effective audience engagement is the driving force behind successful presentations. There is no denying the fact that high-definition graphics and images captivate the audience's attention quickly, but videos are more pleasing to the eye and extremely easy to consume.
Before creating or choosing a video for your presentation, you must understand how new memories are created and retained in the brain. So, the process goes like this – the sensory memory of the human brain decides in split seconds whether to discard or retain a sensory experience based on its acquaintance and relevancy. The accepted piece of information is moved to the working memory, where internal abstractions (processes, values, stories) stored in the long-term memory give it a context.
A well-thought-out video prepared out of recognizable archetypes has the power to capture the sensory memory and keep the viewers hooked.
3. Convey Story in an Appealing Manner
Neuroscience has established the fact that the brain is wired for story. Humans think in stories, learn through stories, and share all their experiences in the form of stories. Presenters can leverage this human instinct for the story to convert their presentations into success. An interesting story has all content types – text, images, music, sound, and even podcasts. And you will be surprised to know that no other medium, except video, has the ability to encompass all forms of content!
Do you want to tell a story of innovation and success, renewal and change, or growth over time? Well, you must have some 'plot' in your mind before choosing or preparing a video. It will help you effectively narrate the story via a video.
Example: Watch the story of Nike, one of the world's renowned footwear brands.
4. Communicate More with Less
Overloading the slides with too much text won't do any good; instead, it will distract the audience. Now you might be wondering how to convey complex information with less text? You can fix this dilemma by adding a video to your PowerPoint! Videos have made it easy to represent abstract ideas with sheer excellence that once seemed difficult.
You need not insert complicated videos to make your presentations look fancy. Even a simple video with a short animation and no sound can do wonders and convey your message in a more subtle way.
5. Break the Monotony
Slides with heavy text blocks make people feel drowsy. In contrast, videos provide the viewers a much-needed break from the monotony of listening to a presenter for an hour or more. Videos allow you to combine moving images with sound to keep your viewers awake and excited about your slideshow and leave a lasting impression. Moreover, videos allow the audience to relax, relay the information and refocus with full concentration.
The Inference
The shrinking attention span of the audience has posed a big challenge for the presenters. Creating an impulse to develop an interest in the audience for your content is indeed a hard nut to crack. Videos can help you sail through this situation!
Undoubtedly, videos are very helpful in regaining the lost focus of the audience to your content. However, including the video just for the sake of adding drama to your presentation is not at all a wise act. Be purposeful while choosing a video, and pick the most relevant one to the information you are going to put forward.
Do you have more information to share with us relevant to the topic? Write to us in the "Comment" section! And if you find the blog post enlightening, do share it on your social media handles.