5 Things to Consider Before Investing in Corporate PowerPoint Templates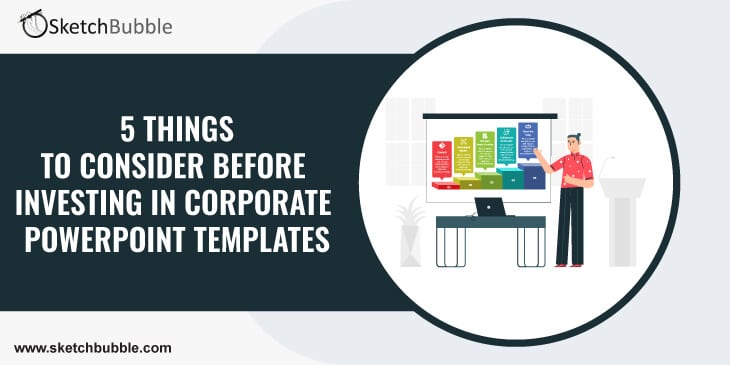 Let's assume a scenario! You are a business owner, and you have a superb idea to expand your business in new markets. Now, you want to raise funds from investors to implement your idea. It's obvious that you can't pitch to investors without a well-designed and engaging presentation. What would you prefer – preparing the slides from scratch on your own, devoting lots of precious hours, or investing in an entirely editable, pre-designed presentation template that saves you time and increases your chances of winning investors' hearts with its consistent and professional look? 
Purchasing a pre-made corporate template crafted with minimalism, creativity, and ease of use is a great investment if you don't have much knowledge of designing or you don't have much time to create a presentation afresh. You just need to customize these decks to make them in sync with your presentation's theme and company's brand. Contrary to this, buying a template that is not created keeping in mind the goals of customer support, compliance, and quality is an entirely useless expense for your company.
In this blog post, we have covered a few points that you should look out for the next time before laying your hands on any pre-designed presentation template to turn your buying decision into a great investment rather than a cost.
1. Ensure that the PowerPoint Template is 100% Editable
Have you ever purchased a template that annoyed you due to its non-editable features? Well, if you don't want to experience the same disappointment again, make sure that the pre-designed deck at your disposal offers you complete control to edit it according to your requirements. A customizable template lets you easily change the color and size of the fonts and graphics, move the visual objects to anywhere on the slide, add/delete the content, and do much more to make it a perfect bet for your business, marketing, or academic presentations.
Remember, a non-editable template has no practical use in any of your presentations, and it is just an unproductive expense. So, don't overlook the editability aspect!
2. Pay Heed to the Quality
Your presentations reflect your brand image and serve as a medium to establish credibility and rapport with the audience. Do you know that even a single poor-quality slide in the template can tarnish your trustworthiness and negatively impact customers' perceptions of your brand?
To avoid such an embarrassing situation, check the quality of all the slides beforehand. The graphics must be of high resolution so that they don't get distorted, whether projected on a widescreen or a small screen. Moreover, you can easily resize good-quality images and visuals without losing readability.
3. Make Sure that There is No Slide Bloating
1000 slides in a template for $20! Isn't it a fantastic deal? Absolutely, it is! Such deals prompt us to hit that 'Buy' button quickly without giving it a second thought. But what if you realize that after shelling out $20, you just got 100 unique slides, and the remaining 900 are variations (100 unique slides in 10 different color schemes)? Frustrating, right?
The act of creating multiple variations of the same slide in a template with an intent to show a large number of total slides in the end-product to lure potential customers is called Slide Bloating. If you don't want to fall into the trap of slide bloating, do your due diligence and take a look through the full template before purchasing it to ascertain that all the slides are unique.
4. Prompt After-Sales Support
Suppose you purchase a template after being convinced with all the aspects – editability, quality, and uniqueness. While making an attempt to edit a graph or chart in any of the slides, you encounter an error that forces PowerPoint to crash. You drop an email to the seller seeking his support in this matter, but you don't get any response. You try to follow up several times, but all in vain. In this case, you have no option other than boiling your blood.
So, to combat such a scenario, ensure that the seller is active on the website and social media channels so that you can reach him quickly in the event of any issue. You can also ask if they have a 24*7 available customer support team to resolve your queries. In a nutshell, clear all your doubts with the seller before making a buying decision.
5. Don't Skim Over the Refund Policy
Let's take an example! You spend a huge amount buying a template, assuming it is the perfect fit for your upcoming presentation. But soon, you realize that the template doesn't meet your expectations and is not at all valuable. And then, you go to the seller's weak and less-than-effective refund policies only to find that you don't meet the refund criteria. Does it make sense to repent your decision to purchase a product without reading the refund policy?
A clearly stated refund policy makes you feel protected and assures value for money. So, before hitting the 'Buy' button, read the seller's refund policy word-for-word. Don't take the risk if you are skeptical and look for another seller that best matches your interests.
The Inference
As a presenter, it's quite difficult for you to come up with new design ideas for your presentations, specifically if you are required to present more frequently. So, if you genuinely want to make your presentations stand out from the crowd without investing much time and effort, you must consider investing in professionally designed PowerPoint templates that not only add a creative touch to your slideshows but also give uniqueness and a fresh perspective to your message. However, ensure that you choose the right template from the right website/resource to avoid the last-minute fuss. 
Happy presenting!
Have you ever had an experience that is relevant to this post? Share with us in the 'Comments' section below!