5 Tips to Create a Great Sales Presentation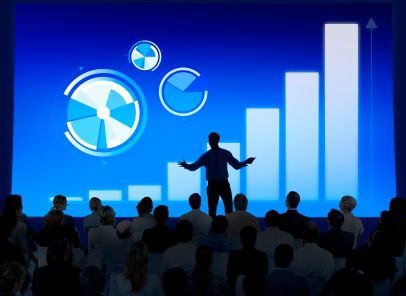 Imagine the time when you have got all the executives together to listen to you and you have gathered complete information along with material related to the product you are selling. Now the most important part is that you have to convert all that information into a logical and interesting presentation that gives a clear idea about your company & the product you are selling to them. Sales presentations are meant to be effective & should encourage the prospects to do some decision making.
If you are still sounding like going to give a monotonous sales pitch presentation than why would people come listen you? Try not to pose it as a Sales Pitch but make it look like a recommendation that executives are excited to listen about. Remember they are ready to make a decision on buying the product or service from you, that's why you are going to present to them, right! Make it worth the time spent. A good preparation with few self-practice sessions can help boost confidence and increases the chances of selling your product to the prospects. Let's look at some tips:
1. Know Your Product & Prospect's Company Profile Well
First of all, know your company & the products you want to sell very well as if you have created the product/service yourself. Get a thorough insight of what you want to sell through this presentation. Second of all, know your prospects better. Their company's history and how they have been tackling the company. Know their needs and design your sales presentation as if your product/service is a perfect fit for their company. Work around their needs by knowing deeply about them & yourself as well. This will help you answer all their questions aptly.
2. Clear Objective Leads to a clearly structured Sales Pitch
By getting a clear objective, I mean that you should have a clear insight on WHY, WHAT & HOW are you going to present to your prospects. You need to explain your objective quickly & with ease if not, you will confuse your clients and they will lose interest in your presentation. Help them understand why you are meeting them and what benefits your product/services can cater to them. Moving forward with your presentation you should be able to explain every stage of your sales pitch and know what you want to achieve with it and clearly indicate what you would like the next step to be.
It's not possible that your presentation is a hard core sales pitch from start to end. It's obvious that conversation mid presentation happens. Structure your presentation in a way that in that conversation too you try to make some effective points which your prospects will remember about your product/services. It is really hard to remember more than 2-3 key points about any presentation, so keep the focus on these points and let your clients remember them for a longer time. This will help greatly to seal the deal.
3. Keep it Focused, Crisp & Design it according to your Prospects Needs
Along with having good communication skills, a presenter should have great conversation skills as well. Generally people keep talking more about their company and products but your presentation should be a conversation not a typical one way interaction.
Make it a successful discussion to keep your prospects interested. Keep it to the point and focus more on the key points effective to client's decision making. The more questions are aroused the more successful discussion it becomes. Listen to the questions patiently and answer them aptly.
Designing your presentation well plays an important role in keeping your client interest throughout the meeting time. Don't make it flashy but make it elegant. Include relevant pictures creatively, graphs & pie charts to show your company's history & industry standards. Don't just make a generic presentation instead tailor it specifically for your prospect and put graphics that help your prospect connect to your presentation and remember it.
4. Endorse your product/service & Compare with the Market
By endorsing I mean that bring your prospect's attention to your previous achievements. Tell them how your product/services have helped and benefited other clients, how their sale increased after opting for your products/service etc. Keep the endorsements relevant to your current prospect, related client, and related needs. Maintain a logical flow of examples like what was the problem of your client? What solution you provided? How it helped them achieve their goal? etc.
Study your competitors well, find out the USP of your product/service and bring the prospects attention to your product by comparing your product's USP to your competitor's services. Explain how you service your clients, what's the time frame and your way of customization.
5. Start Strong & Summarize Effectively
Try to engage your prospects immediately after you start your presentation by giving it an interesting opening. Move forward with what actually you are presenting, like the page of contents in a book, but creatively. And then quickly give an insight of the conclusion of your presentation. By this your audience will know what they can expect and it will keep them engaged to know more.
When it comes down to ending your presentation bring forward your objective and reiterate your achievements. Keep it concise and include those 2-3 key points in your summary. After answering the questions you should be able to keep your prospects agreeable with all the points you mentioned.
Here's to a Successful Sales Presentation!