5 Tips to Craft a Compelling Vision Statement for Your Company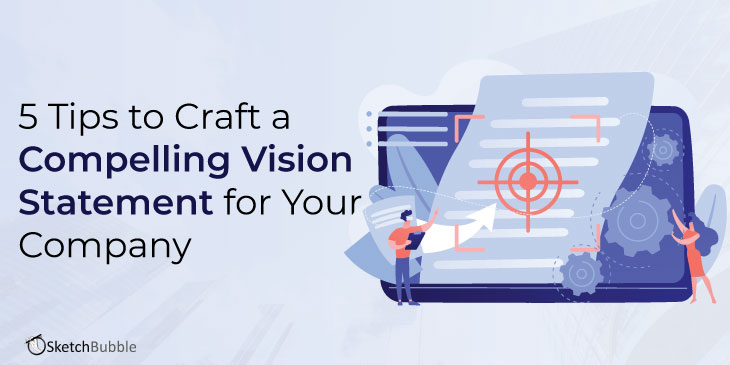 Have you ever wondered what it is that keeps you hooked to a specific brand even if so many cheaper options are available out there? Why do you recommend a particular restaurant when someone outside of your town asks for suggestions? Well, there is a good reason behind it! The core values reflected by the brand in its vision statement keep you loyal and associated with it.
Looking for a complete guide to prepare a powerful vision statement for your company? If so, you have landed at the right place. Let's explore in detail!
What is a Vision Statement?
Running a business in this competitive era is no less than a herculean task. As a business owner or entrepreneur, you need to cater to different priorities and perspectives of clients, team members, and various other stakeholders. You have to keep them aligned with the organization's goals to envision a bright future. And here, the role of a well-defined vision statement comes into play.
A vision statement reflects a clear sense of purpose and a roadmap where the organization wants to reach within a stipulated time frame. An impactful vision statement is one that truly encapsulates your core ideologies, values, and ethics.
How to Craft a Compelling Vision Statement?
Below are a few points that companies must take into account while devising the vision statement.
1. Portray a Bigger Picture of Your Business
The most common mistake that most organizations make is, they start writing their vision statements based on the current operations of their business. Ideally, while framing the vision statement, you must keep the outcome (that you want to achieve through your activities in the long-run) in mind.
For instance, if you are running an IT company, and currently offering services related to website design and development, but you aim to be an integrated service provider of all IT services – be it mobile app development, digital commerce, product engineering, etc. Then, your long-term goal must clearly resonate in your vision statement.
2. State Your Unique Selling Point
There are many organizations that are offering the same services or products as yours, but with a different spin, focus, or approach. So, in order to differentiate your offerings from your counterparts and gain a competitive advantage, showcase the unique selling point (USP) in your vision statement. This USP provides a reason to customers and investors to buy your products or invest in your business over your competitors.
3. Quantify It
Most organizations tend to prepare vague, abstract, and unrealistic vision statements that initially instill inspiration among customers and employees but later turn to frustration. So, it is important to quantify your vision statement; however, you need not apply specific metrics at this stage as it is part of the later planning process.
For instance, in the above example of the IT company, the target audience can be refined to 'enterprises across Asia, Europe, Middle East, and the US.' It will provide an apt direction to your work processes.
4. Ensure the Relevancy with the Real World
Add a real-world aspect to your vision statement, creating an understandable and identifiable image for your clients, employees, and other stakeholders. It will help people strongly associate with your vision statement.
For example, an IT company can add relevancy by stating "to become the technology partner of choice for many enterprises across Asia, Europe, Middle East, and the US."
Based on the above, let's take a look at what a well-devised vision statement could look like for the IT company:

"To be an end-to-end IT service provider and technology partner of choice for many enterprises across Asia, Europe, Middle East, and the US to drive their digital transformation journey."
5. Make Sure All the Points in the Following Checklist are Ticked Mark
Finally, you have crafted the vision statement. Before sharing it with your stakeholders, make sure it has all the elements mentioned below.
Conciseness – The visual statement is written concisely without useless words, repetitions, and redundancies.
Clarity – The visual object is optimized to reflect your objectives and values.
Timeliness – The time horizon after which the vision statement must be reviewed and revised must be defined.
Challenging – Your vision statement should not be too simple or unrealistic; however, it should be a little bit challenging to achieve.
Inspiring – The vision statement should be motivating or inspiring for all associated with the organization.
The Bottom Line
Undoubtedly, crafting a vision statement is a daunting task, but it is crucial to provide a strategic framework and direction for organization decision-making. A clear, relevant, and future-focused vision statement keeps all the stakeholders on the same page.
Once you have crafted the vision statement, it is important to communicate it with all those who are connected with your organization. And what could be a better way to represent it other than through a well-designed presentation? Well, no worries if you have no time to prepare the presentation afresh. You can pick a pre-designed, professionally-made Vision Mission Statement PPT template and put across your message with great impact.
If you have something insightful relevant to the topic to share with us, let us know in the comments below. And, if you like the blog post, do share it on your social media handles.