5 Useful Tips to Start and Scale Your Public Speaking Business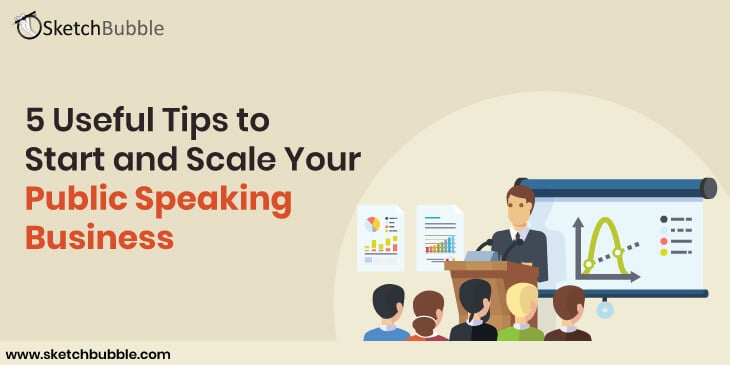 Congratulations! You have got excellent skills to captivate the audience members and change their perceptions with your speech. But have you ever thought of turning your talent into a full-time profession and securing a financial future? If not, you should!
Starting your own public speaking venture is indeed a rewarding and fulfilling experience; however, you must understand that public speaking is not always the easiest market to break into. The market for speaking is fickle, so you must not always rest on your laurels to secure speaking opportunities. Instead, you should build synergy by working with other public speakers and creating your own workshops and seminars for making a living at this business. Remember, strong determination and bravado are the keys to excel in your speaking business.
Are you unsure where to start and looking for some useful tips to build your public speaking venture? Keep reading this blog post!
1. Get Your Speaking Business Registered
Registering your speaking business opens doors to several opportunities. Event organizers prefer to hire speakers from registered speaking agencies/companies to avoid tax concerns. Well, the registration process varies by location. So, while registering, you must check your state and federal requirements for business taxes and insurance.
2. Develop Your Personal Brand
Personal branding is important to distinguish yourself from competitors. Before developing your brand, find answers to a few questions, such as what colors represent your business well? What are the five words that describe your brand precisely? How will you make your speaking business memorable? It will help you choose the appropriate color, font, logo, and icon for your brand and create a unique space in the speaking world.
3. Build a Website
A well-designed website is important to create a good first impression and build trust and credibility among potential clients. While building the website, make sure that it reflects your speaking skills and authority in your niche. Include social proof from past speech attendees or fans and testimonials from past clients. The homepage of your website should showcase who you are, which industries you serve, how to reach out to you, and a clear call-to-action button. Your website must also demonstrate the mission, vision, and core values of your speaking business.
4. Find Speaking Opportunities
A well-thought-out website is a stepping stone to landing the right speaking opportunities, but you have to make some more efforts to secure speaking gigs. 
Create an Effective Speaker Profile on Different Mediums
There are several platforms that connect event organizers with speakers. You can bag more speaking opportunities by creating a great and robust profile on these platforms. Ensure that you have all essential marketing materials, such as a demo video of you speaking, social media profiles, etc., in place to make your profile stand out and grab more speaking engagements.
Pro Tip – Your speaker profile says a lot about your expertise and gives a strong reason to organizers to choose you over others. So, you need to be very thoughtful while creating your profile.
Use LinkedIn Groups
Harness the power of the world's biggest business-oriented social network, i.e., LinkedIn, and add more speaking bookings to your calendar. All you need to do is – join the relevant LinkedIn groups of public speakers, post good and engaging content on a regular basis, and give them something of value.
Initially, you will have to invest considerable time and effort into growing your presence and visibility on LinkedIn, but you will feel glad when your efforts pay you off in terms of increasing user engagement, growing connections, and landing more paid speaking gigs.
Get Referrals
Even in this era of digitalization, the traditional word of mouth recommendation can do wonders and bag you more speaking opportunities. Event organizers prefer to hire a speaker referred by someone whom they already know and trust as it saves their time in searching and finding a speaker from scratch.
Building offline connections and networking can help you get personal recommendations and get your name out. Further, casual conversation with the attendees at the event and following up with them after the event can have a significant impact on the bottom line of your speaking business.
Publish Your Work
Event planners have more faith and trust in speakers who are also published authors. You can publish the content of the talk in the form of a blog post or e-book, share important snippets of your presentations on your LinkedIn and Twitter handles, and upload your high-resolution PowerPoint presentations on Slideshare or other platforms. This way, you can make the most out of your speaking at events.
You can also create a video reel of your talk and upload it on your website, social media (LinkedIn, Instagram, Facebook, YouTube), and other platforms to increase your reach. You can also submit it to the organizers while applying to speak at the event.
Join Public Speakers Community
You can thrive in your speaking business by joining regional and global public speakers communities, such as Public Speakers Association, National Speakers Association, Toastmasters International, World Speakers Association, etc. These communities/organizations provide a broad range of opportunities across the globe for professional speakers to earn thousands of dollars for each presentation. Further, these organizations provide the needed exposure and opportunities to make lasting professional connections and speak at different events – all these are a must to take your speaking venture to the next level.
5. Manage Speaking Leads
It's crucial to manage all the past and present speaking leads for future references. Here, a CRM (Customer Relationship Management) can be of great help. This system allows you to store all the leads and events information in a single place and set reminders related to specific events. You can also easily retrieve the information of past leads/events whenever required.
For instance, you applied to speak at a 2020 conference, but they rejected your application. A well-managed lead tracking system will enable you to retain the organizers' information so that you can apply for their next event with full preparation.
The Bottom Line
Not everyone is a natural public speaker. The ability to engage and spellbind the audience effortlessly with the power of words (of course, without losing your calm) is no less than a gift. And if you are one of the lucky ones who can intrigue people with their compelling talks, you must harness this skill to the fullest and unlock the door to lifetime profits by taking speaking as a full-time gig and starting your own public speaking business. The tips mentioned above will give your new speaking business a head start. So, go ahead and make it happen!
How do you find the blog post? Let us know your thoughts and insights in the 'Comment' section. And if you find it helpful, do share it on your social media handles.