5 Ways to Woo an Unfamiliar Audience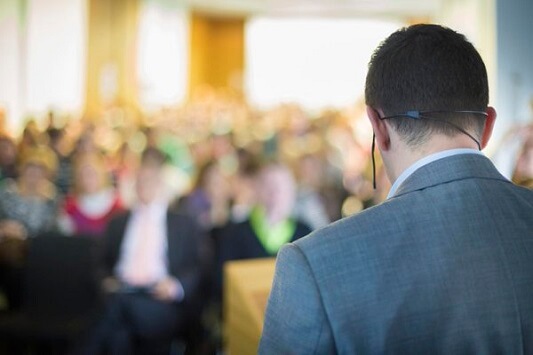 Public speaking can be frightening, even when done in front of people you know, like your coworkers. However, it can be downright terrifying and equally difficult to present to an unfamiliar audience.
While you may feel it's impossible to get up and effectively deliver your message in front of a group of strangers, we're here to tell you it can be easily done if you follow some simple guidelines.
1) Contact the Person Who Hired You
When you don't know your audience, your first step should be to speak with someone who does. In this case, get in touch with the person who hired you to speak (or the one who is orchestrating the event). He or she should be able to answer your questions and give you an idea of the kind of messaging the audience will be receptive to.
Here are the kinds of questions you should ask:
How much does this audience know about my topic?
If they have some knowledge, what is their attitude about it?
What are the demographics? (older crowd vs millennials?)
Where do these people generally get their information about this topic?
What kind of information and style of presentation resonates well with them?
Has anyone else presented this topic in the last year? If so, how did it go over?
Is there any other information I should have in order to ensure my presentation lands and makes a great impression?
Ask for an attendee list…
2) Conduct Preliminary Research on the Attendee List
Once you receive the attendee list you will need to play detective and do some preliminary research on your audience. You'll want to focus on three main pieces of information:
Their basic understanding of the topic – Though the person who hired you may have given you some information on this point, you'll want to drill down even further. How can you do this? While it may be difficult to find out information about the individual attendee, you should be able to easily find information on their company.
Let's say you will be presenting on the topic of email marketing and building a subscriber list… you can search a company website and blog to see if they have a landing page specifically designed to capture emails. If they do, is it optimized? What kind of value are they giving away in exchange?
Depending on the size of the crowd attending, you may not be able to do this research for all of the attendees. But, if you do it for a good chunk of your audience, you'll still get an accurate depiction of the average attendee.
Look into social – Doing a Google search might be able to bring up some of the attendees' social accounts or perhaps even blog posts they've written. This will give you a good idea about your audience's characteristics and interests.
Check into industry news – Look into any breaking news that may have recently happened in the industry your audience is part of. Let's say you are speaking in front of a group of realtors to educate them on the benefits of email marketing in their business. You may be an expert in your industry but not theirs, so do your homework to show them you care and have taken the time to learn about their needs and challenges.
3) Remember Your Own Message
After spending so much time trying to find out about your audience, you may forget that YOU are the expert. Finding out about your audience helps you know how to tailor your message and deliver it in a way that will make the listener receptive. But, at the end of the day, it's important to remember and focus on your primary message and not let it get lost.
4) Remember Those Benefits
It doesn't matter much to your audience whether they know you or not, they'll definitely engage with your presentation if you make it clear that your information can help their business in some way. To do this, list some benefits and advantages at the beginning of your presentation to hook them and get them to pay attention all the way through.
5) Use Stories
And speaking of hooking your audience…
Human beings love stories. We have been hardwired to sit and listen with our full attention to a good story. While charts and graphs and other supporting documentation are critical for a good presentation, don't let numbers tell your story. Be creative and use a thoughtful narrative. This will woo your listeners better than just about anything. Except maybe tossing cash out into the audience.
While it takes a bit more effort, research and creativity to give a memorable presentation in front of an unknown audience, you CAN do it and do it quite easily if you follow these guidelines.