6 Best Free Presentation Templates for Academic Presentations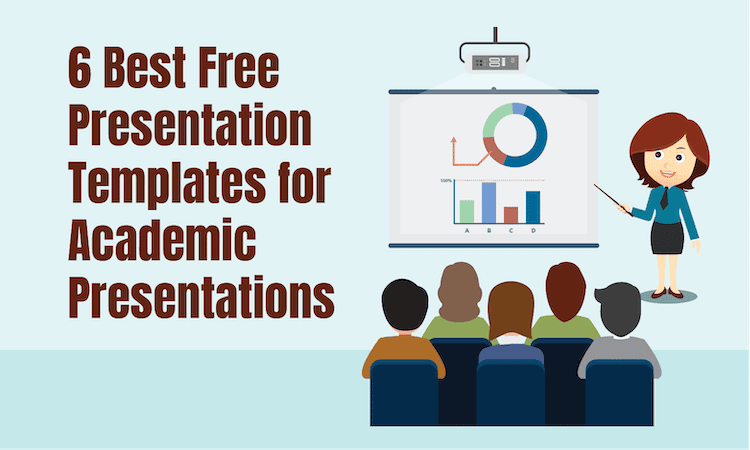 The bitter truth is that almost everyone assumes academic presentations are tedious; some students yawn at the thought. However, these presentations are arguably the most critical slideshows which students can not afford to miss. Therefore, it is imperative for educators to carefully craft their presentations so that students can learn concepts in a fun way.
However, creating compelling academic presentations can make you scratch your head and look everywhere for help.
Gone are the days when creating an academic presentation meant spending hours in front of a computer, trying to find the perfect template. Nowadays, with free presentation templates available online, you can easily create an engaging, visually-appealing presentation for your students without any extra stress.
This blog has compiled a list of some of the best free presentation templates for academic presentations, so you can make an impact without breaking the bank. Let's take a look!
This theme is the perfect ally for any classroom presentation covering topics related to geometry, technical drawing, various types of charts, or any sort of math-related things. These unique elements and illustrations are thoughtfully designed to help you convey those concepts that are too complicated to be explained using words. The graphics are specially tailored toward making concepts like mathematical operations, area and perimeter, the steps for making graphs, geometrical concepts such as drawing congruent shapes, and many more a breeze. So, don't wait; download this theme today!
What is the first thing that comes to mind when you think of a classroom? Chances are, you think of a chalkboard. It is the most basic part and the focal point of our classes. This slideshow template brings that feeling straight to your presentations. The beautiful graphics in this deck give an unconventional touch to your academic presentations. The fonts look like they have been written with colorful chalk, which results in a complete and captivating experience.
This is one of the most elegant options on this list. If you wish to create a truly educational experience for your audience, consider giving this theme a go. You can utilize this theme in presentations meant for conferences, seminars, workshops, graduation ceremonies, classrooms, and so much more. Furthermore, it can also be used to showcase contents such as lesson plans, lesson structures, the predicted outcomes of a lesson, different courses available in a particular stream, and so much more. Give this theme a try to add a layer of elegance to your presentation!
Looking for something formal or mature? This English literature theme might just be what you need. If you wish to create a truly vintage and immersive experience for your audience, this theme helps you craft just that.
When presenting about the rich and noble history of English literature, use this template to add a layer of elegance and gravitas to your presentation. In order to help you portray your ideas in the most beautiful way, this deck provides amazing animated elements. Using this particular slide template will make English literature classes more engaging for your students!
Are you a teacher giving a lesson in a classroom or an administrator addressing a large group of students? If you think your presentations need some dynamism to make your message pop, these gorgeous designs are exactly what you need. The colors and designs of this template are perfect for creating an electrifying and memorable presentation. So, don't think hard; download this back-to-school theme now!
This impressively designed template is aimed at instilling curiosity in students about the topic being presented. The creative and visually appealing infographics assist you in presenting complex biology lessons to your students in a simplified manner and keep them intrigued till the end of your presentation. Moreover, this visual aid will help your students grasp important points effectively and with sufficient clarity. Give this theme a try to make your biology lessons more interesting!
This concludes our list of the best free presentation templates for academic presentations. With these templates, creating an academic presentation is no longer a stressful affair.
There are countless high-quality, free presentation templates available for academic presentations. These templates offer a variety of professional-looking designs and layouts that can be easily customized to meet the specific needs of the presentation. By choosing one of these templates, you can create an engaging and visually appealing presentation that is sure to impress your audience.
We wish you the best of luck in all your presentation endeavors! We hope this article helped you find the right template for you!