6 Presentation Hacks to Engage Your Audience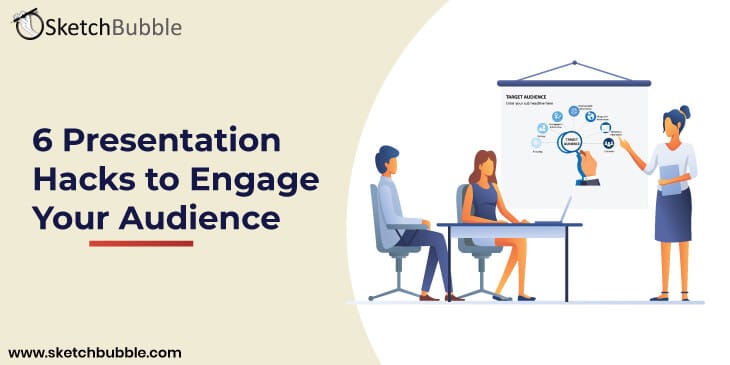 When you start presenting, the first 30 seconds matter a lot to hijack the flighty focus of your audience and keep them hanging on your every word for the whole length of the presentation. However, if you fail to catch their attention in those 30 seconds, the chances are high that you will lose their concentration to their laptop, daydreams, phone, etc. 
In a nutshell, audience engagement is the key to the success of any presentation; some presenters find it difficult to achieve while others excel effortlessly. If you are also one of those who are looking for some useful tips to boost engagement, you have landed at the right place. In this blog post, we have listed a few presentation strategies that will not only engage your audience till the end of the slideshow, but will also keep them talking about it days after the presentation.
1. Pay Heed to Your Presentation's "Hook" from the Get-Go
The first impression counts; make it good and positive by actively captivating the audience from the very first sentence of the presentation. For this, you need to incorporate brief and attention-grabbing 'hooks' in your slides. Here are a few approaches that you can go with –
Surprise the audience by sharing an unexpected piece of information or interesting statistics. For example, you can begin like this – "$2 million dollars! That's right; we lose $2 million dollars every year because of the under-utilization of new hires."
Lay a strong foundation for your presentation by including an inspirational and meaningful quote that is relevant to your content.
Remind them of their own worries and fears to prime their minds for listening to you. Make sure that your statement doesn't scare them.
Instead of starting off with the lengthy introduction and research, state the problem right up front and clearly.
Use metaphors to capture the audience's imagination.
2. Create Visually Appealing Slides to Trigger Their Senses
Power your presentations with high-definition PowerPoint templates enriched with the best quality visuals, such as images, infographics, graphs, charts, etc. Visuals add tangibility to the abstract and complex concept, retaining the audience's attention. However, you should not use visuals just for the sake of prettifying the slides; use them to support the main point of your presentation.
Some more tips to enhance the visual appeal of your slides;
Do not use more than 2-3 colors in your slides; otherwise, it will distract the audience. Use the dark-colored text on a light background and vice versa.
Do not clutter the slides with too much text or images.
Enhance readability by choosing the right font size and keeping enough white space between them.
Use the right data visualization technique to represent a huge chunk of data in a meaningful manner.
3. Add a Personal Touch
Abstract ideas, graphs, numbers, and techno-babbles can get your audience carried away. To retain their focus and help them draw a connection with your content, incorporate something relatable to them.
Greet the audience in their local language and provide local references wherever required to make them feel familiarized.
Narrate a personal story to connect with the audience at the emotional level.
Include real-life examples to make your information easy to remember.
Add humor to add a fun element to your presentation.
Inject authenticity to make your presentation a unique experience for the audience.
Example: See how Barack Obama, the 44th president of the US, won the hearts of the audience by using humor while delivering a speech about the government building Iron Man.
4. Make the Speaking Session Interactive
Create enough interaction points throughout your slideshow to ignite conversations with the audience and keep them energized. One of the biggest benefits of making your speaking engagements interactive is, you can gauge the audience's response to your content.
Ask a question to make the presentation conversational and solicit active participation from the audience.
Invite the audience to the stage and make them a part of the story.
You can inspire and involve the audience in the presentation's content by using words like 'we will,' 'we can,' etc.
Include live polls and let the audience share their thoughts on why they voted the way they did.
Include open text polls and rating polls to let the audience assess your presentation and provide feedback.
Example: The organizers of Dell's #Social360 UnConference at SXSW opened the session with an exciting quiz to introduce the speakers in a creative way. This tactic also drew the audience's attention right from the beginning.
5. Catch the Eye of the Audience with Your Gestures
When you present, your voice transmits a verbal message while your gestures convey nonverbal messages. As a speaker, you can make a big difference and instill trust among audience members by syncing your body language and vocal attributes with your words. Moreover, with the well-timed and convincing gestures and voice tone, you can portray your confidence and recapture the attention of the disengaged audience, bringing them back to the conversation.
Don't be too serious; smile wherever required.
Make eye contact while delivering your speech.
Keep your arms uncrossed, and palms turned up.
Avoid putting your hands in your pockets.
Be natural and reflect your passion for the subject with appropriate movements.
Your facial expressions say a lot about your emotions, feelings, and attitudes.
Take time to pause and give your audience a break to rethink what you have said.
6. Focus on the Key Takeaways
You have invested your precious time and energy in preparing your presentation, so you won't want to make it fall flat with an impassive conclusion, right?
Conclude your presentation with the summary of the entire deck, final thoughts, and the main key takeaway points. Include a clear and strong call-to-action (CTA) to guide your audience on what they are supposed to do next. For example, you can ask the audience to follow your company's social media profiles, sign up to your mailing list, subscribe to your newsletter, etc. Ensure that your CTA is short and compelling, not complicated.
Inference
Presentations can be really bad or really good. The good ones increase your credibility and trust, while the bad ones kill your reputation, transforming a room full of attentive listeners into a room of drowsy phantoms. 
Losing the audience's attention is the most painful moment for any presenter. You can prevent your presentation from being boring and make it engrossing by understanding the audience well, structuring your slides appropriately, and delivering the information efficiently. The above-mentioned practices will definitely help you master audience engagement. Follow them!
Hope you find this blog post insightful. Let us know your thoughts in the "Comment" section. And if you like the blog post, do share it on your social media handles.