7 Creative Ways to Repurpose Your Presentations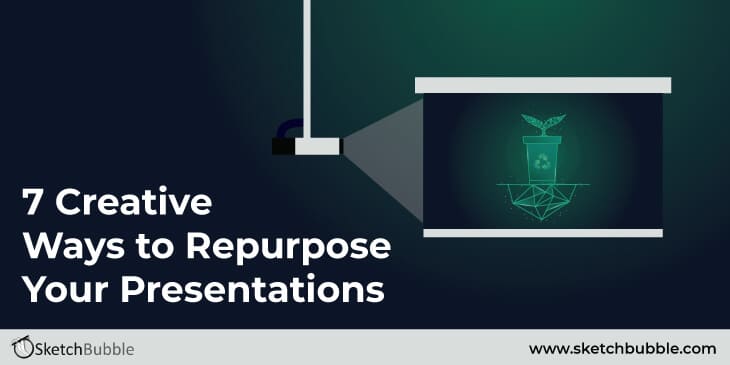 Finally, your hard work and valuable time in researching, conceptualizing, and crafting the presentation paid off, and you have nailed your slideshow. Three cheers and high fives for you. And from here, the new journey of your well-crafted presentation begins! You might be wondering what can be done with the slides and content that have been presented once. Well, there are many creative ways to reap the full advantages of your efforts and repurpose your awesome content and fantastic presentations to increase your reach, establish the brand's credibility and authority, and boost brand recognition.
Repurposing the presentation means instilling new life into it by recycling the old content, replacing the old visuals with new ones, and entirely transforming it into something new. One of the greatest benefits of repurposing is that you need not start afresh for your next piece; you can get an amazing head start with the existing presentation.
Want to learn some ground-breaking ways to repurpose your presentations? Continue reading the blog post.
1. Convert Your Slides into Video Format
With more than 2.29 billion monthly active users, YouTube is the second most popular social network globally (as of July 2021). If you want to get the maximum benefit of YouTube to enhance your business reach, you just need to convert your slides into video format. There are several apps that allow you to record your screen while you present. Some presentation software also lets you export your slides to video.
PowerPoint:
If you are using PowerPoint, go to File > Export > Create a Video once you have created and saved the slides with complete narration. Then follow the on-screen instructions to begin the exporting process.
Learn more here:
Keynote:
If you are using a Mac, open Keynote to the presentation that you want to convert into video. From the menu bar, click File > Export to > Movie. The video will be saved as a .m4v file. You can change the slides, resolution, and timing between slides in the pop-up window. Then, click Next. Rename the movie, add a tag, and select the location for the export. Click Export.
Learn more here:
Google Slides:
Unfortunately, Google Slides does not provide any download or export video option. All you can do is either install the free Chrome extension to record your screen. Or, you can download the presentation as PowerPoint and then export it into a video.
2. Repurpose Your Slides into a Blog Post or Article
Writing a high-quality blog post or article from scratch is a time-consuming task. But when you already have a well-prepared presentation in hand, you need not spend much time researching the content all over again. You can convert your presentation slides into a blog post either by writing a single blog post about your presentation topic or stretching it out into various posts. For example, if you have covered 10-15 points about a particular topic in your presentation, you can either write a detailed post taking reference from the slides or write one blog post for each point. This way, you will have enough content to fill out your content calendar nicely.
3. Share it on SlideShare to Reach Global Audience
You can reach the right audience who are genuinely interested in your content by sharing your slides on SlideShare, a Scribd Inc. owned professional content sharing community. Users can rate, share, and comment on your content. Moreover, this platform offers several other amazing features, such as "Trending in Social Media," etc. This platform also promotes popular presentations through its own social media handles, emails, and placing them on the website's homepage.
Pro Tip: To improve the visibility of your presentation, provide a good title, keywords, and description while uploading it.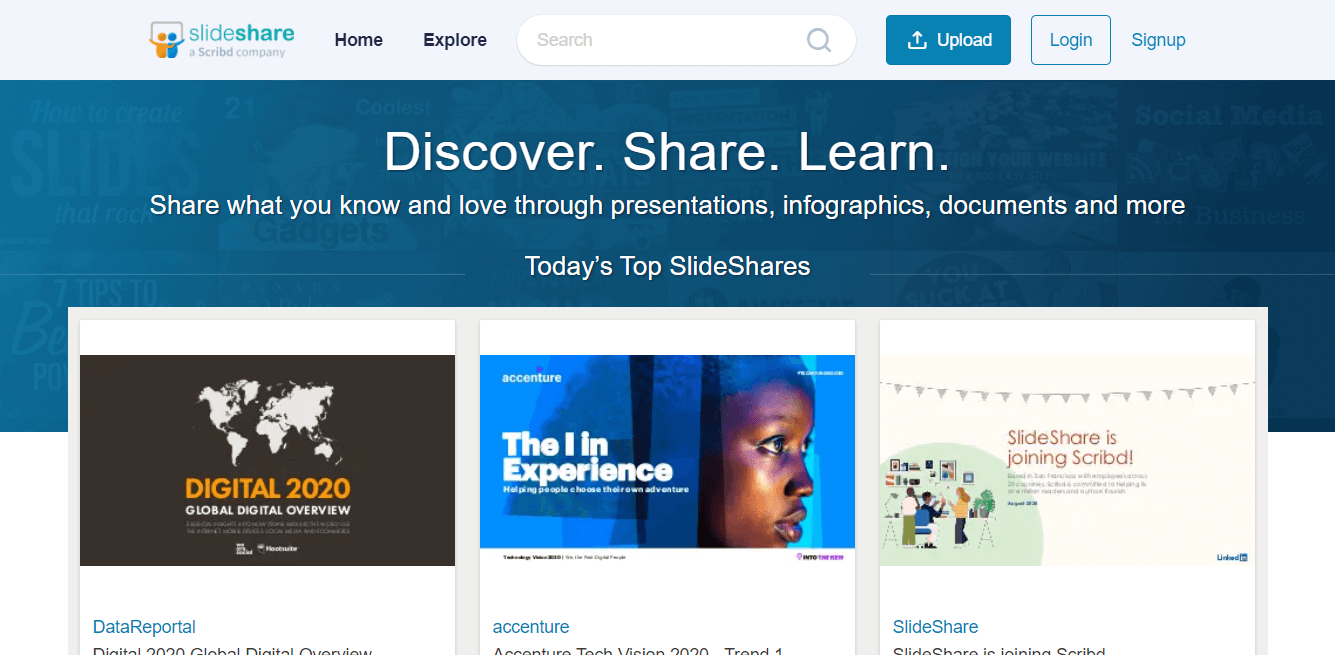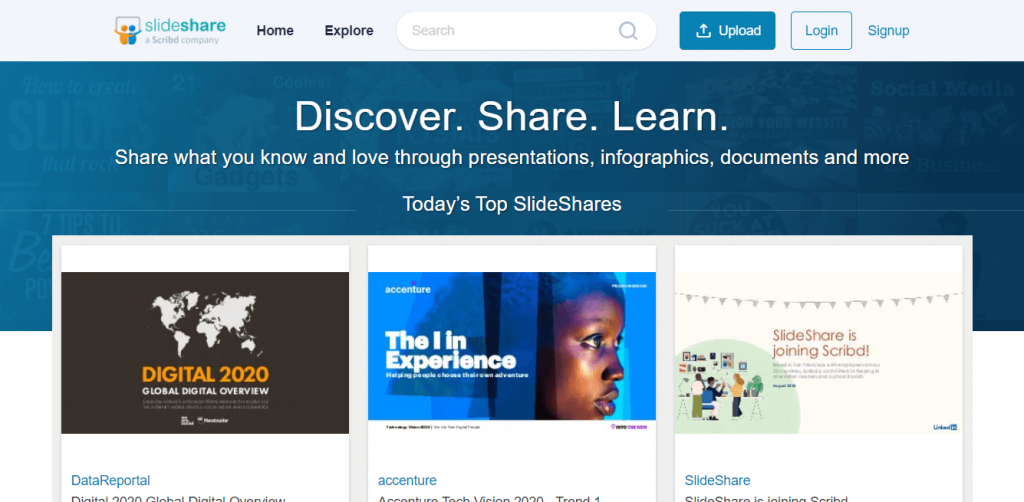 4. Convert it into a Beautiful Infographic
An infographic is a good tool to make your content viral and hold the attention of a social media audience. Converting your presentation into an infographic is not a hard nut to crack. A winning presentation is one that includes high-definition visuals and graphics, a set theme, and concise yet descriptive content. Fortunately, the same features are required to prepare an amazing infographic. Since you have all the things in place in your presentation, you can easily transform it into a great infographic in a fraction of time with the help of any of the tools available online.
5. Convert the Slides into Images
In today's digital era, having your business on social media has become a necessity to engage and interact with your audience. One of the biggest challenges when you make an effort to get traction on social media, is grabbing the attention of the viewers on your post as your competitors also share engaging content actively to get leads. Here, repurposing your successful presentations for social media platforms can do wonders.
You can convert your spellbinding slides into eye-pleasing images using online tools and upload them to social media. Some presentation software has an in-built feature of saving/exporting the slides as images. Write a short description of each image, and then ask your followers and fans to share the posts with their followers.
PowerPoint (Windows):
Choose the slide that you want to convert to an image. Then, go to File > Save As > Other Formats.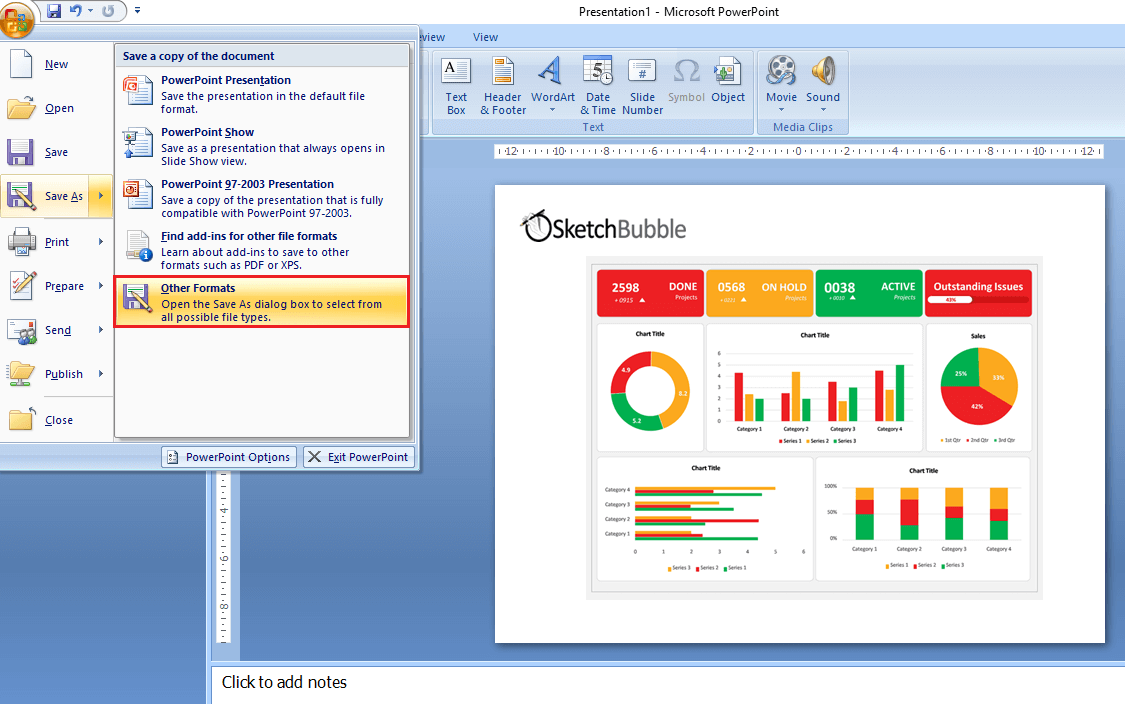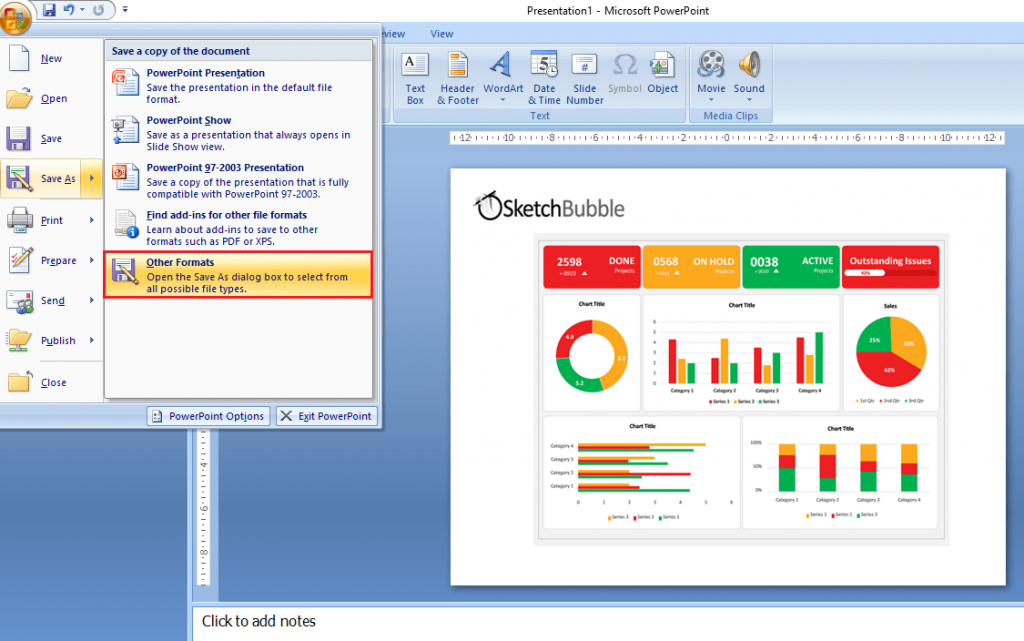 It will open a window where you will get the "Save as type" option with a drop-down arrow. Choose the desired image format and click on "Save."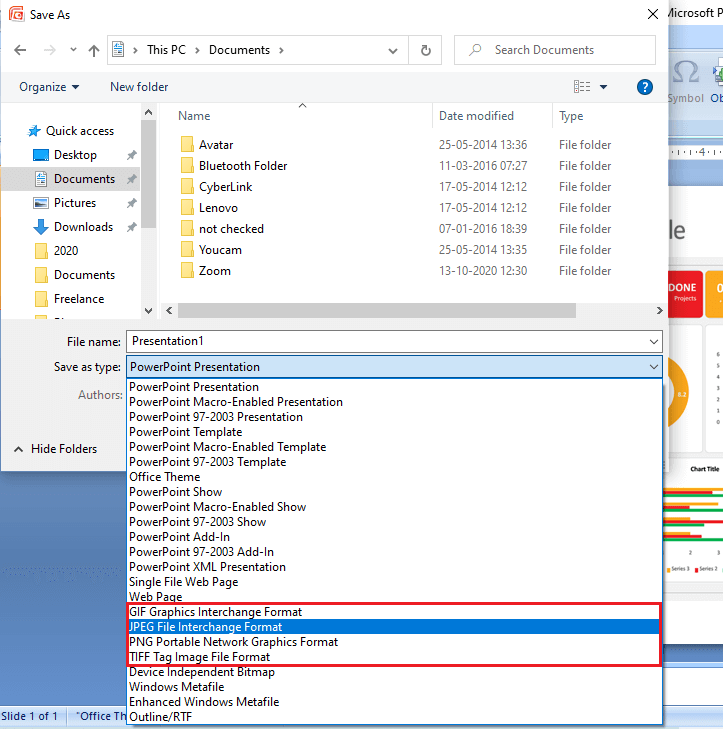 When you click on Save, the PowerPoint will ask you whether you want to export all slides or the current slide only.

Keynote:
If you have prepared your presentation on Keynote, go to File > Export To > Images.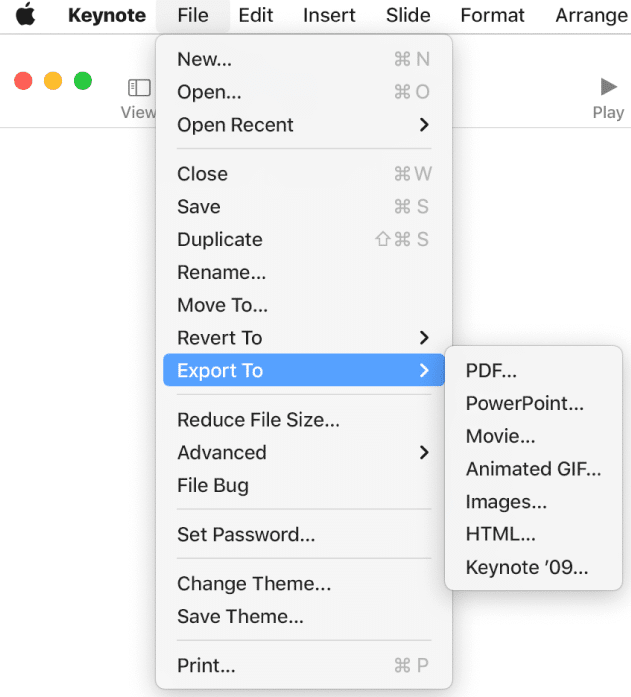 In the pop-up window, choose the range of slides and the required format. Then click on "Next…"
A window will get opened where you can choose the folder where you want to save the images and set the default slide name.
Google Slides:
Google Slides allows you to export one slide at a time. Go to File > Download As, and select between PNG and JPEG.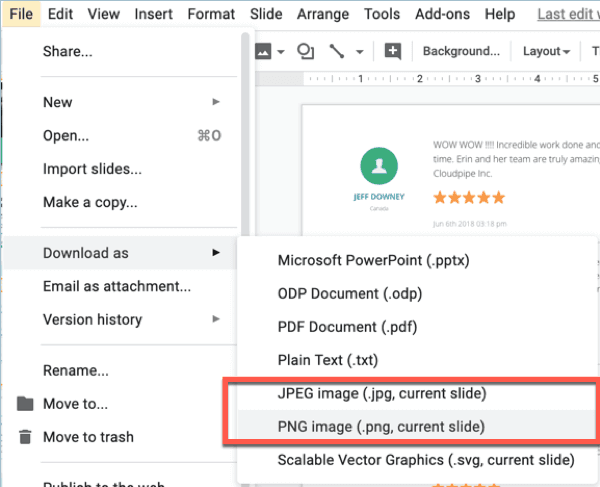 If you want to export all slides, download your presentation as a PowerPoint file first. Now you can export the slides to images in PowerPoint.
6. Make a Webinar Out of it
If the audience in the conference room liked your presentation so much, then why not repurpose it for a wider audience by creating a webinar out of it? Unlike face-to-face presentations, webinars let you put across your message to a much larger crowd. First, export your slides to video (follow the steps mentioned in point 1). Pull out what didn't work in the original presentation to make it better. Add a voiceover narration to your presentation. Now upload the video file to the webinar platform of your choice.
7. Repurpose it for Internal Training
Turn your presentation into an eLearning course by saving them as Scorm or HTML5 files. For making it more informative and insightful, you can add extra links and references to the content. You can share the files with your internal employees via email.
The Bottom Line
Indeed, nailing a talk is an empowering and thrilling experience. Don't let your efforts that you have put in creating an amazing and winning presentation go in vain. Count on it again and open up it to a new audience by repurposing it wisely. You have already invested a lot of time crafting a presentation; invest a little more in transforming it into a new piece of content. While repurposing, ensure that the needs and interests of the audience don't get compromised and your key message doesn't get diluted.
Which approach to repurposing your presentation would you prefer? Let us know your thoughts in the "Comment" section below. And, if you find this blog post insightful, do share it on your social media handles.