7 Reasons How Great Marketing Presentations Can Upscale Your Business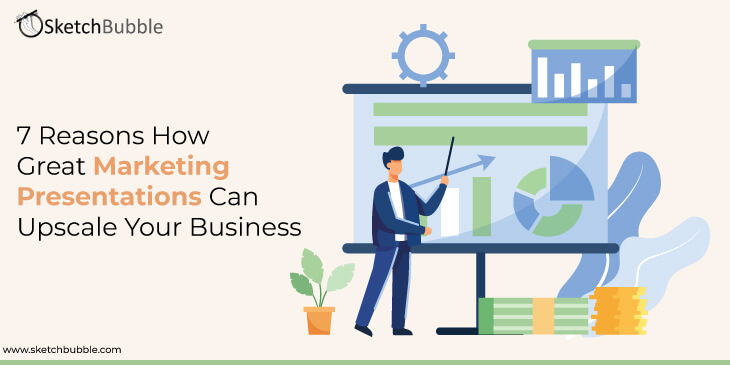 The sole purpose of marketing for any company is to advocate its products and services to raise brand awareness and generate sales. This task can never be accomplished with dull demonstrations. It is often the ones with the highest quality of presentations in the room who win the hearts of their audiences and drive customers to their ventures.
Thus, the skill of crafting and delivering not just a good, but a great presentation is an asset for anybody who is in the field of marketing.
Here are some reasons to help you understand this in a better manner.
1. Your Presentation is Your Brand's Value
When you stand in a room of a hundred people and present your company's slides, you are not just providing them data, but you are giving them first-hand insight into your brand's core values.
For example, if your presentation is drab and dismal or lacks necessary information, it displays an unorganized vision for your company. But if the same is well put up into words and phrases with tidy templates, it portrays authenticity.
Thus, your venture's valuation can be very well determined by the quality of its presentations.
2. It Helps in Conversion of Followers into Customers
In an era of social media where thousands of people follow you on Instagram, Twitter, Facebook, good presentation skills can help in a gradual as well as an instant conversion of followers into potential clients.
For instance, let us consider an example where you run a product/service-based startup and have generated a likeable following. Your business cannot grow until those you just follow you also become those who purchase from you.
Therefore, with the right presentation skills, you can ace this method of conversion and generate sales.
3. It Creates Brand Awareness
If I ask you to name a brand that says 'G for Genius,' I am sure you will name Parle. This is because, over all these years, it has invested tons into marketing and has created an identity for itself.
Let us consider some millennial brands that have created a space for themselves through their presentations.
For instance, Netflix, the streaming platform, targeted Millennials and Generation Z and changed its own structure along with the evolving lifestyle of its target audience. It invested around two billion USD in 2020 in its marketing strategies and became one of the most popular streaming companies in the globe. Despite the competition, it stood first because it created its brand awareness through exquisite presentations and advertisements.
4. Good Presentations Generate Trust
You will never be a customer of a company that you do not trust. The reason for the rise of unicorn startups like Groww and self-pitched businesses like Zerodha is because their marketing strategies could make people trust them.
For instance, Groww's strategy of targeting youngsters and pitching ideas of smart investment through safe technology and zero jargon created its valuation of one billion USD.
Such techniques of wise and honest campaigns can help you build a bond of trust between you and your customers. This not only will increase your sales in multitude but will also leave behind a legacy.
5. Makes You Stand Apart in Competing Globe
In a world with cut-throat competition, it is extremely difficult to survive if your company does not have a unique selling point. The most common mistake that brands commit is that they often have a USP, but they fail to market it in a polished manner. Telling people about your company's strengths is your job.
Believe it; there are a thousand alternatives for every single article that exists. But what makes people buy your goods and services?
Let us consider young Indian startups that stood apart from the crowd- MamaEarth, Seas & Skies, Juicy Chemistry, and The Earth Rhythm. These startups promoted themselves as natural, organic, plant-based, sustainable, etc., to establish themselves in the market. Each one of these has their own identity when it comes to consumer choices, and it was their presentations that separated them from their crowd and made them stand apart.
6. Creates Media Buzz
Every company wishes to be in the media where its products can be highlighted and promoted. Most brands pay big media houses to do this, while a handful of ventures take away the headlines with their exuberant presentations.
For instance, in an advertisement by Loreal Paris, they strategically promoted themselves as a brand as well as created a meaningful campaign called 'Stand Up Against Street Harassment,' which caught the eyes of innumerable print presses.
Watch here –
Therefore, good presentation skills in marketing can take your businesses up a notch and can help you create an impact, attract consumers, and generate profits.
7. Good Presentations Invite Opportunities
When you deliver an outstanding marketing presentation, your voice gets noticed by a hundred people sitting before you. You are remembered by the top-level executives, staff, workforces, and masses for the excellence of your slides.
This not only invites in new opportunities to your company but also draws attention to your skills, building your personal brand.
Conclusion
It is rightly said, "Good marketing presentations conquer hearts, but great marketing presentations take over the hearts as well as the markets!" 
Thus, it is always extremely beneficial for you and your company to invest and craft mind-blowing marketing presentations that can help you be the white elephant in a herd of grey ones.
We wish you good luck and hope that this blog will help you in your future endeavors!