7 Tips to Create the Most Stunning Marketing Presentations for Your Business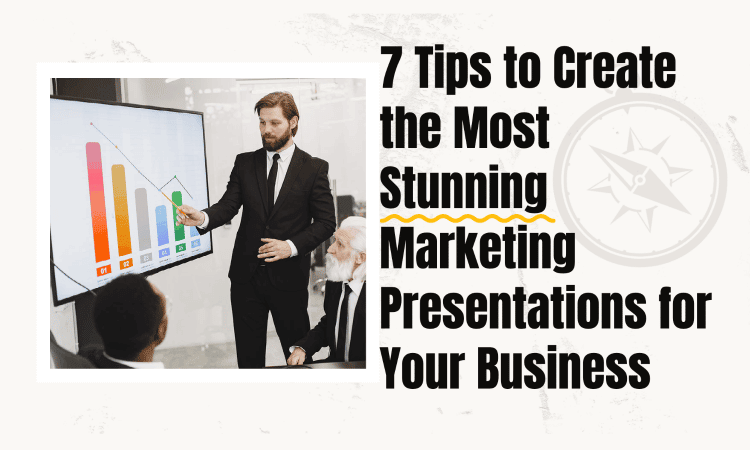 Marketing presentations can determine your company's growth and success in its field. Thus, the ability to craft excellent marketing presentations is an asset for individuals as well as organizations.
Be it creating slides for new campaigns or investor pitches, your marketing presentations are the first impression of your product or service. They speak to your audience before they even see what lies in your business.
Thus, it is crucial to stay at the top and master your presentation design skills to rule and conquer the markets. Here are seven such tips that will help you do the same –
1. Deliver an Experience with Virtual Reality
Virtual Reality will be the future of marketing presentations. The VR market is expected to reach more than $220 billion by 2028 and will serve as a powerful tool to expand and grow businesses. It can be used by companies to demonstrate their services and the potential of their products to customers. In fact, it can also be used to transport people to various places and provide them with real-life experience.
VR is the latest vogue in all industries and is going to be a spine of steel for all marketers. Let us understand how you can incorporate VR in your marketing presentations with the example of the luxury fashion brand Gucci.
In its recent campaign, Gucci launched a virtual world called Gucci Town. In this space, it displays pieces of art, functional clothing, etc., which can be bought by its players. This strategic campaign has helped the brand establish a unique niche in the world of Metaverse and has enabled it to broaden its consumer audience.
Watch here – https://vault.gucci.com/en-US/story/metaverse
2. Have a Consistent Theme
Consistency in your presentations delivers a message of reliability, stability, and professionalism. It helps build your brand on pillars of trust and faith. Having a consistent theme in your marketing presentations can help communicate your brand's values and establish its presence in the minds of your audience.
3. Emphasize Your USP Through Bold Graphics
Great marketing presentations highlight a brand's Unique Selling Propositions and throw ample light on its product differentiation in the market.
One of the best ways to include your USP in your presentations is by highlighting them with bold graphics, color blocks, and typography. It will instantly draw your audience's attention to the graphics and convey your message effortlessly.
Make sure to use colors that complement your presentation and your brand palette. It will also help you put emphasis on your company's branding and make your presentation look more well-put together.
4. Harness the Power of Illustrations
If you want to create an amazing emotional connection with your audience, you must include illustrations and visuals in your next marketing presentation.
Illustrations improve the understanding factor of your slides and boost the audience's engagement. They make the audience feel included and help them focus more on your slides.
For instance, if you are delivering a presentation on certain services available for all accessibilities, you can add inclusive illustrations of people, as it would make them feel heard and seen. It will also increase your stature as a company and help you serve better.
5. Charts and Graphs for Displaying Statistics
Including statistics and analytical data is extremely crucial for any marketing presentation. Be it your product performance, P&L sheet, or your core competency, each of these numbers must be clearly visible on your slides.
One of the best ways to incorporate all statistics without making your slides boring is by harnessing the power of charts and graphs. With the help of such elements, you can efficiently arrange multiple sets of data in a visually appealing manner.
However, make sure to label your charts well, add descriptions wherever required, and use good color combinations for your graphs.
6. Use Templates and Pre-Designed Graphics
Creating stunning presentation designs can seem burdensome and time-taking, not to mention that it can also be overwhelming at times. Marketing presentations require all sorts of graphics, funnels, timelines, and charts. 
One of the best ways to accomplish all your presentation design tasks without much hassle is by using expert-designed templates that can be completely customized by you.
For instance, if you wish to add a Marketing Funnel to your presentation, you can easily select a template and add it to your slides in the blink of an eye. It saves much of your time and energy and makes your presentation stand out.
7. Incorporate GIFs and Animations
Gone are the days of captivating your audience with still pictures and traditional videos. In today's digital era, marketing presentations must include intriguing GIFs and eye-catching animations.
You can incorporate GIFs to showcase your branding, how to book your services, use your products, or even use them to display data in a much more fun way. Similarly, animations can be used to add life to pictures and texts.
Ensure that you use GIFs and animations in moderation, as too much of it can distract the audience.
Conclusion
Marketing presentations are one of the best areas to invest in when it comes to building a business. Be it Virtual Reality toolkits or investing in higher quality template designs, such assets are bound to give a high and unexpected return over time.
We hope these tips help you craft excellent slides for your next marketing presentation!