7 Ways to Create an Engaging and Interactive Presentation for Online Classes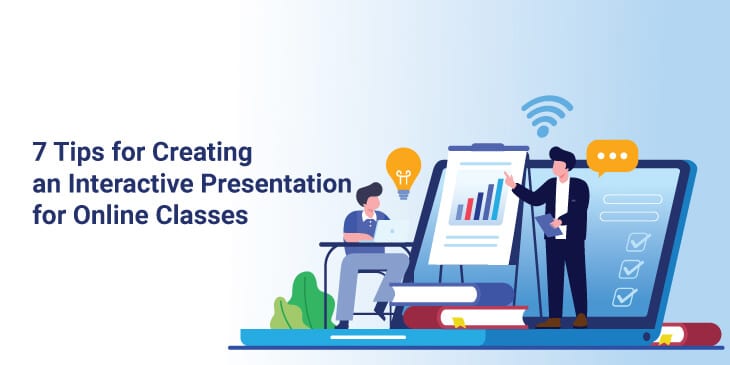 Ever since the COVID-19 pandemic, the world has started to run online. From grocery shopping to electricity bills, all dynamics of our lives have changed completely. However, if there is one sector that has been majorly impacted, it is the education industry, especially the schooling system.
From learning in the vastness of classrooms to shifting to a single screen overnight, coping with online education has been a major challenge for students as well as teachers. In such times, it is imperative to curate presentations that inspire children to learn, despite the sudden change in their environment.
Thus, here are seven tips that will help you craft an outstanding presentation for your students –
1. Use Videos and Audios
Instead of sticking to traditional pie charts and bar graphs, try using more innovative visuals such as videos and audio. You can incorporate GIFs to explain technical concepts and processes, high-quality audio to help understand pronunciations and language, and show scientific demonstrations through high-resolution videos, etc. All these techniques will help you create an atmosphere of communication between you and the students. It will also aid in faster learning.
2. Include Polling Rounds and Quizzes
One of the most amazing ways to make your presentations more interactive is by introducing an element of the test in them. It can be done by inculcating incentive-based quizzes or multiple choice questions in the presentation.
For instance, you can have a short quiz that each student could answer on their screens for your topics. It will keep their attention focused and help them learn better.
3. Use Mind Maps, Content Organizers, and Flowcharts
Using high-definition graphics is one of the most preferred ways of conveying information and depicting data. However, when it comes to students, such visuals might be considered boring and unappealing to look at. Thus, it is necessary to upgrade to better visuals such as mind maps, flowcharts, and content organizers.
Mind maps allow students to understand and remember the entire concept easily. Arranging concepts hierarchically and presenting them in a much more intriguing manner also fosters deeper learning. Using organizers can help you impart factual information, depict various points, denote keywords and their meanings, etc. It is an excellent way to explain bigger concepts in a gist.
4. Make Question Flashcards
Using flashcards for driving engagement is a newer and more innovative way of creative e-learning. For instance, placards for English could include jumbled word exercises, missing letter activities, and much more. It allows students to use their imagination and expand their horizons.
5. Tell Stories
The best way to reach students' minds is through anecdotes, personal experiences, and stories. When children listen to stories, they immediately try to connect to them. Using examples of real-life people can help students resonate better and retain information and concepts for a much longer period. It allows them to remember things by connecting their dots with that of your story.
For instance, if you're teaching science, remember to present the example of how Einstein was thrown out of school for not being bright, but also ended up being one of the most cherished scientists of all time.
6. Use Animations
Using transitions between your slides will help creatively enhance your presentation, capturing students' attention instantly. You can add effects on images, make your texts bounce, and create a fun environment for learning through them.
Make sure to use effects that are not too heavy and will not take time to load. Animations that are often bulky can lag during the presentation. Make sure to run a couple of tests before delivering your presentation.
7. Use Images in Shapes
Images are a great mode of communication, but when it comes to students, it is extremely crucial to enhance them and make them more captivating. Thus, using pictures in various shapes can attract students and will keep their eyes on the presentation for a longer period. You can do this by cropping images into various shapes or by selecting a frame of the required shape.
Conclusion
Teaching students online is one of the most difficult tasks for a teacher. Equipping yourself with ample knowledge, enabling yourself with the technical know-how, and constantly trying to enrich your students' experience is crucial for growth and better learning.
We hope that these tips help you create a flawless experience for your school presentations.