8 Sure-fire Ways to Write a Compelling Executive Summary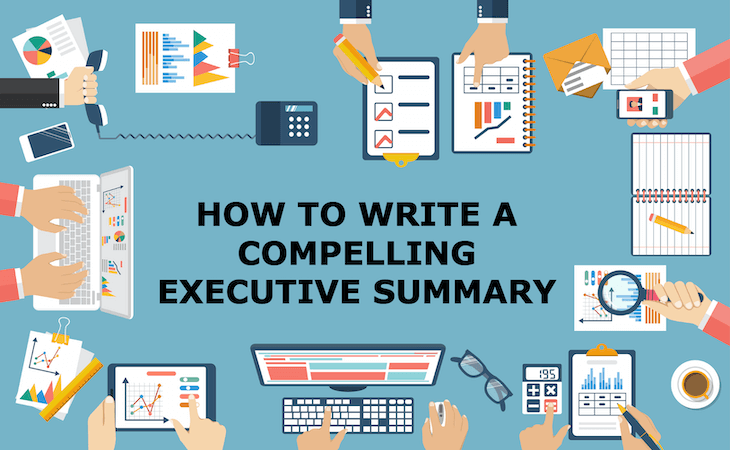 According to a report, 55% of people spend less than 15 seconds actively reading the content. These statistics are relevant to the biz world where the people at the management levels, C-level executives, lenders, and investors don't have much time to read the lengthy documents thoroughly. In such a scenario, it becomes difficult for startup owners and entrepreneurs to persuade investors and other stakeholders about the worth of their business plan. A concisely and well-written executive summary can be a real game-changer in capturing the attention of the investors and making them believe in your new venture.
Summarizing a 30 or more pages document in a 30-second gripping, well-structured executive summary with all relevant information included in it is indeed a challenge and a daunting task, particularly if you are writing it for the first time. To help you walk through this arduous task, we have come up with this insightful blog post that provides you with useful tips to write a winning executive summary.
Let's dive into the details!
What is an Executive Summary?
An executive summary is the summarized version of your business plan/proposal/report that gives stakeholders a quick look at the mission, vision, target markets, strategic and financial aspects of your new venture, convincing them why investing in your business will be a smart financial move. The executive summary includes information about:
business opportunities and how will you avail them
target market and demographic you want to serve
the business model, including your offering (brands/products/services) and their unique selling points
marketing and sales strategy to create brand recognition for your offerings
competitors and what makes your offerings distinct from theirs
financial analysis projecting financial management and estimated revenue generation in the first three years
the owners and staff and what skills they bring to the table
implementation plan, including the framework and timeline to launch your business/project
How Long Should be an Executive Summary?
As a general rule of thumb, the executive summaries are 10% or less of the entire document. As your stakeholders have limited time to go through the original business document, they prefer to read the overview in a summarized form to get a sense of what the lengthy document/proposal/report is all about. So, you must keep it as short as possible. Try to wrap it up within two to four pages; exceed it only if it is absolutely necessary. If you will write a prolonged summary, chances of missing out on any crucial point by the stakeholder (for whom this summary is intended) increases.
Tips to Write an Engaging Executive Summary
1. Begin with a BANG
Readers will be willing to read the complete business plan/proposal only if they find the summary informative and compelling in their initial analysis. So, in order to give a perfect and captivating start to the summary and grab the attention of the readers, you can include a relevant inspirational quote or a thought-provoking statistic.
2. Supporting Research will Enhance Your Credibility
If you have made any claim in your executive summary, you should support it with the relevant research, providing its citation links in the footnotes. It will give the reader the impression that you have come up with complete homework and preparation and possess a thorough knowledge of the market and competitors.
3. Write it Succinctly
The summary should be as short and concise as possible. It's not necessary to write all the points included in the business plan, but it must have all the vital information from all the crucial sections of the proposal/report. Highlight the best features, facts and statistics, goals, results, conclusions, recommendations, and major points of the proposal/report.
4. Your Tone of Writing Says a Lot About Your Business
An executive summary is a formal document meant for senior and managerial level business professionals; therefore, be wise while choosing the words. Avoid cliche language that tends to confuse instead of convincing the stakeholder with overpromising and under-delivering descriptions of your products/services. Whether you write it in the form of a story or choose any other writing style, ensure that it reflects the truth about who you are as an organization and includes information pertaining to your valuable target audience.
5. Pay Heed to the Representation
One of the important points to keep in mind is that by taking a glance at your executive summary, the stakeholder will take just 30 seconds to decide whether to read your detailed plan or not. Therefore, the way you represent the summary is a significant factor that determines the success or failure of the bid you have shared with the investors for raising funds.
Don't include more than three or four sentences in a paragraph.
Use bullet points to illustrate the information in the form of a list.
Keep the sub-headings and key phrases in bold.
6. Write it Last
If you write the executive summary after writing the business plan, you will be able to draft a more informative and persuasive summary, reflecting your comprehensive understanding of the competitive environment, customers, market trends, and solutions. If you write it first, you will probably draft it around incomplete knowledge and won't be able to make it effective and impactful. 
7. Proofread and Edit it!
You must proofread the executive summary before sharing or submitting it with the intended stakeholder. It will help you identify and edit the mistakes in spellings, grammar, and typographical errors, thereby improving the quality and readability of your document. Ensure that the provided information is in proper format and sequence.
8. Nail it with the Right PowerPoint Template
No matter how well you have prepared your executive summary, all your efforts will go in vain if you fail to present it to the right audience in the right way. The entirely editable, professionally-designed, visually impressive, and feature-rich Executive Summary PowerPoint templates can help you put across your message convincingly. With these pre-designed decks, you need to invest your time in making the content of the summary impactful, instead of designing the slides from scratch.
Now you know what should be included in an executive summary to make it effective. If you have some more tips, we would definitely like to hear from you. Do share your ideas and thoughts with us in the "Comment" section below. And if you like the blog post, do share on Facebook and Twitter.