A Complete Guide On 7 By 7 Rule in PowerPoint Presentations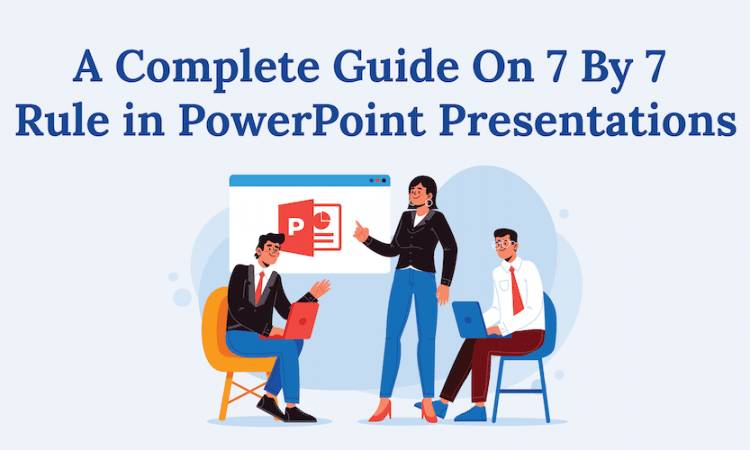 There are many options available in the market today for presentations outside the Microsoft ecosystem. But PowerPoint, to date, remains one of the top choices for professionals for its extensive library of templates and ease of use. Simplicity in creating presentations and familiarity with the ecosystem are other reasons that make PowerPoint a go-to option for all.
However, as good as it sounds, if you don't know how to use PowerPoint to catch people's attention, the entire purpose of creating a presentation gets lost, irrespective of the platform.
That's where the 7 by 7 rule comes in, a method that will guide you in creating an impactful presentation, whether you are a beginner or a professional.
This article is a detailed guide on everything you need to know about the rule in PowerPoint. Before reading further, let's find out what exactly it is.
What is the 7 By 7 Rule in PowerPoint Presentations?
Think of sitting through a presentation with a lot of content on the slides. Many of us can remember going through a similar experience. And irrespective of how good the speaker was, unnecessary long content is always a bummer. The seven-by-seven rule is a deterrent to that mistake.
The rule states that you can have no more than 7 lines across each slide, and each line can have no more than 7 words. It will help keep your audiences' interest intact in the content of your presentation and make it readable to them.
Note – The rule is for presentations that have a lot of content. You can also try similar methods like 5 by 5 and 6 by 6. These are not strict rules, just guidelines to help you improve your PowerPoint presentations and make them captivating and catchy.
Why Should You Have 7 Lines on Each Slide?
The primary purpose of a presentation is to supplement what the presenter wants to say. Nothing kills a slide more than an overload of information. The audience stands a chance to get lost in the content and lose interest. And the presenter might get confused too in the mess of the content.
The 7-line guideline will help you keep your slides readable, clean, and easy on the eyes.
You can structure your content in bullets and stick to the main points on each slide.
It will help your audience easily navigate through each slide by reducing unnecessary clutter and information overload.
It will help the presenters stay focussed as they can easily go back to the main points and elaborate upon them.
The audience will stay focussed on your talk as they will not be reading through the slides.
Why Should You Go for 7 Words Per Line?
Going for limited words on your slides makes a lot of sense for a lot of reasons. Why would you want to stuff your slide with structured sentences if you anyway are going to speak about it?
If the audience has to read your content themselves, it very well eliminates the need to listen to the presenter.
Sticking to a limited word count will help you pinpoint key points of your presentation and align them better.
You will not be re-reading the entire lines to your audience, which could be a great deterrent for them to listen to you.
It will help eliminate unnecessary words from each slide, making it more aesthetically pleasing (larger fonts and less information).
It will help you use the white/negative space optimally, making your presentation breathable.
Pro Tip – Do not add unnecessary graphics when sticking to the 7-word content on a particular slide.
How to Structure Your Presentation According to the 7 By 7 Rule?
Now that we have spoken about the benefits and the need for incorporating this method (for a clean and engaging presentation), let's discuss how to craft a presentation around it.
Creating a presentation with this rule is as easy as the name sounds. Go for bullet points across each slide. And instead of going for complete structured sentences, use mini-sentences and keywords.
Here are a few tips to help you use the method –
The best way to go ahead and create a succinct presentation is to create a basic outline first. Write all the information you want to share in your presentation. Break down the information into key points for each slide. It will help you design your slides faster with a clear structure.
Go for a Single Concept on Each Slide
While it's great to build on the content from the previous slides, it's wise to explain a single concept in one slide as the presentation progresses. Take the help of phrases and keywords that accentuate the point, and use nouns and verbs to keep your points in short form.
Design Each Line as a Reference for What You Want to Say
Create your slides in a way that they are your personal notes for reference. Keep your lines brief and elaborate on them while speaking. Your audience will not fully comprehend the meaning by merely seeing the slides and will have to listen to you, which will keep them engaged and attentive.
Add One More 7 to the Slides
You can add one more 7 to the rule and make it 7 words in each line, 7 lines in total on each slide, and 7 slides for your entire presentation. It will help you keep your presentation short and to the point. A 15-20 minutes long presentation can be apt for holding your audience's attention. And going for 7 slides will aid in creating a short and impactful presentation.
How to Use the 7 By 7 Rule in the Most Effective Manner?
Leaving information can be detrimental to your subject in hand, and including too much information might disinterest your audience. So, the best way to use the rule is to edit the information that you have. If you have a lot of information to share, you can use sub-points in the slide but do not exceed over 7 bullet points, with a key message for each slide.
In a Nutshell
There is no alternative to creating a solid presentation backed with relevant data and information. Going for the 7 by 7 rule isn't a silver bullet for all presentation-related issues; it will help you create a crisp presentation with a clear message.
You will be able to structure your presentation effectively and keep your audience hooked. As a presenter, it will help keep your mind focused and keep you away from the unnecessary clutter on the slides that might confuse you as well.
And lastly, less content will also make for breathable and attractive presentation slides with legible fonts and optimization of white space.
If you are running short of time or don't have the knack of designing slides from scratch, you can go for pre-designed presentation templates to put across your message in a clear and precise manner.