A Detailed Guide on How to Create a Powerful Product Presentation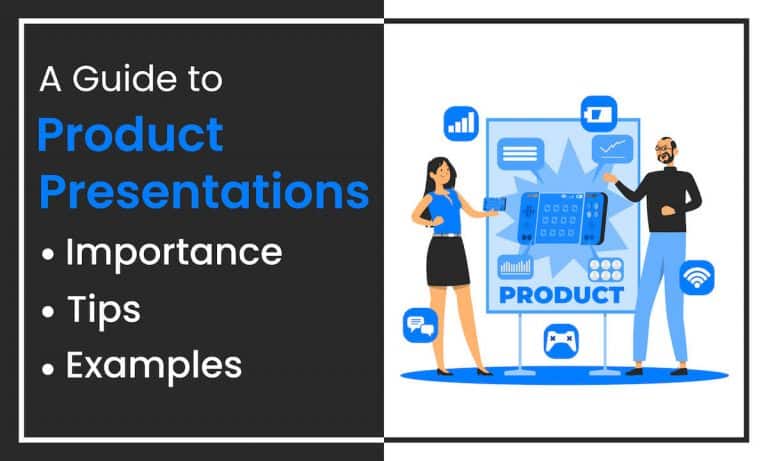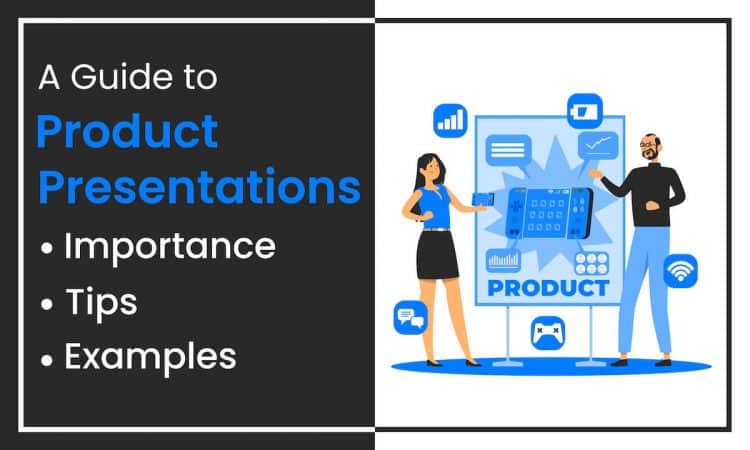 We live in an era of unlimited goods and services. Every article that we consume has many other variants in the market. In such times of cut-throat competition, it is crucial to create a competitive edge and market your products strategically with stunning product presentations.
A great product presentation is key to capturing the attention of potential clients, demonstrating the value of your products, and closing sales.
In this article, we will walk you through the steps for creating a powerful product presentation, along with some examples to inspire your own. This article covers the following topics-
What is a Product Presentation
What is the Importance of a Product Presentation
How to Craft Effective Product Presentations
Templates that You Can Use in Your Product Presentation
Real-Life Examples of Splendid Product Presentations
What is a Product Presentation?
A product presentation is an important marketing tool that is used to raise awareness of, showcase, and promote your product to potential clients and investors. The core purpose of such a presentation is to create anticipation, excitement, and hype around the product and ultimately persuade the customer to purchase it.
A successful product presentation should always be tailored according to the needs and interests of the audience. It should cover their pain points, provide them with solutions, and also make them understand how your product fits into their demographics and culture.
Importance of Product Presentations
1. Communicate Your Unique Selling Proposition (USP)
One of the most important aspects of a product presentation is to effectively communicate the benefits, unique selling propositions, and exclusive features of your product. It is especially important for complex products or services that may be difficult to understand without a visual representation.
For example, if you are a company that sells wooden and sustainable toys for kids, you can dedicate a few slides in your presentation to highlight how your toys are safe for children and the environment.
2. Showcase Your Credibility and Expertise
Product presentations are an opportunity to showcase your credibility and expertise in your industry. By demonstrating your products and services in a professional manner, you can establish yourself as a trusted source of authority in your field. You can include testimonies and reviews of existing customers and build trust amongst your potential customers.
3. Deliver a Memorable Experience
Product presentations can be more than just presentations. If delivered creatively, they can be transformed into an amazing experience that leaves a lasting impression on your target audience. It can be extremely beneficial for keeping your products in their memory lanes for a long.
4. Improves Sales
Product presentations can have a direct impact on sales performance. When your potential customers are aware of the benefits and competitive edge of the products and have trust in your company, they will not hesitate to purchase your products. Thus, product presentations can increase sales and lead to massive growth for companies.
Templates that You Can Use in Your Product Presentations
You can save much of your time and energy by using expert-designed templates in your presentations. Crafting your slides from scratch can be extremely burdensome and tedious. Thus, it is better to add customizable templates to your slides and make your presentations look more professional and stunning.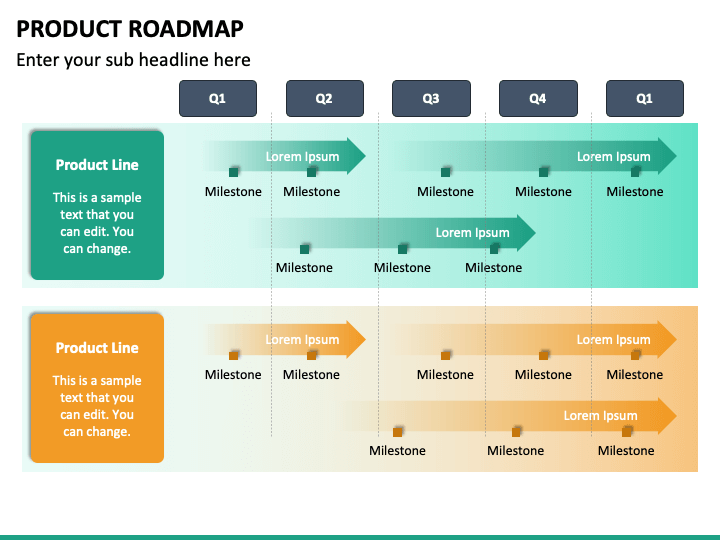 A product roadmap showcases the journey of your product. Right from the idea behind it to its execution, it covers all areas of how the product was brought to life. You can incorporate this template in your presentation to throw some light on the milestones of product development and showcase the release plan.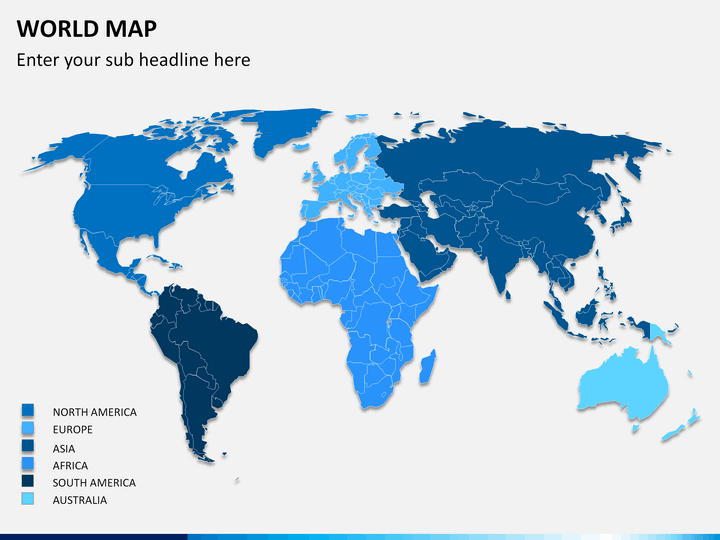 Using maps in your product presentations can elevate the look of your slides and help you depict your brand presence. Harness the power of maps and showcase your customer base from various locations. You can also highlight areas with high demand for your product and locations where you wish to launch your next product.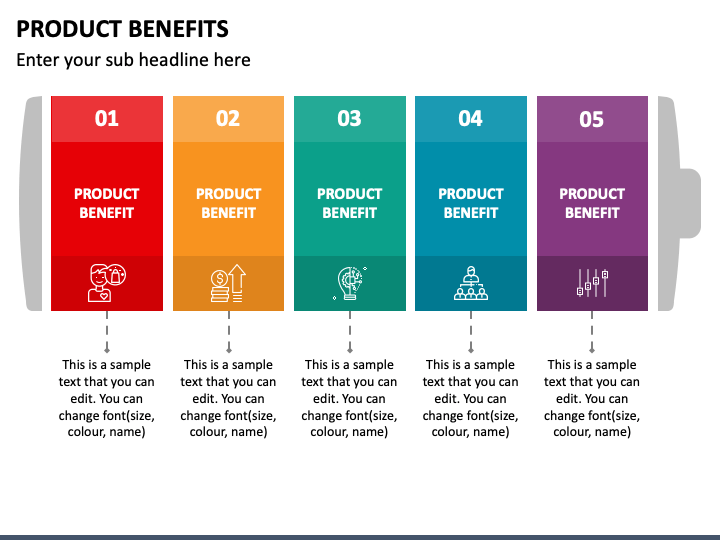 Highlight the benefits of your products and put emphasis on their value with this template. You can use it to highlight the core competence and unique features of the product that differentiate it from others in the market.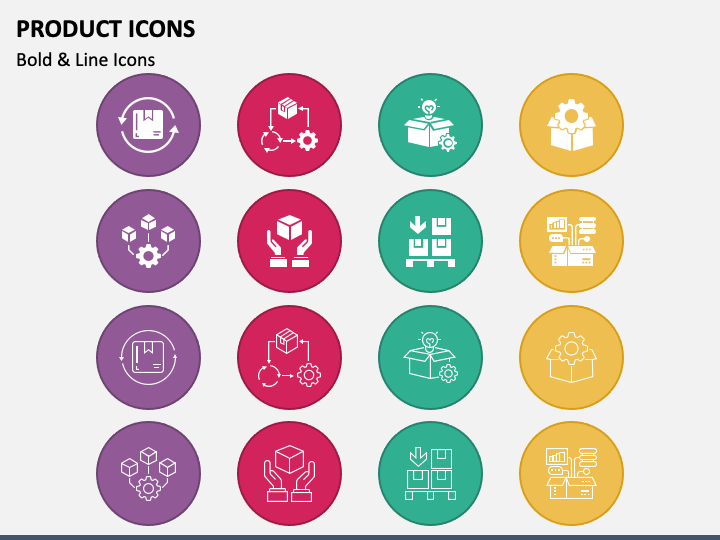 Using product icons in your presentations, you can instantly capture the attention of your audience. You can complement icons with text to increase comprehension or replace text with icons to save space on your slides for other crucial content.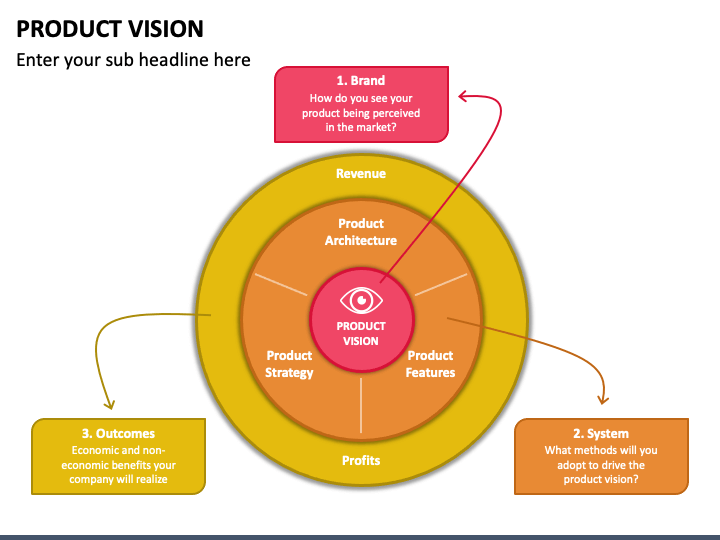 By using this template in your presentation, you can visualize a roadmap for your product. It will help you display your vision for the product, how you wish to develop it, and bring it to life.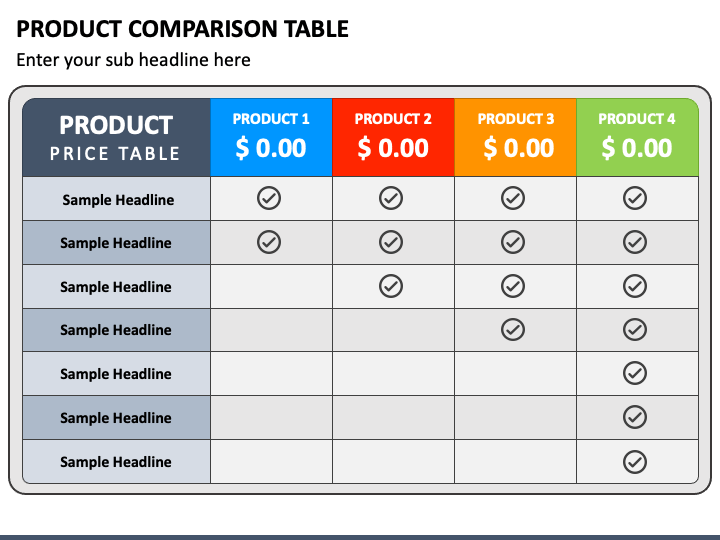 The product comparison table can be used to showcase a comparison of pricing and features of products of various brands and companies. You can also use it to display how your organization's services and products are better than those of competitors.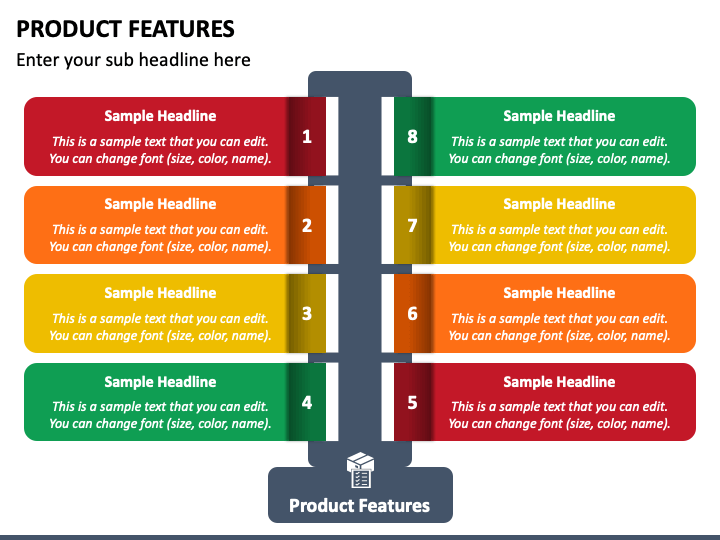 Highlight your product's features and its USPs with this template, ensuring your presentation puts emphasis on the selling points and uniqueness of your products. You can also talk in detail about the product's design, quality, functions, and much more using this deck.
How to Create an Effective Product Presentation
Let us understand a few ways how you can create effective and memorable product presentations. Here are four tips with examples that will help you.
1. Get to Know Your Audience and Identify Your Goal
The first step to creating a stunning product presentation is to know your audience well. You must identify their expectations from the presentation and get to know their needs and wants.
You can answer the following questions and analyze your audience's requirements-
Are you presenting to potential investors or to customers?
What do they expect from your presentation?
What are their age group, gender, and background?
Are they the right fit for your product or service?
Once you answer these questions, you can curate a presentation that would meet the expectations of your audience. It can help you keep them engaged and increase the chances of lead generation.
For example, Apple's product presentations are an example of how you should identify the audience and the goal. The company knows that its audience is tech-savvy consumers, and its goal is to create excitement and anticipation for its latest product release.
2. Define Your Message and Create a Structure
Next, you must define the message that you wish to deliver. What is the core message that you want to communicate about your product, and how will you structure your presentation to convey it?
A well-structured presentation should have a clear beginning, a middle with the pros and cons of the product, and an end with a logical flow that guides your audience through the core message.
For instance, Tesla's product presentations are structured around the company's mission. They highlight how the company aims to accelerate the world's transition to sustainable energy. Each presentation showcases its latest products and technology and always ties back to its overarching message.
3. Harness the Power of Visuals and Graphics
People are more likely to remember information when it is presented in a visual form. Thus, using high-quality images, videos, and infographics can add life to your slides. You can incorporate multimedia such as GIFs, showcase your products with the help of augmented reality, demonstrate online avatars with NFTs, incorporate animations, etc.
For instance, luxury fashion house Gucci became the first in its field to launch its collection with an augmented reality fashion show. It started selling its items in the form of NFT tokens and became the talk of the town. This collaboration of fashion and technology made its campaign one of the best product presentations to date.
Have a look at it here – https://vaultartspace.gucci.com/
4. Create a Sense of Exclusivity
Everybody has a fear of missing out on anything that is termed as exclusive or is available for a limited period of time. Product presentations usually create a sense of exclusivity and persuade the customer to buy the product.
Let us understand it with the example of a luxury fashion brand, Hermes, and its iconic Birkin bag. Hermes offers extremely limited quantities of the Birkin, and to own it, one needs to take an exclusive appointment with the company. The waiting list can last for up to even six years, which has increased the anticipation for Berkin even more. This strategy of exclusivity has helped the luxury brand to create massive hype and create a stunning product presentation for the world.
Real-Life Examples
Let us have a look at some of the best product presentations that have left an impeccable impression and created outstanding impacts.
1. Apple's Product Launch Events 
Apple is known for its unique product launch events. These events are not just about showcasing new products, but are also an example of what a stunning product presentation looks like.
Apple's presentations are staged in a theater-like setting, with dramatic lighting, music, and absolutely stunning visuals. The products themselves are showcased in a way that is both informative and visually appealing. These presentations are typically delivered by the highest-level executives of Apple, such as the CEO of the company, to give importance to and highlight the value of the products.
2. Coca-Cola's "Share a Coke" Campaign
Coca-Cola's "Share a Coke" campaign is an excellent example of a unique product presentation. The campaign replaced the Coca-Cola logo on bottles with popular names and phrases, such as "Share a Coke with John" or "Share a Coke with a Friend."
This unique presentation created a personalized experience for the consumer, making them believe that the entire product was created just for them. It added value to the customer's experience and made them buy the product more often.
3. GoPro's "Be a Hero" Campaign
GoPro's "Be a Hero" campaign is another example of a unique product presentation and how you can create a community around your product.
In this campaign, the company encouraged customers to share footage from their GoPro. This highlighted the product's capabilities and inspired others to use the product in creative ways. This presentation not only highlighted the product's features but also created a sense of togetherness among GoPro users.
4. Samsung's Galaxy Fold Launch
Samsung's launch of the Galaxy Fold phone in 2019 was a massive success, and here's how the company tactfully launched the device.
Samsung started by highlighting its edge in being the latest in technology to manufacture a phone that can be compact yet useful. In its demonstration, it unveiled a sleek design and unfolded it to showcase a bigger screen that would be more comfortable for the human eye. This stunning product presentation led to huge sales for the tech giant.
Conclusion
Product presentations are great opportunities for companies to launch and sell their products to the world. The quality of presentations can determine the success of products in the market.
With the rise of digital platforms, presentations have become easier to create and share with a bigger audience. By using expert-designed templates and graphics, companies can make their presentations mind-blowing and demonstrate their products in an interactive manner.
We hope this article helps you in your next product presentation. Let us know what you think in the comment section below!