How to Avoid Presentation Disasters?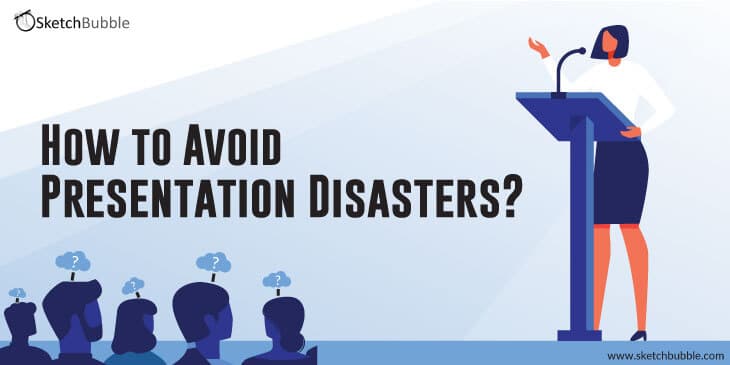 PowerPoint presentation is considered the best medium to present what you have to explain, in a creative way. We try to put in a lot of effort into our public speaking instead we should feel easy as the PowerPoint Slides are used to assist you during your speech and make it interesting enough for the listeners. Despite being extra alert & checking upon all kinds of faults that might embarrass you on stage, always be ready for the unexpected because whether everything seems great a moment before your presentation & the very next moment you are seen struggling with it.
Not everything can go wrong but even a tiny winy problem can make you uncomfortable in being on stage. It might be anything like mic suddenly stops working or the fonts used look very small on projector screen etc. Since these disasters are products of unexpected happenings we cannot say that there are X ways to save yourself from presentation disaster, hence I am dividing tips which I have learnt, into two systems, Technical Disaster control tips & Skills Check. Let's go one by one –
Technical Disaster Control Tips –
Your Device, Your Way – Though this is not necessary, it's always better to select your device as your presentation partner. You know your device well, it's strengths & weaknesses and also it's always a great back up for if something goes wrong you always know where to find the solution. To add to this I would like to tell you that using the arrow keys to change the slides looks lame, so have a remote to change the slides. This looks apt, smart & also saves you from untimely changes in your presentation or laptop for instance, your laptop going into sleep mode. You can suddenly return back to your slide with the remote.
Make Sure of Internet Connection – Now why would I include this? Of course, it's obvious that in your detailed presentation you need to give live examples with your website, online videos and more. So always be ready with an internet connection to save you from disastrously lurking on stage waiting for a thought to come.
Be Prepared for a Corrupt File – This might take your breath away at the very moment of presentation. A file corrupt situation can happen to you if your presentation is a large size file. So what's the remedy…..Always keep a print copy ready with you to save yourself from standing stoned on stage & try getting some PowerPoint repair/recover tools to save yourself from such situations.
Check for Compatibility issues – Always keep a check on the compatibility of PowerPoint version with the presenting device before the final go. Especially if you are using different device then you need to be alert & make it a habit to carry PowerPoint Viewer with you.
Put Sleep Mode & Notifications Out of Action – Don't let your laptop sleep during your presentation. Disable the standby mode on your laptop and also all kinds of alerts like new mail in inbox, social media updates etc. If audience witnesses these notifications you look unskilled & unrehearsed.
Too Much Animation will slow you down– Yes it's true, too many effects & animations if used in your presentation will make it slow & will even slow you down. I am not saying that you should give your presentation quickly, instead you should be deep and balanced. Too many animations will kill the quality of your presentation & also you will have to wait to see the pointers on every slide.
Skills….. Check Check….!!
No Fumbling! Be yourself, Look Effortless –Experts say that when we are on stage we are completely alone, so this is the best place to think of yourself as the king of the stage. Done up some confidence, you need not cram your starting points neither you have to rehearse too much. Just study the topic you chose, well, have great insights and remember the USP of your presentation. When you brush up all these points you are ready to present and it will automatically look effortless.
Don't Be A Robot; Use Your Knowledge Bank –If something unexpected happens on the technical front don't just look like a robot with all used up batteries, use your head, enhance your spontaneity and keep going with the topic you are speaking on. Those slides are just to assist you, you are the showman. Knowledge & experience can cover up any unexpected discrepancy but still you need guts & confidence to best present yourself as you don't need the presentation to bind people.
Move from One Topic to another logically – While addressing an audience you need to balance and time your presentation and glide through topic to topic with relevant instances and add different flavours of humour & mystery to keep your listener's attention intact. It shouldn't look like that you are rushing to end your speech, it should indicate that you are the master of the subject & can talk to the audience for a good amount of time. Baseless facts can never do well to your stage image, involve more logical facts to gain audience's trust.
Dress smartly & avoid wearing a fake attitude – Dressing for your presentation is a crucial aspect to be taken into account. Just wear what makes you feel comfortable although you should not look too casual as it's not a vacation, it's a presentation and you should look ideal. Dress to bring out your personality. Don't act as the tough guy or a very sincere one if you are not. Adopt your own style and admire your abilities.
Care for your audience, anticipate their needs & Comprehend –Your audience is the one who takes you through your presentation journey, listen to you patiently and appreciate your efforts. Try to maintain eye contact with your listeners and understand how they feel about what you have to say. Judge by your anticipatory antennas that what your audience urges to know most. Gift them the delight of answers they seek from you and explain all facts efficiently.