How to Craft a Winning Go-to-Market Strategy to Unlock Product Launch Success?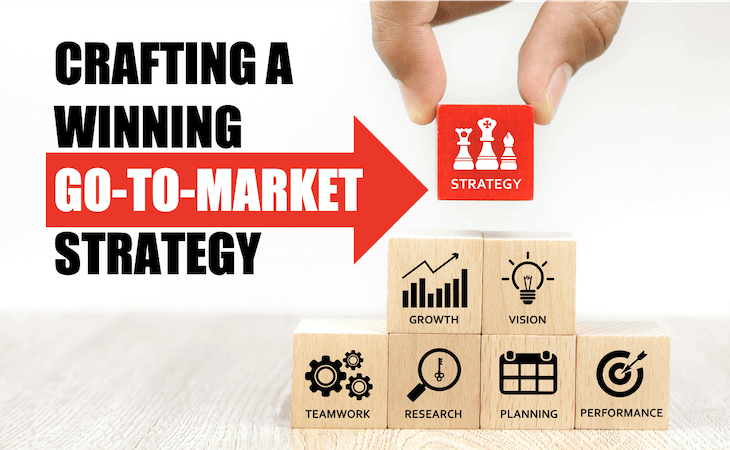 Congratulations! Your new product is up for launch. So, how are you going to introduce it to the real world? If you have not planned the launch yet, you have committed the biggest blunder. Most companies get so obsessed with designing and manufacturing new products that they think no more of the marketing strategy, and the result is – product flops. Some product launch failures are so catastrophic that they entirely ruin the organization's finances and reputation.
Launching a new product without a well-crafted strategy is similar to spinning the wheels without getting anywhere. So, you must have a Go-to-Market (GTM) strategy in place to prevent product failure. A Go-to-Market strategy shifts your focus from products to customers and provides you a roadmap to position, target, and promote your products in the right direction to deliver maximum value to customers.
In this blog post, we have provided a complete guide on preparing a winning GTM strategy to increase the chances of success of your product. We have also provided a useful Go-to-Market Strategy template that will help you explain your plan to the team impressively.
Let's delve deeper!
What is a Go-to-Market (GTM) Strategy?
A Go-to-Market strategy is a roadmap or a strategic action plan that outlines:
what are you going to sell and to whom (Products and Customers)
where you want to sell (Market)
what's your unique value proposition (Positioning)
how much will you charge from each customer group (Pricing)
what channels you will use to reach the potential customers (Delivery)
An effective GTM strategy brings several benefits to the organization, such as reduced customer acquisition cost, increased ability to adapt to market changes, enhanced customer experience, reduced time to market, etc.
How Long will it Take to Execute the GTM Strategy?
A comprehensive Go-to-Market strategy comprises a detailed evaluation of your offering, budget requirements, customer segments, target markets, competition, pricing, positioning, and several other aspects. Therefore, it takes several weeks to 1-2 months or longer to formulate the GTM strategy and 12 to 36 months in its full-fledged implementation.
The Process to Build a Strong GTM Strategy
Here we have provided the complete action plan that will help you launch your product successfully. Take a look!
1. Get Acquainted with Your Target Market and Potential Customers
Your product may not be apt for all markets, so you must first identify the most profitable market that perfectly resonates with your offering. Do a precise analysis of your target market and customers before releasing the new product. The better you know your customers and market, the more effective strategy you will be able to devise.
Areas that you must take into account while evaluating the market include demographics, market size, barriers to entry, growth trends, geography, competition, ethnographic, buyer persona, geography, etc. For getting insights into customers' expectations and needs, you can conduct interviews from focus groups, surveys, and one-on-one interviews.
In a nutshell, market analysis will help you get the answers to the following questions:
What are the requirements of the customers, and what problems are they facing?
What is the size of the market you are targeting, and do you have the capabilities and competencies to beat the competition?
What experience do you want to create with your product for the target customers?
What are the emotions that you want to trigger when potential customers interact with your product?
Useful Template: Customer Analysis, Market Analysis
2. Determine Your Value Proposition and Define Product Positioning
Know your product closely to prepare a convincing unique selling proposition and gain a competitive edge. Understand the user benefits and key features of the product, how it is different from that of your competitor, and which problems/needs of the customers will your product solve/fulfill. While crafting the value proposition, think from the perspective of customers and follow a forward-looking approach.
Next, define the positioning strategy focused on how you will create a distinct image and perception of the product in customers' minds. Below are a few tips for achieving effective and powerful product positioning.
It must be meaningful, unique, clear, and deliverable.
Write your positioning statement and thoroughly test it using concept testing and focus group interviews.
Use the tested positioning statement in your communications with customers across all channels.
After reaching the desired positioning, you can optimize the product and messaging, and convert the statement into a brand tagline to use it in all your marketing communications.
Alter your positioning to target two or more different segments.
Useful Template: Value Proposition
3. Select the Channels
Choose the marketing/distribution channels through which you want to reach customers. These channels may be inbound or outbound, including a customer service call center, a seminar, Internet, a trade show, a retail store, social media, online videos, etc. Whichever channels you choose, ensure that you provide a seamless and cohesive brand experience across all touchpoints.
To select the right channel for your offering, consider the following points:
From where your customers prefer to buy – online or offline?
Which channels your customers use the most during different phases of the buying journey?
Which channels your competitors are using?
Use a cross-channel approach to communicate with your customers across multiple touchpoints, but be sure to deliver consistent and personalized messages on all channels.
Don't overlook offline channels by being carried away by the hype about the digital channels.
4. Allocate the Budget
Most product launches fail due to inadequate allocation of budgets. So, be proactive and estimate your budget in advance for the following phases:
Development – It includes costs related to hardware and software, training, overheads, salaries, research & development, etc.
Production – It includes all the costs that need to be incurred on converting your idea into a product. It comprises equipment, raw materials, transportation, warehousing, floor space or office, packaging, etc.
Marketing – Estimate the cost required to reach customers. It includes costs related to social media marketing, the cost of setting up new service or retail outlets, etc.
Contingencies – It is the best practice to allocate 5 to 10% of your total budget for the unpredictable contingencies.
5. Define Your Product Pricing
The pricing structure of your product says a lot about what value you are going to deliver to customers. The customers' perceptions of price and quality are closely interlinked. Customers generally believe that higher-priced products deliver the best quality in comparison to low priced products.
Which pricing model you should choose depends on your business model and objective (do you want to beat the competition and attract new customers, or do you want to sell your product as the premium product?). A too low price will help you get lots of customers but will not generate sufficient revenue to pay for office expenses, salaries, customer support, etc. But if you keep the price high, customers will not be willing to buy it. Again, in this scenario, you won't be able to manage cash flows. Both the conditions are frustrating and screw you up.
So, before giving a price tag to your product, consider the following points:
What value the product provides to customers and how successful it is in solving their pain points.
For which feature of the product, your customers are willing to pay and how much?
What is your per unit cost, and how much profit you want to make?
How much competitors are charging for their products?
What are the market trends?
Useful Template: Pricing Strategy
6. Prepare Your Marketing and Sales Strategy
Till now, you have collected much information. Now, it's time to put them together to prepare a unique marketing and sales strategy. Devise a strategy on the basis of the following points:
How do you want to make people aware of your product – via ads, content (blogs, whitepapers, ebooks, and videos), main website or a macro-site, events, trade shows, or press releases?
How will you generate demand for your product, and which methods/techniques will you use to find leads (social media, PPC advertising, search engine optimization, influencer marketing, online networking, etc.)?
Cold calling, outbound sales, or inbound sales – which sales strategy will you adopt for client acquisition?
What resources, tools, and training support do your sales team require to sell the product and manage relationships with potential clients?
Useful Template: Sales Strategy
7. Don't Overlook Customer Support
One of the biggest mistakes that most organizations make is they don't pay heed to customer support services to help customers resolve their queries/issues after they purchase the product, and this takes a toll on all the efforts made for a successful product launch. So, if you don't want to go through a similar situation, invest in a skilled customer support team ahead of time.
In the weeks following the new product launch, you can expect an upsurge in web traffic, demand, and troubleshooting requests. This is the time when you can make customers feel valued by providing adequate support. Your investment in customer support will save you money, retain more customers, and generate more word of mouth referrals.
Useful Template: Customer Support Journey
8. Decide on Metrics to Measure the Success of the Product
For evaluating if your product is doing as per your expectations after the launch, you must have some metrics to measure the performance down the line. While determining the metrics, ensure that it is meaningful, measurable, operational, and aligned with the objectives. It will help you convey your expectations to the marketing, sales, and other teams.
Useful Template: Performance Metrics
The Bottom Line
If you want to increase the likelihood of success of a new product launch, take the time to craft a compelling go-to-market strategy. Modify it from time to time to stay abreast of the latest market trends. Make your team aware of your entire plan and make them understand in a visually impactful manner using the right template.
Would you like to add something relevant to this information? Write in the "Comment" section and share the blog post on LinkedIn and Facebook.