How to Extend Your Personal Brand through Public Speaking and Presentations?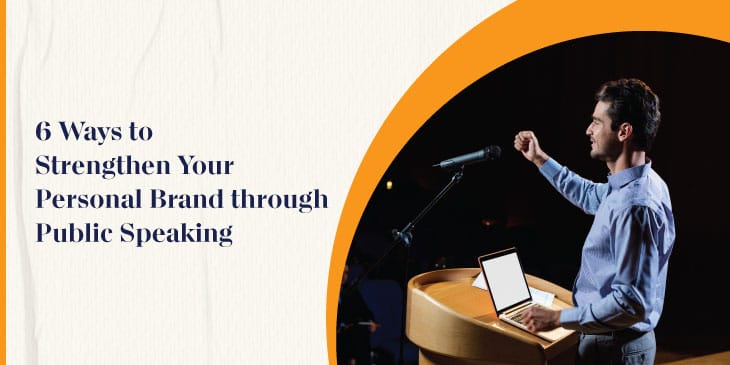 Personal branding is all about creating and influencing public perception of yourself by standing out from the competition, enhancing your credibility, and positioning you as an authoritative figure in the industry. By developing a unique personal brand, you can increase career opportunities, sell more products, grow your social following, and get more business.
There is no better opportunity than public speaking to build a personal brand and gain high exposure and visibility. Speaking engagements give you better outreach, connect you with the intended audience at a deeper and personal level, and gain more traction to your message. However, most people are afraid of getting up in front of a small or large group of people. The thought of speaking in public makes their heart race and palm sweat. To avoid public speaking, they try to search for alternatives, such as email marketing, blogging, etc., to publicize their personal brand. For those fearful professionals, it is important to understand that public speaking is an extremely powerful tool that supports all other brand-creating efforts. Read this blog post if you need some convincing reasons to include speaking in your brand-building strategies and learn ways to conquer your public speaking fear.
1. Tell Your Purpose and Vision
As the audience invests their precious time attending your presentation, you must make them feel that your session is worth their time by telling them what you want to accomplish through your speech. Speak passionately to win their trust and encourage them to pay heed to every single word you utter. This way, you will be able to build credibility and rapport with the audience, which is crucial for strengthening your personal brand value.
2. Focus on Vocal Clarity and Variety 
Don't sound like a really boring high school teacher whose session students wish to get over as soon as possible. Rather, speak with clarity and without any hesitation. Vary your voice to establish your authority and keep the audience hooked throughout the speech. Open your presentation with a loud voice to engage viewers in the first few minutes. Proceeding further towards the core message, slow down your pace and speak in an empathetic tone. You can keep varying your pace and tone depending on your presentation's content and the audience's response.
3. Use Visuals to Make Your Brand Unforgettable 
What are the things that come to your mind when you think about McDonald's? Most likely, the logo, their uniform, and the iconic interior design that most global McDonald's restaurants share. The visual aspects used by McDonald's for branding make it quickly relatable with customers.
The visuals and graphics you choose to convey your message say a lot about your brand value and help you make a huge difference. The wise use of visuals in your presentations drives high engagement and makes your brand distinguishable and recognizable. By using powerful, thought-provoking, relevant, and high-definition visuals to narrate your story, you can create a unique space in the viewers' minds and bring your personal brand to the forefront. 
4. Make the Audience Feel Involved in Your Presentation
Instead of making your presentations business-centric, keep them audience-centric. Your speech must not give an impression that you are speaking just for the sake of selling products; instead, it must reflect that you are offering the viewers solutions to their problems. You can ask questions and allow them to respond. You can also include a personal story that resonates with them. Remember, the more valuable and memorable your message will be, the more the audience will feel involved, and it will become easy to persuade them.
Useful Tip – Avoid mentioning your business information unless it is directly related to the information you are sharing.
5. Give Extra Something to Your Audience
How about when you go to a cafe to quench your cravings for pizza, and the cafe offers you a free cold drink with pizza? Your happiness seems no bound, right? You will definitely refer the cafe to your friends.
Now think about providing 'something extra' during your presentation to create a delightful experience for the audience and win their hearts and nurture lasting relationships with them. You can offer a special discount on a future purchase or offer a free ebook as a token of appreciation for the time they took out to listen to you. This way, you can make them realize how much you value their presence.
6. Be Yourself
Imitating another speaker's style for delivering a speech will make you uncomfortable, and you won't be able to create that spark. The audience will also perceive your brand as a copycat. So, if you really want to build a distinguished and authentic reputation for your personal brand, be original and genuine. While presenting, aim to interact, not to perform.
The Bottom Line
In today's digital world, data and information are valuable assets for any business. In such a scenario, standing out and gaining a competitive edge is an uphill battle. However, you can make your unique identity and earn recognition for your brand by standing on a stage in front of a mass audience and delivering the right speech. Speaking engagements provide you opportunities to give your brand a face to whom the audience can contact for services, products, advice, or business opportunities. Further, when people see you speaking face to face and experience the value and emotions that come along, they feel motivated to believe in your brand. So, instead of overlooking the importance of public speaking in boosting your brand image, acknowledge its power and grab more and more speaking gigs to make an impact.
Do you have more tips to enhance your personal brand through speaking in public? Let us know your thoughts in the 'comment' section below. Also, do share the blog post on your social handles.