How to Keep Your Audience Engaged with Compelling Presentation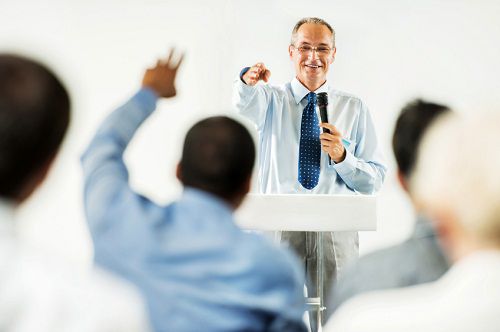 Remember those days when we used to make PowerPoint Presentations to make a Swan look like its flying from 1st slide to the last one and then used to run the slideshow to see it fly from right to left. It was fascinating, but PPT presentation have come long way & are leveraged as the best medium to explain critical statistical data, graphs, sales reports and difficult to understand ideas with the help of creative usage of effects it offers.
A public speaker's worst nightmare is to fumble on stage and see their audience sneaking through shoulders actually yawning away from your poor performance and on top of it if your PPT presentation does not have that wow element, with no binding agent to your presentation, your performance falls apart. If your audience is still sitting then either they fell asleep or the odds are that it is out of sympathy.
This is not a Power Point technical tutorial but a simple fact sheet with points to follow to keep your audience from sleeping. Here are some points to keep your listeners wide-awake while you speak –
Assign a USP to your Presentation
Just remember that this is not a shout-out program where you are extra thankful to people who have come to listen to you. In addition, you are not here to prove your point with exciting quotations and unnecessary facts irrelevant to your choice of subject. Choose your subject smartly and don't just scratch the surface, research it well, find the spell binding elements in the subject and align it as short interesting points. Decide upon how deep you want to go in your topic, try not to bore your audience with extra detailing.
Judge Your Audience Quickly
The starting few minutes are the deciding factors about how you should move forward with your presentation. Try to make out what makes your audience more responsive, judge them by putting a bit of humor & a sense of mystery in the first bit. Do not let the gap fall in between your interactive session; the whistles and hoots should come the positive way not to drag you down stage.
Make interactive slides but do not depend on it completely
Using fun pictures, connecting different examples with your topic and using PPT effects creatively is important, this is why PowerPoint is made for but do not let your slides do all the talking. You are the artist, an audio- visual yourself; slides are just your back up. If this were not true, why won't we just put the PPT on projector, show the slides to the audience and go home. We need an efficient speaker to take us with him during the whole presentation, Check these 9 Ways to Turn Text-Heavy Slides into Stunning Visual Presentation.
Do not Over Burden your Presentation
While starting with the PPT we are always overwhelmed with the options it has to offer but this does not mean that we should apply effects to every sentence and slide. We sure want to see sentences swiveling around and turning slides with sound, just try not to overdo it. Identify the balance and make your presentation bearable. Kindly not kill your audience with excess bullets. They are here to listen to you, not to burn their eyes by witnessing too many effects & weird fonts. Choose relevant and subtle effects & make a point.
Solve Your Audience's Unsaid Queries
Firstly, have great command on the topic you chose, secondly you should be able to think of as many questions as possible & their appropriate answers. Judge your audience by mastering the subject and figure out realistic queries your listeners might have. Add a pinch of mystery to your presentation by arising those possible queries right before you audience identifies, challenge them that they wanted to know this & answer aptly. Let them think that this man knows a hell lot around this subject. This will earn you not just listeners but true fans.
Don't be Jumpy; Glide with your presentation
There is a respectable difference between being fluent and going extra fast. If you are trying to outsmart the audience, you will not be able to make a mark. Catch up the perfect pace to explain everything; do not just jump from topic to topic. Take your time, balance & time every point you want to cover and glide smoothly with your presentation.
Preview before Final go
This step is an important one that every speaker should follow. Previewing your own presentation before actually presenting it is a smart move. Check the projector & sound, light & back up, software update etc. Once done take pride in presenting your hard work and earn accolades.
Starting with the right attitude & finishing it with style is the mantra to get the rhythm of what we call a perfect presentation. The idea of being up to the mark only comes with having confidence & trust in self. PPT is not just a medium to portray your work in a pictorial way, but is to be used as a great tool to represent your thoughts & research in a smart way.