Make New Product Launch on Social Media a Huge Success with This Expert Guide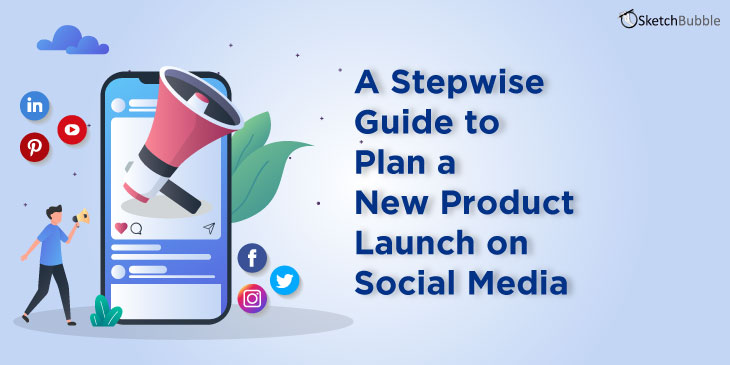 Finally, you have got a stellar product that has the potential to revolutionize the world. You have put immense effort and energy into creating this product, so you would certainly want to ace the launch. But the biggest challenge is – how to do it right?
Although product launch is a one-time event, it takes extensive planning to make it successful. Here social media can be a game-changer and can do wonders in maximizing your product launch outcomes. However, instead of increasing the popularity of social media, most entrepreneurs and startups give these platforms an afterthought, thus missing out on various lucrative opportunities. So, we recommend you not to overlook the power of social media and include it in your marketing strategy to create the pre-launch buzz that your product deserves.
If you are gearing up to launch your new product but not sure how to include social media in your plan, you have landed at the right place. In this blog post, we have provided a stepwise guide to help you rock your product launch on social media. Let's jump on the bandwagon!
Why Choose Social Media for Product Launch?
According to a report, more than 3.6 billion people will be using social media worldwide in 2020. This number is projected to soar to almost 4.41 billion in 2025. This statistic indicates that you can create a huge customer base if you use social media correctly.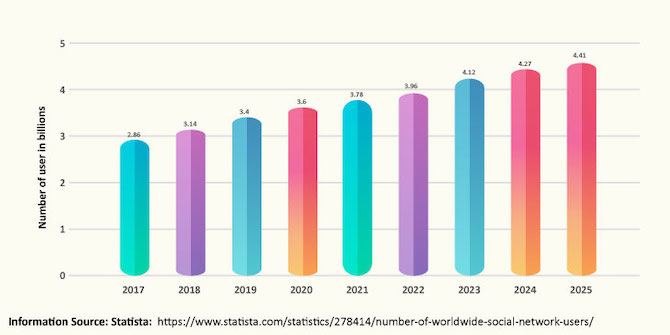 Here are some more good reasons to include social media in your successful launch strategy.
1. Better Targeting
If your product is intended for the younger generation, you can reap maximum benefits from your social networks as most social media users lie in the age bracket of 18 to 35 years. Social media channels offer a wide range of targeting options, such as interests, language, demographics, geotargeting, etc. for effective advertisement.
2. Easy to Attract Early Adopters
Early adopters are the social leaders who play an important role in influencing their family and friends to purchase your products down the line. Various statistics reveal a direct relationship between early adopters and the audience size on top social networks. You can easily touch base with these early adopter communities and groups through social media.
3. Word of Mouth Advertising
Most people make the image of a product in their minds based on recommendations from family and friends. In such a scenario, a single recommendation can leave a greater impact. With the right social media strategy in place, you can capitalize on word of mouth advertising efficiently.
"Trust, encouraged by social media, significantly affects intention to buy. Therefore, trust has a significant role in ecommerce by directly influencing intention to buy and indirectly influencing perceived usefulness." – M. Nick Hajili
How a Perfect Social Media Campaign for Product Launch Looks Like?
Every campaign begins with a meticulously thought-out and well-defined plan.
Pre-Launch Plan
1. Set SMART Goals and KPIs for Social Media Campaign
Direct social sales? Brand awareness? Community engagement? Lead generation? The first step in setting up the social media campaign is identifying what precisely you want to achieve. Your goals provide you a roadmap to create an effective promotional content strategy and KPIs.
Ensure that your goals are specific, measurable, attainable, relevant, and time-bound. Set some metrics or KPIs to measure the progress of your social media activities over time and make adjustments in your strategies proactively to stay on track.
Useful Templates: SMART Goals with Dart, Social Media Strategy
2. Create Buyer Persona
No matter how effective your social media campaign is, all your efforts go futile if you don't target the right customers. So, it's important to know the gender, age, interests, hobbies, pain points, location, income, etc. to create compelling messages that encourage prospects to take action. You can get a 360-degree view of the potential customers through the analytics and insights provided by various social media channels.
Useful Template: Customer/Buyer Persona
3. Choose Social Media Channels
With so many social media channels available nowadays, such as Facebook, Instagram, Twitter, Snapchat, LinkedIn, Pinterest, etc., choosing the ones that best match your objectives and make the most sense for your product is quite challenging.
Most organizations deem it necessary to have a presence on all the social platforms for better branding. But contrary to this, you can put your marketing efforts more effectively if you handpick a few social media channels. So, know the ins and outs of all channels and take into account the demographics of the customers before picking the right channels for rolling out your marketing activities.
Useful Template: Social Media Funnel
4. Create a Social Media Calendar
Put together your content calendar and launch timeline together to make sure that you don't miss any step in your social media marketing strategy. Depending on how long you want to run your campaign, put together your marketing creatives, such as landing pages, product descriptions, product videos and photos, blog posts, hashtags, ad copies, social captions, etc., for consistent messaging.
You can create your calendar on the basis of the following timeline:
Day 0-7: Pre-launch hype (You can share teasers, "coming soon" posts, countdown posts, product preview posts, conduct a pre-launch webinar, set up contests, etc.)
Day 8: Launch day
Day 9-14: Post-launch followup
Day 15-30: Integrate new product into a regular content schedule
Useful Templates: Product Launch Timeline
5. Competitive Analysis
By analyzing your competitor's social media strategy, you can get to know several crucial information, such as which channels they are using, which type of content they are sharing, frequency of posts, and the outcomes. You must also pay heed to the lapses in their strategy. You can exploit all these data and information to gain a competitive edge.
Useful Template: Competitor Analysis
6. Team Up with Influencers
There is no denying that influencer marketing is absolutely essential if you are launching your product on social media. Influencers help you get the word out on social platforms about your product, thereby increasing its reach.
You can host an event post-launch of the product and invite influencers. Pay special attention to the venue, natural lights, and backdrops when you plan to host an event. Influencers will more likely share your event on their social media feeds and stories if they find the ambiance great.
Another way is, you can give your product to the influencers as a gift ahead of time and encourage them to post about it on the day of launch if they like it.
Useful Templates: Influencer Marketing
7. Track the Performance
Track the performance of your campaign to monitor your progress against the set goals. It will also provide you useful insights into the changes required in your strategy. For tracking, you can use UTM parameters, Google Analytics, or other tools.
On the Launch Day
Voila! The wait is over, and the launch day is here! With your content ready beforehand, you are all set to take-off. You just need to engage with the community and potential customers, monitor the excitement, and resolve their queries. Besides this, you need to update the bio and stories of your social media channels and reshare the posts about your products posted by your followers. For building better connections with the prospects, you can host a live Q&A session.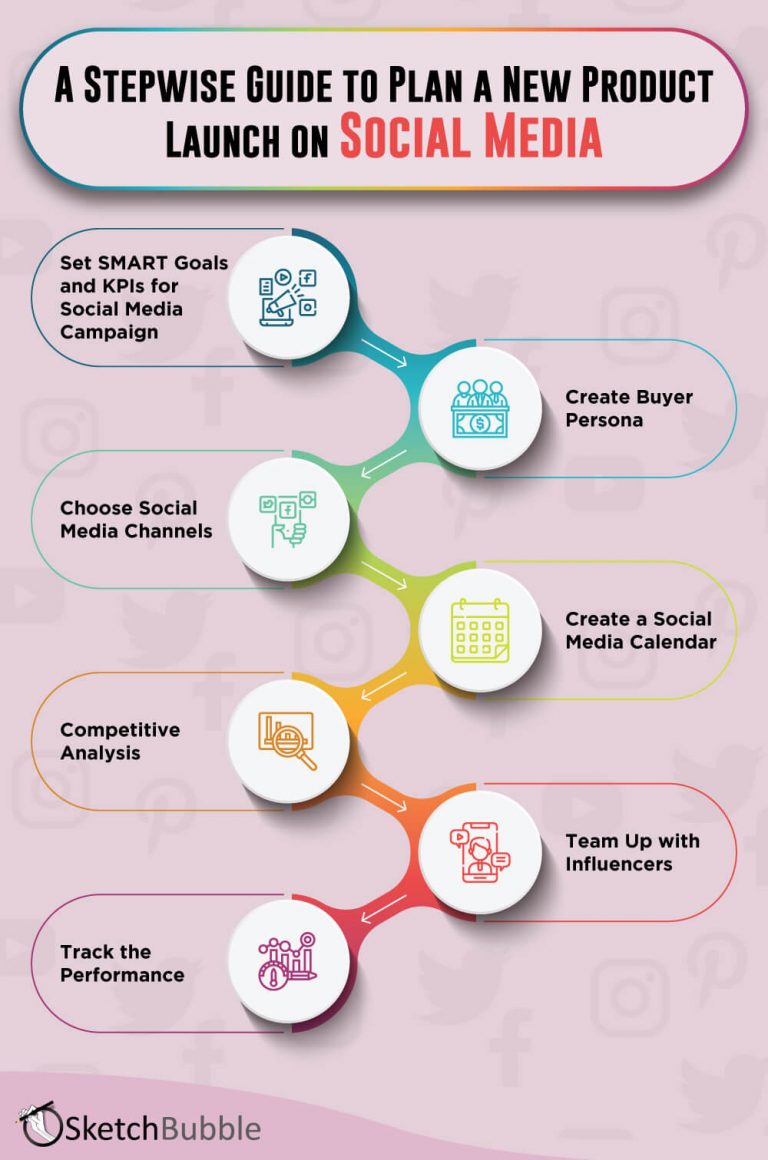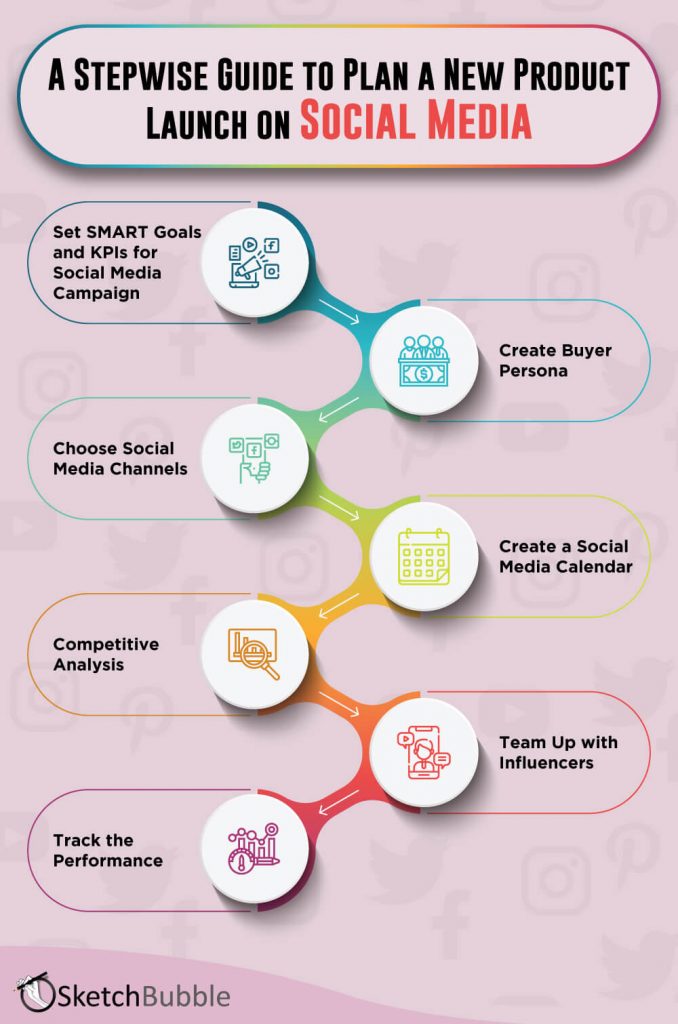 The Key Takeaway
Social media has entirely changed the online advertising and marketing landscape over the past decade. The dominance of social platforms has also brought a seismic shift in the way new products are launched. You can also squeeze the most out of and leverage these platforms to your advantage with the right tactics. So, be proactive and strategize efficiently to ensure your product makes a splash on social media!
Would you like to add something relevant to this information? We would love to hear from you! Write in the "Comment" section and share the blog post on LinkedIn and Facebook.