Public Speaking: How Attitude Determines Your Success?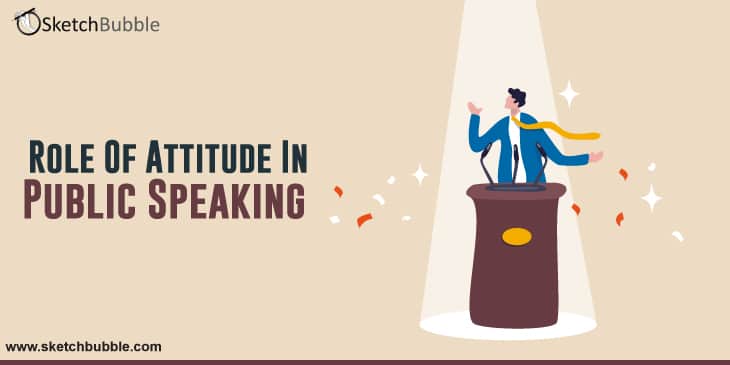 "People may hear your words, but they feel your attitude." – John C. Maxwell
The above quote fits well in the context of public speaking. Public speaking is not just about persuading the target audience through powerful words; it's also about connecting with them at a deeper level combining linguistic, paralinguistic, and non-verbal elements of communication to convey your message meaningfully. One such aspect of public speaking that speakers mostly overlook is – attitude.    
The success of a speaker hinges on his/her attitude. A positive attitude triggers a chain reaction of positive beliefs and thoughts and acts as a catalyst that sparks outstanding outcomes. Contrary to this, an attitude of discomfort or fear will only pull you down, taking you nowhere.
In this blog post, we have discussed how the attitude of a speaker provides a direction and decides his/her success or failure. Read on!
1. Audience Analysis
Apart from your beliefs and values, your attitude influences your perception of others and plays an important role when you analyze your audience before delivering your speech. An attitude of empathy helps you understand the feelings, thoughts, needs, wants, and problems of the target audience and organize them into a speech.
Figure out which aspect of attitude you need to change or work upon to be a more effective speaker and make the audience's experience more delightful and memorable.
2. Building Positive First Impression
Your body language reflects what you feel and think. The moment you enter the meeting room/conference hall with a positive attitude, you win the half battle to create an everlasting impression. An impactful attitude helps you project your confidence and create a good perception of your brand and offerings in the audience's mind. 
A negative attitude, on the other hand, is reflected in the body language through hands in pockets, folded or crossed arms, slouched shoulders, lack of eye contact, frowning, etc. Your audience can also determine your attitude through your voice. Mumbling, talking too much without listening, and high pitch voice tone indicate a negative attitude which reduces your credibility with the audience, making them unwilling to listen to what you have to say.
3. Forging Authentic Relationships
Convincing people and making them believe in your ideas is certainly not a cakewalk. But, by combining your positive attitude and confidence, you can build authentic and meaningful relationships with the audience and gain their trust. Further, if you have a positive attitude, your audience will also be positive and open to listening to your talk with full attention.
If you stay true to your missions and values, those who uphold the same will definitely connect with you in an organic way. The credibility that stems out from this trust helps you in the long run and keeps your audience coming back.
4. Calming Your Nerves
Your positive attitude gives you the courage to address a large number of people without losing your calm and concentration. Moreover, your attitude helps you stay composed even if any of the audience members ask you silly questions, and lets you think in the right direction – if an individual has invested his valuable time in attending your session, he/she has the complete right to get all doubts cleared and go back home satisfied.
As a public speaker, you don't get accolades from the audience each time you speak. The audience members often don't leave any opportunity to point out your mistake. In such a scenario, your positive attitude helps you face those critics and deal with criticism.
Conclusion
Standing in front of a mass audience, making eye contact with them, and delivering a speech is not everyone's cup of tea. However, you can win this challenge and climb the success ladder by getting your positive attitude into gear. Remember, successful public speaking begins with a choice of attitude; choose the attitude that sets you up for an effective and impactful presentation!