The Road to Product Excellence: Creating a Roadmap for Success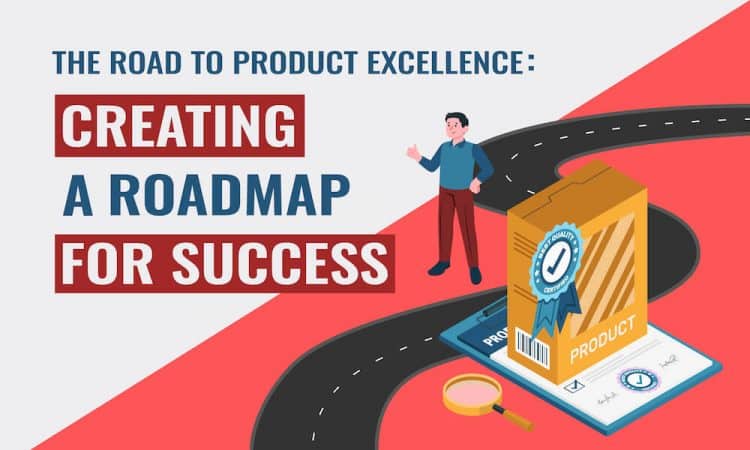 Do you know why most products, even with visionary thinking and game-changing abilities, flop in their development stage or fail to deliver expected customer satisfaction if they get launched anyhow? The reason is – most product managers don't prefer to create a roadmap (which is very crucial to keep team efforts and product goals in sync), assuming it is just a fancy chart, before starting the product development.
Product development is a complex process comprising several stages. Further, each stage has its own set of challenges. As a product manager, you can sail through the ups and downs of this process by keeping your team agile and aligned while staying true to the product vision. And here, you will need a well-designed product roadmap that clearly states where you are currently and where you want to go in the future. It also helps you communicate to the team the milestones, roadblocks, action items, deadlines, and more to reach the desired state.
Looking for a comprehensive guide to create a roadmap to product excellence? You have landed at the right place! Read this article to gain useful insights.
Types of Product Roadmaps
1. Goal-oriented/Outcome-based Roadmaps
These roadmaps highlight the product goals or outcomes, which could be increasing engagement, acquiring customers, future-proofing the product, etc. Using these roadmaps, you can clarify the specific value that the product intends to create.
Upsides:
Showcases product vision and how it aligns with broader business goals.
Helps adjust feature prioritization.
Downsides:
As these roadmaps lack extensive feature-level information, it becomes difficult for developers to understand dependencies and requirements.
In the case of multiple goals, prioritization of efforts and resources becomes challenging.
When to Use?
When you want to depict specific objectives or outcomes through your product strategy and keep your team focused on high-level results instead of particular features.
2. Feature-based Roadmaps
These roadmaps present a product's features and functionalities, their priorities, and the timeframe for release. It helps release the most important features on budget and on time.
Upsides:
Gives clarity on which features and functionalities need to be developed first.
Keeps stakeholders aligned on feature development priorities.
Downsides:
Not suitable for an innovative and agile environment.
Lacks flexibility.
These roadmaps lose their essence when a product has a large number of features (maintaining the product vision and managing dependencies become challenging).
When to Use?
When you want to clarify to your team the product's features, their priorities, and implementation deadlines.
3. Product Portfolio Roadmaps
These roadmaps depict multiple product plans, highlighting links across products and the overall direction for the product line in alignment with the strategic objectives of the enterprise.
Upsides:
Portrays a high-level and holistic view of the company's product landscape.
Provides insights into task dependencies, resource availability, and potential roadblocks.
Helps make decisions regarding prioritization and allocation of resources.
Downsides:
Managing portfolio roadmaps and ensuring coordination between various stakeholders is complex.
Lack of clarity and detailed information on technical aspects, milestones, and features.
When to Use?
When your firm has multiple products, you have to make strategic decisions on the basis of the product portfolio.
4. Evidence-based Roadmaps
Using these roadmaps, you can depict crucial evidence and customer feedback to help your product team understand what features resonate with your users, areas of improvement, and initiatives for driving desired product outcomes.
Upsides:
These roadmaps are customer-centric and prioritize features according to customers' needs and feedback.
Lets you justify your product decisions without conflicts.
Downsides:
You need a robust feedback management system and excellent coordination between teams to include and portray statistics for each product feature.
When to Use?
Best suited for customer-centric companies that are focused on creating value for their customers by incorporating their feedback in product development.
5. Product Launch Roadmaps
These roadmaps showcase the entire release plan, including the pre-launch, launch, and post-launch strategies and tasks.
Upsides:
Gives a clear visualization of how the new product will be launched in the market and what challenges the team will have to face.
Helps depict a checklist of activities to be performed in each release phase.
Downsides:
These roadmaps highlight feature delivery; however, they don't depict the strategic objectives or the broader context behind the prioritization of features.
When to Use?
When you have a predetermined launch schedule, which you want to communicate to internal teams or customers.
Besides these, there are many other types of product roadmaps- technology roadmaps, UI/UX roadmaps, integration roadmaps, and marketing roadmaps. Each roadmap helps showcase different aspects of product development. However, each has its own set of benefits and limitations.
Steps to Building a Product Roadmap
1. Highlight the Product Vision
The first step is to define the vision or core essence of your product. In broad terms, the product vision means the mission your product aspires to achieve in the long term.
This vision helps you create a strategic guide and action plan (or a roadmap) for product development. It also lets you communicate the high-level goal, aligning different teams and stakeholders across the organization.
For example, the vision of LinkedIn is – To connect professionals from all around the globe and make them more productive and successful.
2. Gather, Organize, and Prioritize the Ideas
Involving your product team and stakeholders in roadmap development and asking them for their ideas and inputs will not only make them feel valued but also help you gain useful insights into areas for improvement and innovation.
Once you gather all the ideas, organize them according to the priority. To make prioritization easy, you can score ideas based on pre-set metrics (technical feasibility, business impact, customer value, etc.). You can also use the RICE scoring model or MoSCoW method for deciding priorities.
3. Define Features
Now that you have a clear understanding of product vision and prioritized ideas, it's time to reflect on what features and functionalities you want to add to your product.
Provide an overview of each feature, i.e., what problem it will address and likely outcomes one can expect. To ensure a shared understanding among your team members, you can include user stories, user personas, and acceptance criteria for each feature.
4. Define Requirements and Dependencies
You need certain resources (such as designers, developers, etc.) to develop features. Identify all the requirements for the optimal allocation of resources.
Also, figure out dependencies between tasks and features. It will help you schedule tasks in the right sequence.
5. Create a Timeline
In this step, create a timeline featuring tasks/features, major milestones, and release dates/deadlines. It helps you keep track of the product plan and ensure that everything is going in the right direction.
Expert Tip – Keep your timeline adaptable and flexible to accommodate changes that may emerge at any stage of the product life cycle.
6. Define Metrics
Well-defined and relevant product metrics help you monitor how well you are proceeding toward the set goals and provide insights into making crucial decisions for creating a better and smarter product. These metrics also assist your team members in assessing their performance.
There may be a lot of success metrics, but all of them are not apt for your product. Choosing incorrect metrics can baffle your stakeholders, impacting product development.
Therefore, to determine the right metrics, consider the following three questions-
What type of metrics are best suitable for your product?
At what stage is your product in the life cycle?
For whom (stakeholders) are you defining the metrics?
7. Review and Iterate
The market conditions and customers' expectations keep changing, and you can succeed if you stay agile and embrace these changes by modifying your products accordingly.
Keep an eye on the market trends and the clients' and customers' needs. Based on your findings, review your product roadmap and identify where changes are required. While making changes in the roadmap, keep all the stakeholders in the loop to eliminate any dubiety.
Product Roadmap Views
You can showcase your product in the following 4 ways-
a). Timeline
A product timeline lets you present a high-level view of all the important tasks and milestones of the product development – from initiation to post-launch – with their respective deadlines. The initiatives/tasks/milestones are presented in chronological order on a single line.
This roadmap helps different teams involved in product development stay on schedule with all their tasks. Product managers can monitor the progress along the way.
b). Swimlane
A swimlane timeline can be used to represent an individual swimlane of each team and their respective tasks by status. You can also use it to depict the quarter-wise status of various strategic initiatives, highlighting which initiative is upcoming, in progress, or done. Additionally, each swimlane might showcase a different release or version of the product, and the lanes can portray the improvements, features, and vulnerability fixes planned for each release. 
This roadmap works best for agile product development where deadlines for tasks are not defined. It enhances communication and improves coordination within teams.
c). Gantt Chart
Gantt Charts helps you present a two-dimensional view of an hourly, monthly, weekly, quarterly, and annual breakdown of product tasks. You can depict priority tasks, progress of current tasks, task dependencies, milestones, deadlines, and other details. The product manager can get a precise overview of the duration of each task.
This roadmap view is quite useful to portray the status of multiple products at once. 
d). Kanban
Kanban roadmap lets you group the initiatives, features, and tasks into Backlog, To Do, In Progress, and Completed, without specifying the deadline. You can also depict the status of tasks in various product development stages, i.e., Analysis, Development, Test, and Deploy.
This roadmap gives your team a quick snapshot and holistic view of the product strategy and task-level details in a simpler manner. You can give a clear visualization of tasks that you want to accomplish in the long term.
This roadmap is best suited for organizations in which product teams keep on moving quickly. You can also use it when deadlines are flexible, and you require to frequently re-prioritize the product tasks.
Tips to Deliver a Winning Product Roadmap Presentation
(i). Be Mindful of the Audience
Understanding your audience is paramount to delivering a relevant and successful presentation. So, determine whether you want to showcase the roadmap to the internal team (executives, development team, marketing team, etc.) or external stakeholders (customers, clients, vendors, etc.). Tailor your presentation according to the audience's interest.
Audience
What to include in the roadmap?
How does it help?
External Stakeholders
Prioritized problem areas and high-level view of new features.
Keeps them updated on the product's future development.
Internal Team
Leaders and board members
The high-level product goals and metrics, organized by month or quarter.
Makes them understand how your product is aligned with the organization's goals, strategy, and vision.
Sales team
The impact different product features and functionalities make on customers.
Helps them craft an impactful message for potential customers.
Marketing team
The goals and benefits of each feature.
Helps them make effective marketing campaigns.
Engineering team
The product strategy and other information, like requirements, features, and release dates.
Helps them understand the direction of the development work for building each feature.
Customer Support
Critical product features and enhancement plan
Helps them set better expectations and keep customers informed.
(ii). Stick to the Presentation Agenda
Without the presentation agenda, your presentation becomes inconsequential, and you end up rambling. An agenda gives a structured look to your presentation and informs the audience beforehand about what key areas you will be covering. 
By adhering to your agenda, you can effectively cover all the points within the allocated time frame without overwhelming your audience. It also lets you stay on track and avoid unnecessary and less critical points.
(iii). Be Open and Honest
By being open and honest in your presentation, you can build trust among your stakeholders and communicate your commitment and dedication to achieving goals.
Clearly showcase the progress you have made so far, reasons for delay (if any), and potential risks and challenges. Also, depict your plans to overcome those delays and risks. Back up your roadmap with relevant evidence and data to add more credibility.
Remember, openness and honesty don't entail revealing sensitive, confidential information. It simply means being transparent while protecting certain information or data.
(iv). Narrate a Story
Narrate a spellbinding story from the users' perspective, covering 'what,' 'where,' and 'why' to add valuable context to your roadmap. Support your story with high-definition visuals to boost audience engagement.
For example, you can weave a story around what inspired you to add a new feature to your product and how it will bring you closer to your vision.
(v). Keep it Interactive
The roadmap presentations are delivered to align all the stakeholders and keep them on the same page to achieve the product vision. Any doubt or confusion among the stakeholders can derail your product development efforts. That's why; we recommend you keep your presentations interactive.
Add quizzes and polls to ensure the audience understood your message the same way you wanted them to interpret it. Allot some time for a Q&A session so that the audience can raise questions and get more clarification on complicated points.
(vi). Use Impactful Visuals
You can't present your roadmap effectively using only text. To add a unique and memorable visual impact, complement your textual information with the right graphics and visuals. One advantage of using graphics is they empower you to convey a huge volume of information in minimal text.
You can also use pre-designed PowerPoint or Google Slides templates comprising customizable design elements to give consistency to your presentation and eliminate the hassles of creating graphics from the ground up.
The Bottom Line
The best product roadmap is one that reflects strategic thinking, extensive knowledge of the product, and relevant data to support initiatives. Thoughtfully created and presented roadmaps help product managers provide a concise visual summary of the entire product development plan and avoid end-moment surprises for team members.
Keep in mind that roadmaps are effective and purposeful only when used as a guide. They lose their essence when bogged down by unnecessary and irrelevant details. So, keep them simple, concise, strategic, and visually impressive.