The Ultimate Tips to Make Your Next Marketing Deck Stand Out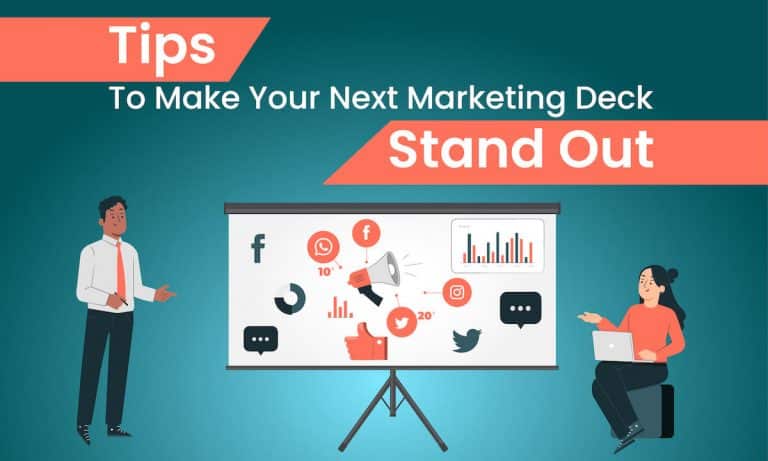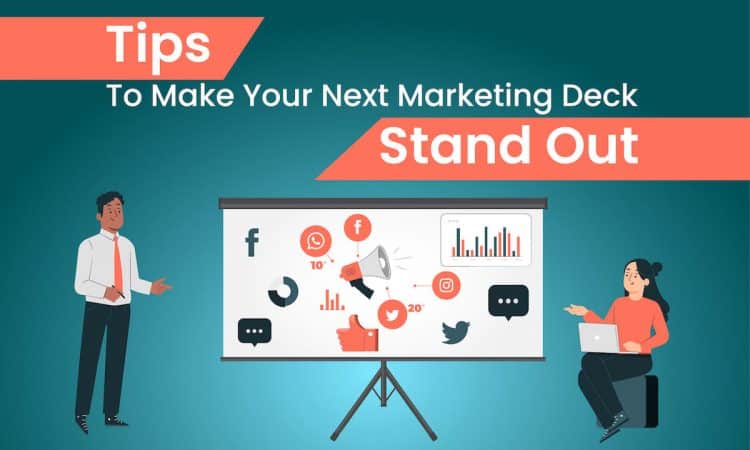 What is a Marketing Deck?
One of the most important tools used by businesses to promote themselves, be it their products or services, is a marketing deck. A marketing deck is a presentation that provides a detailed summary of the company's team, its marketing strategies, finances, performance, financial reports, etc. It is also referred to as a pitch or a sales deck and is often presented to new clients, potential investors, or business partners.
This deck usually consists of 10-20 slides, where each slide is tactfully crafted to communicate the purpose of the presentation effectively and efficiently. It can be used to strategically rope in new investors and win over clustered markets.
Well, by following certain practices and techniques, you can create a mindblowing marketing deck in a matter of no time. Let us understand each aspect of this deck in detail in this article, in the following sections –
1. Importance of a Marketing Deck
2. Components of an Effective Marketing Deck
3. Tips to Design an Effective Marketing Deck
4. Tips to Deliver an Effective Marketing Deck
Importance of a Marketing Deck
A marketing deck may be used for multiple purposes. Be it investor pitches, sales presentations, or partner meetings, this deck is an integral key to unlocking new doors of opportunities for any company.
Not only does it reflect the organization's core competence and its advantages over other competitors in the market, but it also showcases its goals, targets, mission, and vision. It can be a game-changer if crafted carefully.
Let us look at some of the reasons that make a marketing deck so crucial.
1. Allows You to Establish a Niche in the Business Landscape
In today's world, where every sector seems to be full of companies working under similar concepts, a great marketing deck can help you establish your unique niche. It will enable you to highlight your company's products and services and create your own kingdom in the business landscape.
2. Increases Your Organization's Credibility
A well-structured marketing deck reflects a sense of professionalism and displays your expertise and experience in the field. It can help instill trust and faith in potential clients and investors and increase the credibility of your organization.
3. Helps Build Brand Awareness
A marketing deck allows you to communicate your brand's message effectively. By using stunning visuals, creative graphics, and effective data in marketing decks, companies can create massive brand awareness.
Components of an Effective Marketing Deck
A marketing deck can be considered a vital asset for any organization. Thus, crafting it beautifully is paramount to closing deals and gathering investments.
We have listed ten important slides that must be included in your deck, along with expert-designed templates that can notch up your presentation and instantly intrigue your audience. These templates are completely customizable and user-friendly.
1. Opening Slide
The opening slide is the first slide of the presentation. It usually consists of the company's logo, name, tagline, and heading of the presentation. This slide must be visually appealing, captivating, and crafted neatly, as it sets the tone for the entire presentation.
2. Company Overview
This slide consists of the organization's mission, vision, values, and objectives. It defines the company's purpose in brief, describes its core competence, and talks about the values upon which the business has been built. This slide can also include a concise description of the organization. It is crucial to structure this slide properly as it is a reflection of your business's foundational pillars and strengths.
3. About the Target Audience
This slide defines your business's target market. It talks about all the details of your company's target audience, such as their age, gender, occupation, geographic location, interests, and much more.
It is always recommended to narrow down the target audience and describe them more specifically. The slide should also contain facts and data supporting the need for your products and services to your potential consumer group.
4. Problem and Solution
The next slide provides an overview of your product or service's offerings. It includes information about its features, pros and cons, its unique selling proposition (USP), and the ways in which it solves your consumer's problems.
This slide is the backbone of your presentation as it can help you differentiate your products from the market and let your audience know about the importance of your innovations.
5. Competitive Research and Analysis
This slide includes intensive research about your industry and the position of your company within it. It highlights the strengths and weaknesses of your competitors, describes their strategies and pricing, and how your company plans to establish itself in the market despite the competition. You can back your information using relevant and credible data or figures.
6. Marketing Strategy
The next slide talks about your organization's marketing strategy, perhaps the most important part of your business. This slide includes all the necessary information about how you plan to market your products, increase your clientele, retain customers, and establish a successful marketing strategy. It can include information about various channels of communication that your company plans to use, such as emails, social media, pop-up events, international expos, etc.
All information must be supported with key metrics that would be traced, such as website traffic, conversation rate, return on investment, conversion per click, etc.
7. Reviews and Testimonials
This is the slide that will enable your business to speak for itself. Including testimonials and reviews of existing customers can help you explain the goodness of your products and services and increase your brand's credibility instantly.
You can include testimonials in the form of texts, google forms, or even videos. Try to keep this slide as real and raw as you can.
8. Financial Reports
The next slide should provide an overview of your organization's finances. It should include the revenue, existing funds, need for further funds, expenses, estimations, and any profits or losses. It can be curated by using charts and graphs to represent bigger quantities of numerical data.
9. About the Team
This slide talks about your team members- various departments, their heads and team members, founders, co-founders, and other employees. It gives a brief about their experience, expertise, and key achievements.
The experience and expertise of your team can determine if your investors would make or break the deal. Thus, it is important to fully utilize this slide and make the most of it.
10. Call to Action
Including an encouraging CTA or Call to Action is critical to close the conversation and take the presentation to the next step, such as scheduling a meeting with the client, closing the investment deal, or placing orders. This slide can include the company's details such as its website, contact number of concerned persons, email address, etc.
Tips to Design an Effective Marketing Deck
Designing an effective presentation can seem burdensome and time-consuming. However, by following certain tips and keeping some tricks in mind, one can create stunning presentations in a matter of no time.
Listed below are such tips that you can follow in your next presentation!
1. Focus on Your Brand Palette
The brand palette is a particular set of colors and fonts around which a company's advertisements, presentations, and other graphics are designed. The purpose of a brand palette is to raise awareness and create a business's unique identity.
Thus, crafting your entire presentation based on your brand palette will assist you in highlighting your brand's presence and make your slides look more organized.
For instance, let us look at a presentation by Coca-Cola designed based on its palette. Here, the colors red, white, and black are used to create the presentation, which enhances the brand's product and highlights its USP.
2. Avoid Excessive Text on Your Slides
There is nothing as boring and tedious as a wordy presentation!
Thus, it is always better to avoid too much text on your slides and stick to the concept of one topic per slide. This will allow you to cut down on any unnecessary information and text from your slides.
Keeping your presentations short and crisp with less text will also boost the audience's ability to comprehend and understand your presentation.
3. Build Your Presentation Around a Theme
One of the most important factors that determine the success of a marketing deck presentation is the theme around which it is built.
Let us understand this with a few examples. Let's assume that you own a fashion label and are designing its presentation. You may build the slides according to a bold theme that highlights your collection, designs, and patterns. Have a look at this presentation layout with bold text that puts emphasis on the fashion brand
Let us look at a contrasting example. Imagine that you are curating a presentation for a business proposal. You may want to go in with a minimal theme, neutral tones, and subtle fonts. Have a look at these slides set in a simple tone that highlights the presentation and makes it look professional
4. Use High-Quality Visuals
Using visuals of high quality is tremendously necessary to make your presentations stand apart from the crowd. Using visuals and graphics of lower pixels can strip away your audience's attention from the presentation and can make your efforts go completely in vain.
Thus, ensure that all your visuals are of higher pixels and do a test run on a bigger screen to make sure that the images do not pixelate.
5. Display Numbers Through Graphs and Charts
Your audience does not have the time to read through long paragraphs and texts to look for pivotal information. It is your duty to make sure that all important figures and data are displayed in such a manner that they can take a look at the numbers and evaluate them in the blink of an eye.
Thus, the easiest way to do so is by using graphs and charts. You can use different types of charts and diagrams for different sets of data and present your information flawlessly.
6. Use Icons Instead of Text to Stand Out
Icons are self-explanatory visuals that instantly captivate your audience. Instead of writing down each heading, combining them with icons can help elevate the entire presentation. Icons not only add life to your slides, but also inject your brand's persona into the presentation.
For instance, if you want to make a slide on the Marketing and Sales part of your business, you can add these icons and notch up your presentation.
7. Use Timelines for Milestones
Adding timelines to your marketing deck can easily captivate your audience and allow you to present your milestones creatively. You can use timelines to demonstrate your journey, projected plans, progress, and even rollouts.
You can also use timelines to showcase your business's requirements, such as the use of funds in the coming year and the need for another round of investments, etc. This will help you display complicated information in a simple format.
8. Add Word Clouds to Add an Element of Creativity
Word Clouds are the trendiest element that you can add to your deck and make it much more impressive. A word cloud or a tag cloud usually depicts keywords, jargons, or market trends. It can be used to prominently display trends, key takeaways of the presentation, etc.
Tips to Deliver an Effective Marketing Deck
Now that we have designed an epic presentation, it is time to learn how to deliver it flawlessly and make an impression. Delivering your presentation explicitly is quite a skill that must be mastered to win over your audience.
Here are four such tips that can be useful to you!
1. Build Confidence through Practice
Practicing your presentation is crucial to ensure your best performance on the big day. It involves going through your notes, learning your speech, identifying key loopholes and fixing them, and rehearsing the entire presentation again and again.
Practice will not only boost your self-esteem but will ensure that you are well-prepared and can conquer the stage. You can practice by looking at yourself in the mirror or by rehearsing in front of friends, family, or colleagues.
2. Time and Divide Your Presentation
We all have had to sit through presentations that seemed to be never-ending or had ended quite quickly, leaving us feeling disappointed.
Therefore, timing your presentation and sticking to its limit is pivotal to creating an impeccable first impression in front of your audience. Not only does it increase your stature, but it will also prepare you to deliver your message more efficiently.
One of the best ways to stick to the time limit is by always dividing the presentation into various time segments and following that pattern while practicing. This way, you will never go wrong with the timing on stage!
3. Focus on Your Body Language
Your body language is a reflection of what is going on in your mind. Everything, right from your excitement to nervousness, reflects on your gestures and postures. Thus, it is necessary to pay heed to your body language and ensure that you are conveying the right message.
You can start by focusing on your hands and maintaining subtle hand gestures. Maintaining eye contact, focusing on covering the stage aptly, and standing straight without stooping or bending, are other key gestures that must be maintained.
4. Connect with the Audience and Make it Interactive
The most important element of a good presentation is audience engagement. Make sure to keep your audience engaged throughout the presentation, as it will ensure that they are involved and make them feel seen and heard. You can do this by preparing rhetorics, conducting short polls, asking yes or no questions, and conducting a question-and-answer round.
Conclusion
A marketing deck is perhaps a crucial element that can turn the tables around in favor of any business. It can help organizations take big leaps toward the path of success and create their identities in their industries. We hope this article enables you to learn the ABCs of a marketing deck and craft a stunning deck for your next presentation!