Visual Recruiting: How can it Help get the Best Talent Onboard?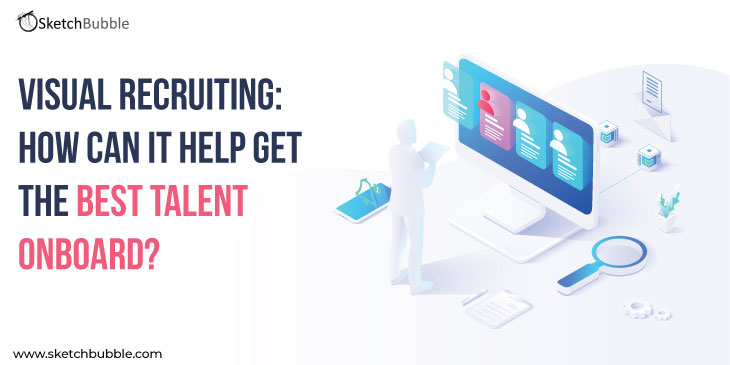 Recruitment seems to be an easy undertaking to most of us. We hold a misconception that the labor market is just like a supermarket where the HR needs to walk in, scrutinize the candidates available on the shelves, and choose the best one. But the reality is far different than this. Only an HR or recruiter understands how challenging it is to land qualified talent at the right price and the right time. However, by being a little bit creative and incorporating visual elements in their recruitment process, hiring managers can make a significant difference.
"A picture is worth a thousand words." This old saying stands true in the realm of hiring as well. Visuals allow recruiters to add innovation to their search for top talent. So, think out-of-the-box and leverage the power of visuals in getting the competitive edge in your job posting and advertising. Need any help? Let's jump on the bandwagon with us!
What Candidates Look for Before Applying to Your Job Posting?
You have created a beautiful job description and posted it on various job boards. You are also running a paid job ad campaign to catch candidates' eyes. Despite all these efforts, you are not getting the desired traction. Does this case sound similar to yours?
Before creating a visual job posting, it is crucial to understand what exactly a candidate looks for prior to applying to your company's job posting. It will help you portray a big picture of your company as an employer.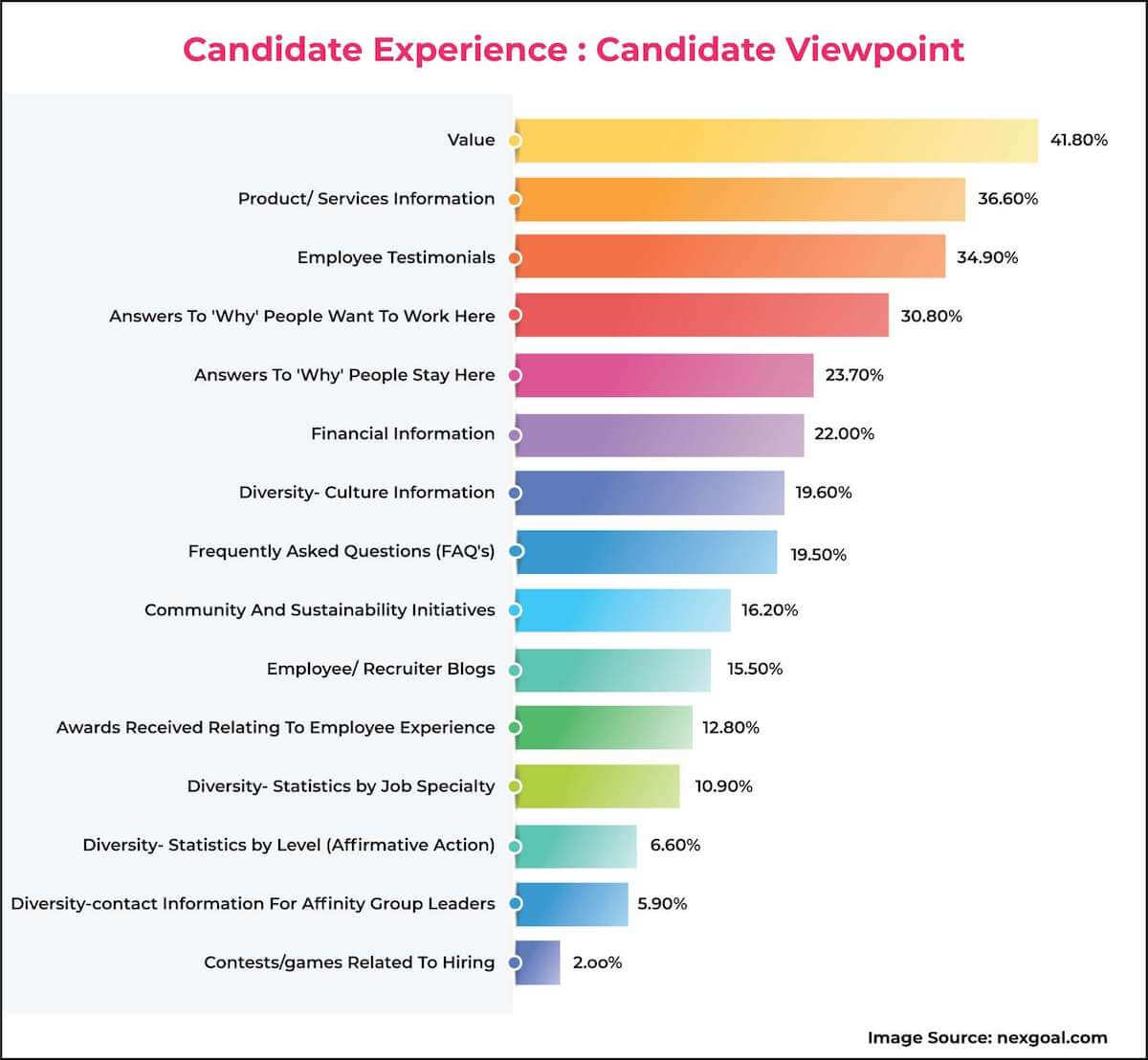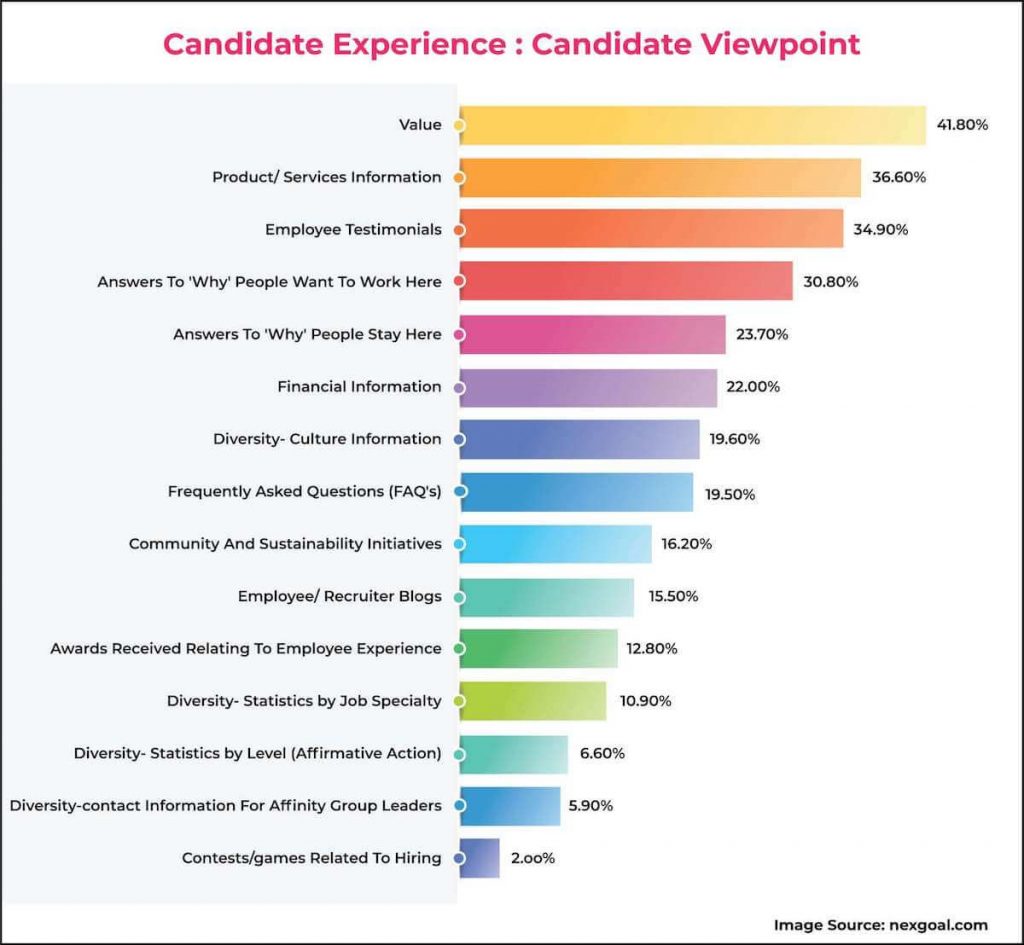 According to a survey conducted by Candidate ViewPoint, applicants give more weightage to the company's values and offerings (products/services). Some candidates make up their mind to apply for your job based on your employees' testimonials and some good reasons people want to work and stay in your organization. A few applicants also pay heed to information related to finance, diversity culture, corporate social responsibilities, and rewards and recognition.
1. Portray Yourself as the Best Employer Brand
A positive employer brand helps you sail through the competitive job market. Here visuals can do wonders. Using the right images, you can create a gripping story about your values and work culture, thereby casting an impression that your organization is a great place to work. Make the prospects believe that you actually live out that story.
Example: Google is known as the rockstar in terms of employer branding. The company receives approximately 3 million resumes every year, out of which only 7,000 employees are selected. The Internship, an American comedy film released in 2013, was one of Google's best employer branding campaigns of the year. The film reveals Google's work environment, philosophy, and culture. Google was closely involved in the making of this film.
Watch the trailer of the movie here.
How can you use this idea?
Invite potential candidates and students to visit your company on an open day. Provide them a sneak peek into how a workday looks like in your organization. Let your employees tell the visitors what tasks they perform and what challenges they face. The most important part of this recruitment strategy is to keep everything authentic. You can capture some photos and create a video of this event, which you use to post on your website's career page and company's social media accounts.
2. Leverage the Voice of Your Employees to Get More Traction
Your employees play an important role in shaping the perceptions of the potential candidates for your company. Employee stories and testimonials are some of the authentic ways to boost your talent acquisition efforts. So, let your employees tell their experiences and how they feel working with you.
Examples: See how gracefully Nike has covered its employees' stories and demonstrated it through a well-created video on its "Life at Nike" web page.
https://jobs.nike.com/life-at-nike
Watch how Infosys has covered the testimonial of one of its employees in a video shared on its YouTube channel.
How can you use this idea?
You can ask your employees to create a short video covering important information, such as how long they are working in the company, their experience and career progression, and what it is that motivates them to stay with your organization. You can use this video in your job ads, web page, and social media. You can also share this information through a blog post with quotes.
3. Demonstrate that You Don't Offer Just a Job; You Make a Career
Your job postings must convey your belief in the extraordinary capabilities of each employee and how you mentor and groom that 'extra' during the day-to-day work interaction to build a promising career.
Examples: See how Ranosys has portrayed itself as an employee-friendly organization that fosters a thriving and enriching atmosphere that allows potential candidates to uncover new technologies and take the lead into the world.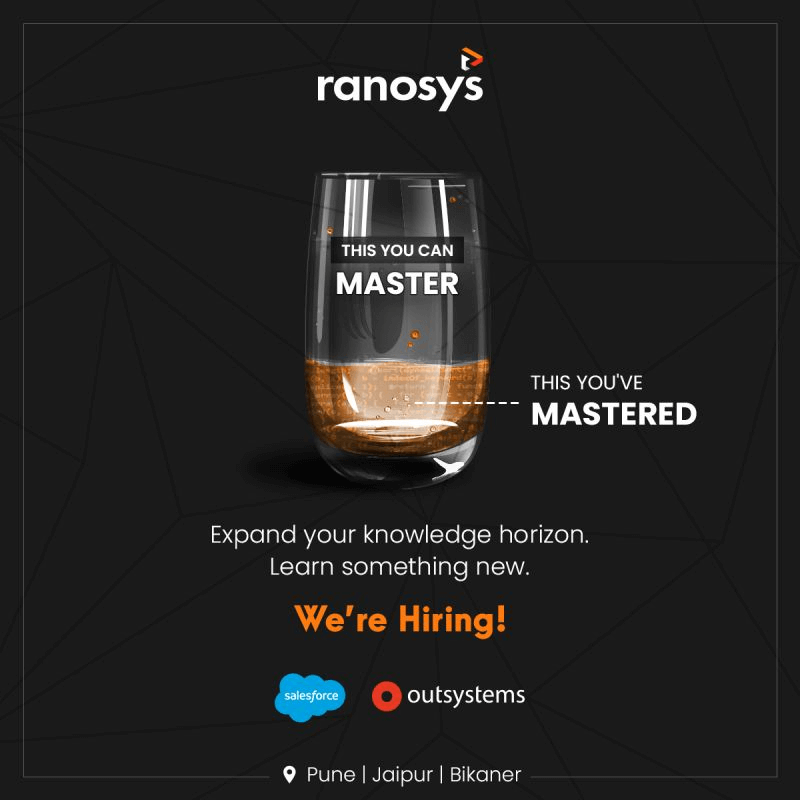 How can you use this idea?
Provide a visualization to prospects as to what "additional" you will provide to them that will help them in their career progression.
The Bottom Line
Talent acquisition is easier said than done. As a human resource manager, you have to go the extra mile to find the best fit for your organization. You have to paint a large picture of your organization to make it stand out and attract the right talent. By including visuals in your recruitment strategy, you can reap maximum benefits. Further, you can give a boost to your visual recruiting by educating junior HR executives about this hiring process through aesthetically-pleasing and pre-designed HR PPT templates.
What's your recruiting strategy? Let us know in the "Comment" section. And if you found the blog post informative, do share it on your social media handles.