12 Webinar Practices to Stand Out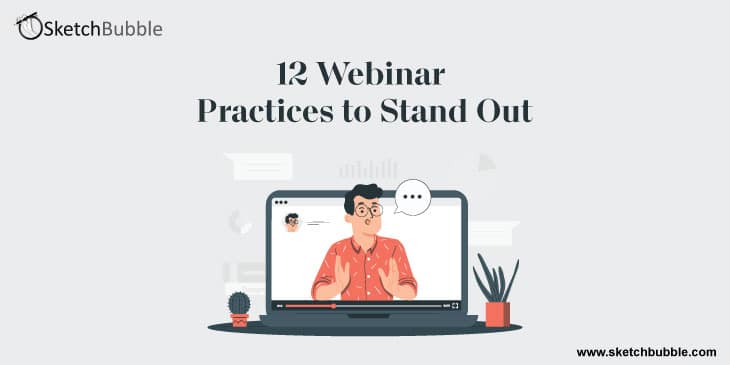 Have you ever sat through a webinar and pondered how wonderful it would be if you could host one as well? Perhaps, hosting a webinar is not as tricky as it sounds. It is an art and a science and can be mastered by anybody with basic skills and knowledge. All you need to do is follow certain tips and tricks to help you get in the groove and establish your niche.
In this article, we'll walk you through the essential steps to host a successful webinar that will leave your audience wanting more!
1. Understand Your Audience
Make sure you understand and know your audience well. A little research on their ethics and culture will let you know their backgrounds and help you understand what they need, what you can offer as a solution to their problems, and what they expect from you. It will ensure maximum satisfaction from your viewers and help you retain clients.
For instance, while designing for a creative industry, you would like to use more vibrant and colorful slides, whereas, for a more formal audience like business associates, you would prefer minimal and clean slides.
2. Choose the Right Speakers
If you decide to have one or more guest speakers in your webinar, you need to make sure that the guest speakers are familiar with the topic and comfortable with being in front of the camera. You need to make sure that when your audience asks questions, your speaker is knowledgeable enough to answer them, and solve their queries.
3. Pick an Appropriate Format
Choosing a webinar model that suits your audience, brings results and is comfortable for you to host is extremely crucial. Various formats can be used, and it is for you to decide if you'd like to invite speakers for the panel, host a Q&A session, create discussion forums, or have product demonstrations.
4. Efficiently Create Using Pre-Designed Templates
When creating a webinar, the best bet is to use a pre-designed PowerPoint template. This saves time as you don't have to start from scratch. You have all the individual slides and presentation elements, such as icons and graphics.
Another advantage of pre-designed templates is the fact that they are designed by professional designers, and you can customize these templates according to your requirements.
Here are some important points to keep in mind when customizing your template:
Start building brand awareness with visual elements throughout the template. This includes colors, fonts, logos, patterns, and other branding elements.
Keep the slides short and tidy to retain your audience's attention.
Make your slides more captivating with images, icons, graphs, and other visual objects.
5. Choose a Suitable Platform
When you decide to host a webinar, choose a platform that supports your basic demands. It must allow users to participate through their mobiles as well as laptops. If you're a beginner on a budget, you can opt for free hosting platforms, such as YouTube Live, Google Meet, Zoom, etc.
However, if you're looking for platforms with enhanced features, such as live chat, polls, insights, and much more, you can go in for paid platforms, like Livestorm.
6. Make It Interactive
You want to host a webinar, not a lecture. Therefore, make sure to create some room for discussions, allow your audience to ask questions, take their opinion through polls, ask for their feedback, and make them feel seen and heard. This will help you win the hearts of your listeners.
7. Have a Landing Page
When you have a dedicated landing page for your webinar, you can easily track the analytics, get a better perspective of the what, where, and how of your audience and can bring you the highest conversion rates. It enables you to have a bird's eye view of your marketing campaigns and advertisement rollouts.
8. Harness the Power of Social Media
After you decide to host a webinar, one of the most important steps is to promote it. Reach out on social media handles and educate people on what you can offer. You can try rolling out audience-targeted advertisements and reach maximum people.
Some other creative ways are listed below:
Publish a blog and let your followers know about it.
Create an email campaign, sending an invite to your mail list.
Start with guest posting on channels with similar interests.
Ask your friends and family to spread the word through social handles.
9. Use an Analytic Tool
Using an analytic tool will help you track the ins and outs of your webinar and plan the next one. It can answer all your questions from top sources of registration, audience's age, gender, occupation, the number of people who registered versus the actual count of people who attended, time spent by your viewers on the webinar, etc.
10. Drop-in Reminders
It is advisable to send reminders via email or text to your attendees. This can be sent a day before and on the day and a few hours before the webinar. Make sure to include the protocols and practices that must be followed by attendees during the session.
11. Check the Basics: WiFi, Headphone, Mic, Camera
When you have everything ready to go, it is extremely vital to check your basics. Make sure that your internet connection is strong, your microphone is audible, your headphones are working properly, and your camera shows a clear image of you.
No matter how spectacular your webinar is, if you do not have these basics right, your hard work will go in vain.
12. Test Before the Final Day
Before your big day, make sure to host a couple of test runs with your team to make sure that everything is running smoothly. This will avoid any unwanted glitches, technical errors, and connectivity issues.
Conclusion
Webinars are one of the most effective ways to share information and pass knowledge. They allow one to network among people with similar interests, convert listeners into clients and vividly expand brands through stories.
We hope that these webinar practices will help you in your future endeavors.