Look the Part: How to Dress for Success for Your Next Presentation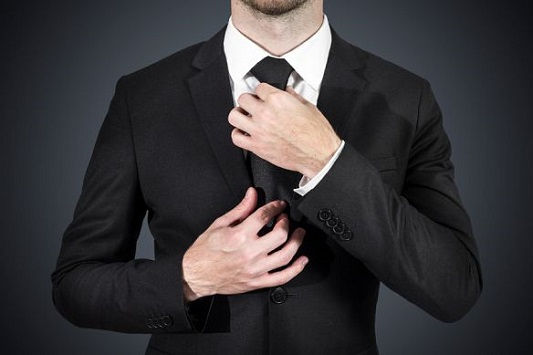 When it comes to giving a successful and memorable presentation, most speakers focus on the best way they can deliver their core message to the audience. No one would argue that much thought and energy should be given to this goal. But there are subtle factors that influence whether or not the audience will choose to accept your core message and choose to accept you as an authority on your subject.
One of the biggest factors? How you present yourself during your presentation.
How you dress is a direct signal to your audience; it tells them whether or not you're professional, rational, likeable, knowledgeable, or worth listening to.
If you want your presentation to be successful and memorable (in a good way), you've got to dress the part. Here are some style tips that will help you ace your next presentation outfit:
Dress as Well as Your Audience
You crafted your message with your audience in mind, now you've got to craft your outfit with them in mind as well. You don't want to underdress, nor do you want to overdress.
For instance, if you stand in front of a bunch of Silicon Valley programmers dressed in a business suit, you're apt to get a lot of eye rolls and hear whispers of, "That guy looks like a banker!" If you don't match your audience, they'll find it hard to connect with you or your message.
The idea is to dress as well as your audience or slightly better.
Wear an Outfit That Allows Movement
A captivating speaker moves around the stage effortlessly, so be careful of any fashion choice that restricts movement. Three-inch heels may look great, and you may feel great in them, until you twist your ankle while crossing back to the podium. If you choose to wear that shirt that brings out your eyes but you can barely move your arms in it, you may (read: will definitely) want to rethink your outfit.
Dress Age-Appropriate
What you choose to wear should be appropriate for your age. Though you may have a bunch of 20-somethings in your audience, that doesn't mean you should go out of your way to appear "cool" or "hip" if you are in fact 40. You will be laughed off the stage. If your audience will be dressed casually, feel free to dress casually, but a 40-year-old-version of casually.
Watch Those Colors
The colors you choose to wear can send major signals to your audience. You may have heard red is a power color, and it is, but that doesn't mean you have to have a red shirt, red tie, and red socks.
Wear colors that are flattering to you. If you don't know which colors look good on you, ask your wife, family, friends and coworkers. Don't mix and match too many colors, and if you can, wear colors that match your brand.
For the ladies…
Here are some specific tips for you:
Cover up! A presentation is no place to show too much skin. It's simply not professional.
If you decide to wear a dress or skirt, be aware of the its length. For a presentation, the length should be just below the knee, though you can get away with right at the knee.
Keep makeup to a minimum. Unless you are presenting at an evening black-tie event, which you most likely aren't, a subtle daytime look is what you are aiming for.
And for you men…
Make sure your clothes fit you well. Pants shouldn't be too tight, but they absolutely should not be baggy, either. If you choose to wear a suit and you're not sure if it's fitting you correctly, take it into a tailor and have it professionally fitted.
Make sure you are not wearing wrinkled clothing. If the thought of ironing something befuddles you, have your clothes dry cleaned.
Watch that footwear. Unless you are presenting on the beach, do not even consider wearing flip flops. Same goes for sneakers. A nice pair of dress shoes that can be dressed up or down will work well.
If you wear facial hair, make sure you have taken the time to groom properly. Overall, your look should say that you care about your appearance and took the time to be presentable.
If you follow these style guidelines you should feel confident and look the part for your next presentation. And, as I've mentioned, that means success!