8 Effective Types of Presentation Style to Keep the Audience Hooked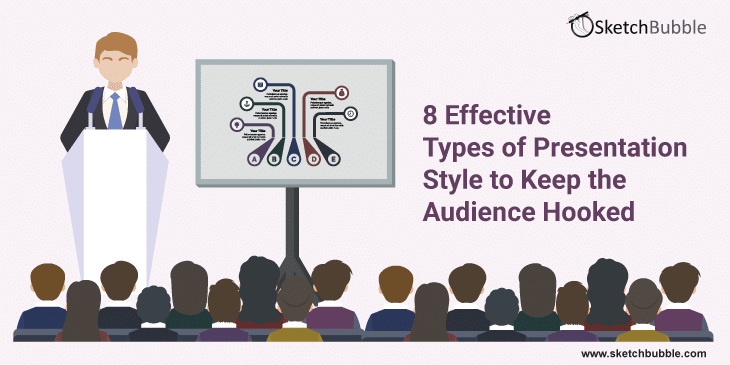 Let's indulge in reminiscence of school days and recall the subject delivery style of the same teacher during history and geography classes. The storytelling approach while delivering history lessons and the visual and instructor style of the teacher while teaching concepts of geography made these boring subjects interesting for you, right? Had the teacher used a similar teaching style for both subjects, learning would not have been fun! 
Likewise, when it comes to public speaking, one presentation style doesn't fit all messages and information. Some presentations require you to inspire the audience through analytics and facts, while others can be delivered successfully by making emotional connections with viewers. Based on the subject matter, purpose, context, and audience size, a presenter has to choose the appropriate style and assume the roles of a storyteller, connector, coach, or instructor.
In this blog post, we have explained some most effective presentation styles. Learn about them and choose the one that can work wonders for your next presentation!
1. Coach Style
If you are an energetic and charismatic speaker having a passion for the topic on which you are going to talk, this approach will suit you the best. You can use listener interaction or role play to put your audience at ease and engage with them. You can count on this style when presenting to a group or addressing a conference. For instance, project managers or team leads can use it while explaining a task or project to subordinates or speaking to a group of executives who want to know the details about what your company does instead of how you do it.
Expert Tip: Control your tone and voice; avoid speaking too fast. Strike a balance between talking and getting feedback from your audience.
Example: Linda Edgecombe used coach style in her TED Talk on "Breaking Busy: Changing our Culture from Chaos to Calm."
3. Instructor Style
This style is mostly used by teachers/professors to teach complex topics to students. The concept is presented in a logical order and explained using figures, metaphors, high-impact visuals, and lots of relevant content. Business professionals can use this style to present a large set of statistical data or the information with which they are unfamiliar (such as features of a newly launched product or an updated version of an app).
Expert Tip: If not used appropriately, this style can backfire, making your audience distracted and lose connection. So, while using this approach, ensure you balance attention between the spectators and the material.
Example: The founder and chairman of The Climate Reality Project, AI Gore, used instructor style in his TED Talk on "The Case for Optimism on Climate Change."
3. Visual Style
This style is perfect if you have to explain a complex topic to a mass audience with broad interests. The presenter complements the discussion points with high-definition graphics, such as charts, images, infographics, graphs, icons, diagrams, etc., making the overall presentation a gripping visual feast. The right ratio of text and visuals in the slides makes comprehension easy and effortless for viewers.
Example: Steve Jobs used this presentation style while introducing the iPhone at MacWorld Conference 2007.
4. Lessig Style
Choose this style if you want to progress with your presentation at a quick pace and keep the audience intrigued and focused. This style was founded by a law and leadership professor at Harvard Law School, Lawrence Lessig. The presenter spends only 15 seconds on each slide, and the text in the slides is synchronized with the spoken words of the presenter. This is a perfect approach if you have many points to discuss in a limited time.
Example: Lawrence Lessig used this style in his TED Talk on "Laws that Choke Creativity."
5. Freeform Style
If you are well-acquainted with your subject/topic and have a relatively short time to put forth your points, this impromptu, unscripted, and little structured presentation style is for you! You can weave a strong story around each key message and narrate it without using slides. You can choose this less rehearsed and more conversational freeform style for unplanned meetings, networking events, and elevator pitches. The audience who prefers personal and creative elements in the talk over structured and overly rehearsed speech will definitely like this presentation style of yours.
Example: This style was used by Sir Ken Robinson in his TED Talk on "Bring on the learning revolution!" Watch it here –
6. Takahashi Style
This Japanese style of presentation is named after its creator, Masayoshi Takahashi. Rather than visuals and graphics, this approach counts on text and speech. The main word, which is the focal point of the slide, is showcased in bold text. The short and concise phrases are used sparingly. You can use this style for short presentations.
Here are some slides from one of Takahashi's presentations:
7. Connector Style
Leverage this style if you want to make your presentation interactive instead of keeping it a one-sided talk. The presenter encourages the active participation of the audience by asking them questions and feedback and identifying common grounds to connect with them at a deeper level. Sales executives can rely on this approach to help the audience understand their challenges and how the product solves the problems.
Expert Tip: You must have excellent control over your gestures and body language to establish a quick rapport with the audience.
Example: Connie Dieken used this style in his opening FlashPoint keynote at MPI World Education Conference.
8. Storytelling Style
This anecdotal presentation style relies on examples, case studies, and stories to emotionally connect and engage with the audience. You can use it if you don't have statistics, data, or charts to support your points and have enough time to tell your stories (for example, in sales presentations, networking events, and conference speaking).
Expert Tip: Your stories must have logical connections with your core message; otherwise, you will lose your trustworthiness and credibility.
Example: In her TED Talk on "My Stroke of Insight," Jill Bolte Taylor grabbed the audience's attention with her astonishing story.
The Inference
There is no universal perfect way to deliver a presentation. You can use any of the styles that best fit the objective of your speech. You can also combine two or three styles to make your talk more engaging and memorable. No matter what style you pick, you can win the audience's heart and leave a lasting impression with the right preparation and practice. 
How did you find this blog post? Do share your thoughts in the "Comment" section below!