A Guide to Effective and Engaging Presentation – Plan, Create, Design, Deliver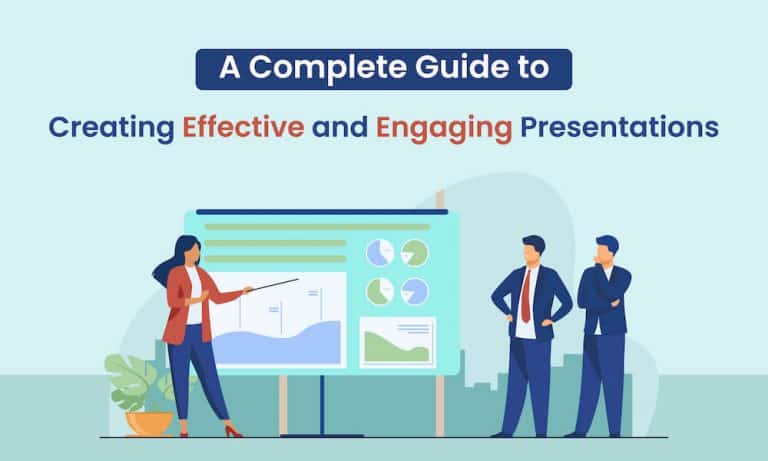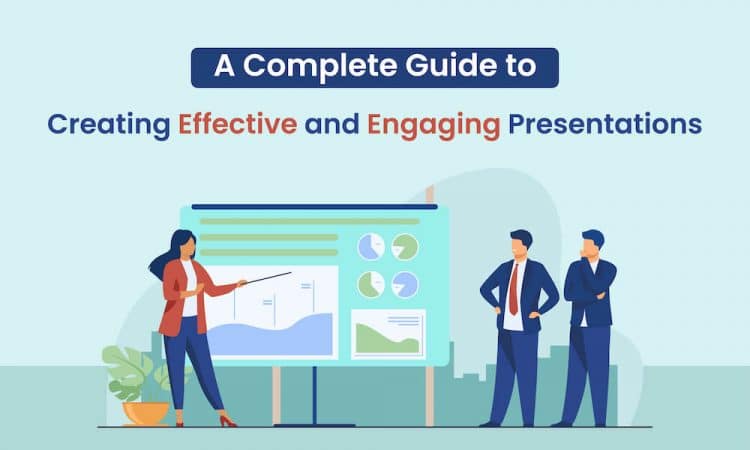 In today's digital world, knowing how to make an effective and engaging presentation is one of the most important skills. It doesn't matter if you are a student, teacher, entrepreneur, marketing expert, or scientist; well-crafted presentations can help you instantly captivate your audience, persuade investors, and help communicate your ideas flawlessly. However, creating such a stunning presentation can seem like a mammoth task, especially if you're a beginner and have no idea where to begin from.
Well, we have jotted down all the important points along with insightful examples that will help you in your journey of crafting presentations. By the end of this article, you will be equipped with the knowledge, tools, techniques, and tricks on how to create mind-blowing presentations!
The article has been divided into the following sections-
1. Planning Your Presentation
You get your half work done if you succeed in planning your presentation correctly. Here, our main focus is to analyze the audience, seek clarity on our topics or theme, define the core purpose of the presentation, etc. 
a). Research About Your Audience
The crucial step while creating a presentation is to research the audience. You need to ensure that your content resonates with the audience, is in a language that they understand, and is in accordance with their level of knowledge.
For instance, if you are crafting a presentation for beginners, you must commence with the ABCs of the topic. However, if you are presenting to a group of experts, you can include technical facts, use jargon, and go in-depth.
To understand your audience better, here are a few questions that you can answer-
What is the age group of your audience?
Are they beginners or experts in the given field?
What are their expectations from your presentation?
What culture do they belong to, and what is considered inappropriate in their culture?
Answering such questions will help you tailor your presentation, especially for your audience, and make it much more effective and interesting.
b). Define Your Message
The next step is to define your message and set a clear objective. This can be done by answering these questions-
What is the goal of your presentation?
What do you want your audience to remember?
Setting a clear objective helps achieve the goals expected from the presentation.
Let us understand this with an example – imagine that you are presenting a pitch for your startup. Here, the key purpose would be raising funds from your potential investors, and thus, the entire presentation would be built around this goal.
c). Choose an Appropriate Format
Choosing the right format for your presentation is crucial to deliver your message strategically. It also defines how your audience would engage, interact, and resonate with the presentation.
While there are various formats available, it is crucial to see which one would be the perfect fit for your topic. Here are a few formats-
(i) Panel Presentations
Inviting panelists to discuss the given topic, share meaningful insights, and answer audience questions is one of the ways you can lead your presentation. Panelists are usually experts in their respective fields.
Such formats are great for topics related to politics, science, research and development, etc.
Have a look at this example where the panelists discuss various aspects of women in technology.
(ii) Online Webinars
These are presentations held online, usually for a bigger audience. These can be educational, technical, demonstrative, etc. There has been a steady rise in webinars for educational purposes and has been used by companies for training their employees as well.
d). Draft an Outline
Drafting an outline will help you create a more structured and well-organized presentation. This process includes jotting down the main headings, sub-headings, and important facts to be added, all in the order in which you would present them. It will make it easier for your audience to understand and remember. 
2. Creating Content for Your Presentation
Once you have planned your presentation, it is time to start creating content. This includes looking for information, checking data sources, adding facts and figures, etc.
a). Divide the Presentation
One of the most important things to remember while writing content for your presentation is to divide it into various sections and add meaningful information to each section.
Let us understand it with the help of an example – imagine that your presentation is on the topic – "Environmental Pollution." Here are the various sections that you can include-
(i) Introduction
This section includes the topic of your presentation, a short introduction, and some facts and figures. You can include mind-boggling statistics, rhetorical questions, or an anecdote in your introduction to make it more intriguing.
For example, for your presentation on environmental pollution, you can open with a fact such as, "Environmental pollution kills more than seven million people each year."
Such strong statements and bold facts will instantly get your audience on their toes and keep them hooked on to your slides.
(ii) Main Body of the Presentation
This is the main content of your presentation. It can include case studies, various sub-parts of the topic, pros and cons, statements from experts, research papers, etc.
For example, you can include case studies on how environmental pollution has increased over the years, explain various sub-parts, such as air, water, soil, and sound pollution, and discuss the opinions of experts and scientists on the topic.
This part is the backbone of the presentation. Thus, it is crucial to structure it strategically.
(iii) Conclusion
This section allows you to summarize your content in brief, ask your audience to raise questions, provide any handouts or material, and conclude your presentation.
For example, you can quickly state the problems due to environmental pollution and its solutions, seek feedback from your audience, and close the presentation.
b). Harness the Power of Anecdotes and Storytelling
Storytelling is one of the greatest tools for engaging your audience and making your presentations stand out. You can use stories to persuade your audience, prove points, explain various narratives, and break down complex topics into simpler ones.
It is crucial to keep your stories short and sweet, use perspectives that your audience would relate to, and include tales that are genuinely related to your topic.
For instance, let us have a look at Brené Brown's TED Talk on vulnerability. In her talk, she shared a part of herself through her personal journey of studying vulnerability and described how it completely transformed the way she looks at life. She initially began the presentation with her story and gradually used research to back up her story and its value. Thus, through her story, she created a sense of empathy and used emotion to genuinely connect with the audience.
c). Make Sure Your Information is Accurate and True
One of the easiest ways to build your audience's trust is by providing data that is correct and true. In fact, when you have your facts right, you are more confident and can lead without any doubt or hesitation. Thus, it is crucial to cross-check your facts from various credible resources before putting them across.
d). Use Real-Life Stories to Inspire Your Audience
One effective way to make your presentation stunning is by incorporating real-life examples in your presentations. This can help in multiple ways as it increases your credibility as a speaker and denotes your knowledge and experience on the subject and helps your audience retain your presentation for a much longer time period.
For example, imagine that you are delivering a presentation on Success and Failure. Here, you can narrate stories of innumerable people who failed so many times yet got back stronger.
For instance, here is an inspiring story from Muniba Mazari, Pakistan's first wheelchair model, and her story of success and failure.
Including such videos in your presentations can help you foster emotions of empathy within the audience and convey your message in a much easier manner.
e). Focus on Using Simple Sentences
The urge to use fancy phrases, big clauses, and longer sentences can be real. However, while crafting presentations, it is extremely crucial to understand that your audience will resonate highly with simple and easy-to-understand sentences.
Using simple sentences can help increase accessibility for a wider audience and people who might have difficulties understanding English, such as non-native speakers and those with limited exposure to the language.
3. Designing Your Presentation
Here comes the fun part – designing the presentation and making it pop with exclusive visuals, graphics, and intriguing visuals.
The design of your presentation determines whether your audience will pay heed to it or not. If your design is great, your audience will keep their eyes on your slides. However, if your slides are messily crafted, they can strip away your viewer's attention.
However, the task of creating graphics, visuals, and slides from scratch is extremely tiresome and boring, especially if you are in a time crunch. Thus, you can use free and expert-designed templates and graphics that are completely customizable and can be edited as per your requirements.
Now that we know the source of the templates and graphics, let us understand the crucial points to be kept in mind while designing our presentation.
a). Focus on Your Brand Palette and Fonts
Your brand palette is the specific set of colors and fonts upon which your brand is built. Its logo, advertisements, handouts, etc., are all crafted on the basis of the brand palette.
Thus, designing your presentations with the help of specific colors and fonts can help you reflect your company's identity, establish brand awareness, and give your presentation a formal and professional look. 
For example, let us look at this presentation where the company's brand palette is reflected vividly. Thus, the next time anybody from the audience sees anything in those colors, they will immediately recall this brand.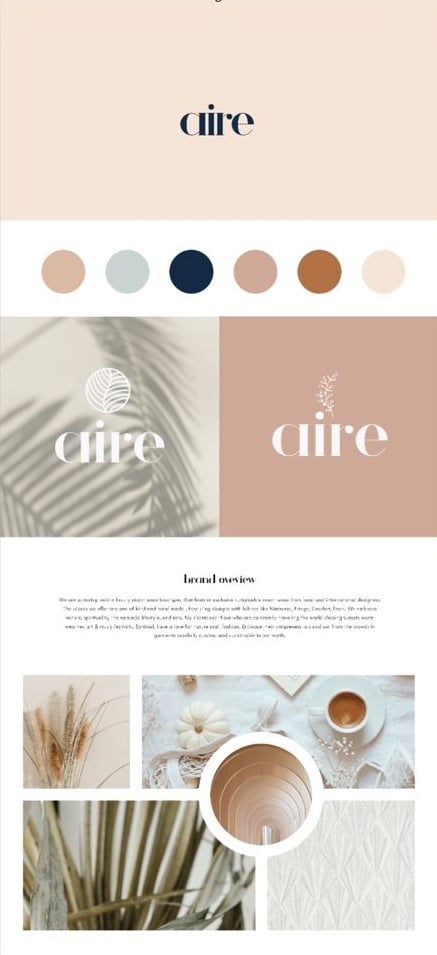 b). Create Engaging Visuals
Visuals are the glue that holds the entire presentation together. They not only help illustrate various points, but also make the presentation engaging, interactive, and captivating.
To incorporate stunning visuals that are well-designed and attractive, it is crucial to follow the below-given basic points –
Use images that illustrate your points and are relevant to your topic.
For example, if your presentation is about the environment, incorporate images that are relevant to the theme and the information that is there on your slides.
Use fonts that are easy to read, and avoid using too many fonts in one slide. Using branding fonts is crucial, but make sure that your visuals have texts that can be read clearly from a long distance and can be seen clearly on a big screen.
Use colors that resonate with your brand, but avoid using too many hues on the same slide. It can make your presentation seem unorganized and wary.
c). Use Graphs and Charts to Display Data
If you want to display data, figures, and numbers on your slides, you must use graphs and charts to creatively depict the same. It is true that any slide with too many numbers seems overwhelming and tedious to the audience. Thus, instead of tables, using graphics such as bar graphs, line graphs, linear charts, pie charts, etc., can help present the same set of data in a much more visually appealing way.
For example, if you are designing a presentation for students around Christmas time, using this snowman pie chart can help make the slides much more interesting and can add a fun element!
d). Pick Visuals that Support Your Topic
There are innumerable visuals – dashboards, timelines, funnels, step infographics, matrices, flowcharts, mind maps, etc. Each visual serves a particular purpose and must be used according to respective requirements.
For instance, if you want to explain complex topics such as historical ancestry, using flowcharts will help you explain your facts better.
4. Delivering Your Presentation
The last part of your presentation is its delivery. From getting up on the stage with your presentation to walking down with feedback, let us understand the important things that we must keep in mind.
a). Practice Your Delivery
Once you have created the presentation, it is crucial to practice the delivery of your presentation. It also includes reading through your slides, understanding each part of them, and remembering the important points. It will help you gain more confidence, boost your self-esteem, and answer any unanticipated questions from the audience.
Here are some tips that can be helpful while practicing the delivery of your presentation-
Practice by saying your presentation out loud. While doing this, make sure to time your pace, check your volume and pay attention to voice modulation.
Practice in front of a mirror and focus on your body language, gestures, and expressions.
Practice with a friend or in front of your co-workers. It can help you seek meaningful feedback and prepare you for the stage.
b). Make Eye Contact
Looking into people's eyes while you are on the stage might seem daunting, but it is extremely crucial in order to deliver a great presentation. Try softly looking into a person's eyes for not more than five seconds, and then switch to the other person.
It will help you create an unspoken dialogue and make the room more comfortable for your audience.
c). Use Props
Using props is an amazing way to make your presentations more effective. This is a great idea for marketing, sales, and pitch presentations as they can help you display your product live, compare it with competitors' products, and explain your product's benefits and values over the other ones.
For instance, let us have a look at Steve Jobs' iPhone Launch presentation.
In 2007, Steve Jobs introduced the world to the iPhone through a stunning keynote presentation that is still the talk of the town even after so many years. Throughout the presentation, Jobs talked about the problems with existing cell phones and introduced the iPhone as a solution to all those problems. This act of his helped Apple become the master of its field, and the impact of the presentation continues to date.
Conclusion:
Crafting an effective presentation takes time, energy, and lots of practice. It is indeed a skill that is polished with time and experience yet can be easily learned with the right resources and tools. We hope that this article helps you plan, create, design, and deliver a winning presentation and acts as a guide for all your presentation doubts!
Let us know your opinions in the comment section below!