Nail Your Next Hybrid Presentation with these 5 Expert Tips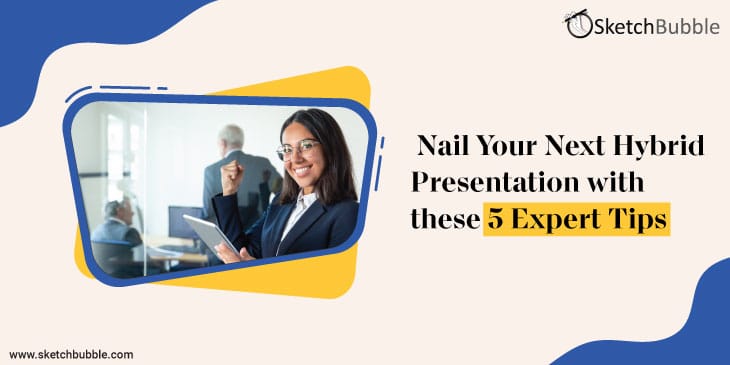 There is no denying that the year 2020 was the worst and most cursed year in the history of human civilization. The pandemic and lockdowns shut many businesses, increased unemployment dramatically, and canceled all events. Despite the heavy global disruptions, many amazing things also happened. And one of the best parts of this challenging time was – it compelled us to learn and improve our virtual presentation skills!
In 2022, things are getting normal. Almost all offices are open now, and most employees have resumed their "in-office" mode of working. However, some employees are still reluctant to return to the office and find it convenient to work from home. In such a scenario, communicating simultaneously with both in-office and virtual employees pose a great challenge for senior executives and team leads. Well, you can overcome this dilemma by learning one more new skill, i.e., hybrid presentation skill.
In this blog post, we have covered what a hybrid presentation is and how to deliver it impactfully. Give it a read!
What is a Hybrid Presentation?
Hybrid meetings and presentations are those that combine "live" in-person meetings with a "virtual" online element (such as live video or audio streaming of speakers, online discussion forum or chat, live blogs, etc.). A hybrid presentation calls for specific skills to engage with both online and in-person audiences.
Example – A radio debate show is a perfect example of a hybrid presentation where the speaker or politician speaks in front of the live audience in the studio, and a large audience listens to the broadcast.
Tips to Ace Hybrid Presentations
1. Acknowledge the Difference Between Both Audiences
Before the presentation, you must understand that the attention span of virtual attendees is relatively shorter than those of in-person attendees. For the in-person audience, it's easy to dominate the discussion and win the conversation, which leads to disengagement among virtual attendees. In addition, virtual audiences don't have the luxury to walk around or get up, which makes virtual presentations far more tiring for them.
Here are a few tips to make your session fruitful for both audiences:
Give a shout-out to your online attendees to make them feel as valued as those present in the conference room.
Make sure to seek the opinions of virtual participants and hear them sincerely.
Keep your presentations brief and short.
Provide equal opportunities to both audiences to raise questions or share their feedback.
Add interactive elements in your presentation to make it easy for all of them to participate. For instance, supplement an in-person show of hands with a quick virtual poll.
If you provide handouts to your in-person audience, email the same to your virtual audience in advance.
2. Troubleshoot Tech Issues in Advance
Hybrid meeting rooms have a system installed that broadcasts the video of the entire session to the remote audience. Any error in this system will make your hybrid presentation pointless. So, to avoid last-minute hassles, ensure that audio and video systems and cameras are working properly. Also check the audio quality and the camera's field of view beforehand.
3. Don't Forget to Look into the Camera
While presenting in the hybrid environment, most presenters get so much engaged with their live audience that they completely forget to look into the camera and make eye contact with the virtual attendees. If you really want to make your session productive and successful, don't treat virtual attendees as afterthoughts and avoid making them feel marginalized. Look into the camera from time to time throughout your presentation while soliciting questions or raising an issue to keep the remote audience hooked.
4. Use Your Body Language Wisely
Adjust your volume's pace and tone in such a way that you are clearly audible to both remote and socially distanced in-person attendees. Take a pause at each section so that the audience members can request clarification (if needed). While presenting, move purposefully towards the audience in the meeting room and back again towards the camera. Moreover, use your facial expressions and hand gestures wisely, giving the impression that you are passionate and enthusiastic about presenting both the audiences at the same time.
5. Practice Beforehand
Virtual presentation is a thing of the recent past, while the hybrid presentation is a new reality. As a presenter, you must understand that delivering presentations in a hybrid environment is very much different than presenting virtually or offline. In hybrid presentations, the speaker needs to address multiple kinds of audiences; that's why these presentations call for more preparation and rehearsal than the in-person and virtual ones. You need to put in extra time to find out which presentation strategy and practice work best to balance both the audience and serve your purpose.
Conclusion
As more people are being vaccinated now and Covid-19 restrictions are completely lifted, professionals are returning to the office. However, it doesn't imply that the virtual work trend is going to end. It simply signifies that you need to add to the skills that you have learned for virtual presentations. And that's not rocket science! With little effort, you can learn to combine the best of both worlds and enhance audience engagement.
Do you have some more tips to share with us? Leave your reply in the "Comment" section and share the blog post on your social handles!