5 Tips to Present Like a Pro at Your Next Virtual Presentation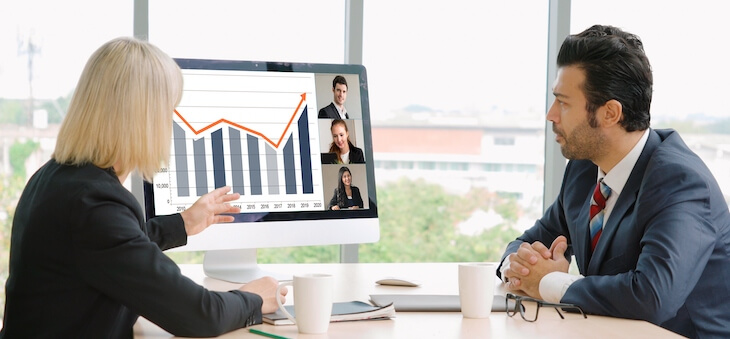 What would be your reaction if you come to know that your audience was busy checking social media, reading emails, and doing text messages while you were delivering a virtual presentation? It's really dismaying if you fail to grab the attention of your audience despite pulling out all the stops to prepare an impressive presentation.
Amidst the coronavirus pandemic, virtual presentations have emerged as the new normal. Virtual presentations come with several benefits, such as participation of international audiences, easy recording and online distribution, and much more. At the same time, they pose some challenges in front of the presenters; engaging the audience is one of the biggest among them. For some people, who used to do face-to-face meetings with their clients before the outbreak of Covid-19, virtual presentations are not less than a nightmare.
What Does the Stats Say?
According to a report, 63% of the audience stays focused on sending emails, 55% on making or eating food, 44% on texting, and so on. They devote only a fraction of their attention to what the presenter is saying.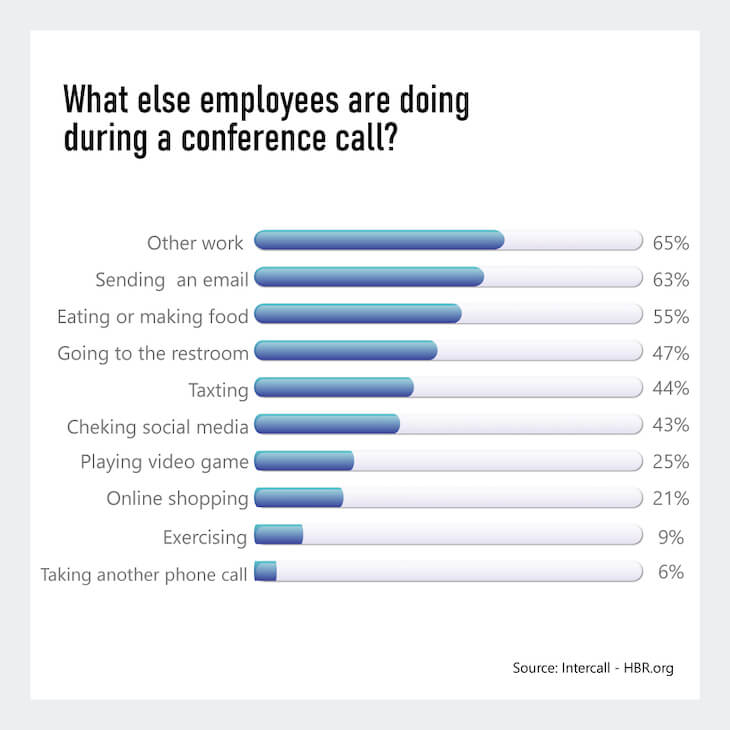 In this blog post, we have provided some useful tips to keep your audience hooked and take your presentation to the next level. Read on!
1. Turn Yourself from Camera Shy to Camera Confident
In comparison to audio-only presentations, video presentations lead to higher engagement and provide better outcomes. The reason is; 55% of our communication happens through facial expressions and gestures. This statistics is enough to understand the disadvantages of being a faceless voice to your audience. In a nutshell, by keeping your webcam on, you can keep the audience plugged into your speech.
If you are apprehensive about how you will present on the camera, here are a few tips for you.
Don't be over conscious about your looks on the webcam. (Hey, you don't appear so bad on camera!)
Instead of looking here and there, look straight towards the camera to reflect your confidence and competence.
Smile whenever required to look more natural and boost your confidence.
Take a brisk walk or take deep breaths 15-20 minutes before your virtual presentation to look calm and confident on camera.
Since you are in the spotlight, it doesn't mean that you will have to act. Just be yourself and let your personality and qualities shine.
2. Dress for Success
Your above waist part is visible on the webcam, so you should decide your clothing wisely. Your attire plays an important role in boosting your confidence, so here we have provided a few tips on how to dress appropriately for virtual presentation.
Dress in such a way that it doesn't distract viewers.
Keep your fashion sense aside for some time, and avoid wearing clothes with unusual designs and wild colors.
It's not necessary to wear popular name brands. Don clothes that make you feel good and reflect your personality and professionalism.
If you look presentable in casual attire, you can go for it.
Wear solid colored clothes.
Female presenters should be mindful of their jewelry. Don't wear accessories with sparkles and glitter. Keep your makeup and hairdo similar to what you'd normally wear in the office.
3. Tone Your Vocal Cords
Your volume, tone of voice, and other vocal aspects are crucial to keep your audience glued to your presentation. Moreover, your voice reflects your passion for your ideas and the subject matter. The more vocal energy you will exert, the more you will be able to keep your audience focused. 
You can do the following vocal warm-ups to loosen your vocal cords and deliver your best performance over the microphone.
Body stretches – Perform body stretches to expand your rib cage and fill your lungs with air.
Breathing exercises – After stretching your body, do some breathing exercises to relax your vocal cords.
Tongue twisters – Practice to enunciate your speech by articulating tongue twisters.
Yawn – Yawning helps extend your soft palate, regulates oxygen, relaxes your throat muscles and vocal cords.
4. Involve Your Audience by Making Your Presentation Interactive
After 10-15 minutes of your presentation, the attention of the audience drops to zero. So, you must interact with them from time to time. Provide opportunities to the audience to ask questions from you. You can also ask their thoughts and opinions. Below are a few tips to make your virtual presentations more interactive.
Embed a short video clip that explains the concept better. It will help you gain high audience retention.
You can conduct a live poll to regain the audience's attention.
Live quizzes are another great way to engage the audience.
5. Close with a Bang
The impactful closing of the presentation is as important as its opening. So, just put a little extra thought to conclude the presentation in a memorable way. You can consider closing in any of the following ways:
Add call to action statements.
Link the main points to the key message
Showcase a visual image depicting your take-home message.
Use a quote that best complements the presentation theme and resonates with your audience.
End with a short, impressive sentence that beautifully summarizes your presentation, providing key takeaways to the audience.
After the Presentation
Congratulations! You crushed your virtual presentation. But, it's not over yet. If you want your presentation to make a positive impact on your business, you can take the following actions:
Share Your Recorded Meeting Link
Sometimes, the audience wishes to re-watch your presentation in the future to go through the crucial details. So, once you are done with your presentation, share its link with the attendees for later reference.
Schedule a Follow-up Meeting
Your presentation must encourage the audience to take some action. You can schedule and send an invite for your next meeting to stay top of mind with the audience/potential clients.
By following the tips discussed above, you can get rid of virtual presentation jitters. If you have any tips on how to ace the virtual presentation, we would love to hear from you. Do share your thoughts in the "Comment" section below. Also, if you like the blog post, do share it on your social media handles.