30 60 90 Day Plan: A Strategic Approach to Create New Sales Territories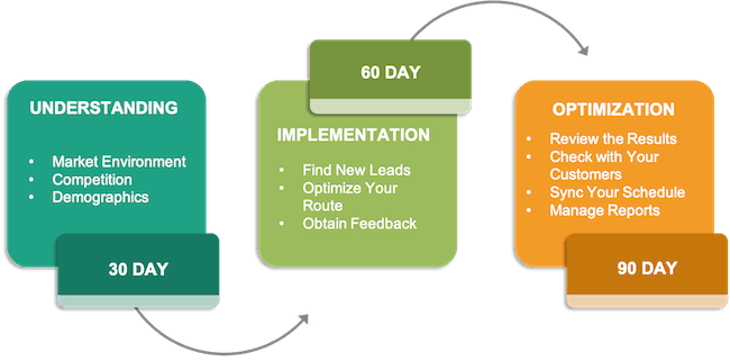 There is an endless world of prospect customers for the sales organizations, which can be both a challenge and an opportunity. From this large pool, identifying and reaching out to the right customers and serving their needs is quite challenging. However, targeting some specific sales territories will help your sales team exert their efforts in the apt direction and maximize the profit.
A sales territory is a specific geographical location, industry, or a company assigned to a particular sales team or sales rep to maximize revenue by targeting prospects within that geography.
Converting a new sales territory into a profitable channel is not a cakewalk; it takes a great deal of effort to crush it entirely. But, by having a well-structured 30 60 90 day plan in place, you can easily achieve your goals without missing a single step, target the right customers, and ensure growth in the sales. So, let's start by creating a 3-months plan effectively!
Day 1 to Day 30: Understand Your Sales Territory and Gather All the Relevant Information
1. Define Your Market and Environment
You can better define the market and competitive environment by finding the answers to the following questions:
What are the geographical boundaries of this specific sales territory?
What is the size of the TAM (Total Addressable Market) and SAM (Serviceable Addressable Market) in this territory?
What is your SOM (Share of Market), and how many SAMs can your organization serve effectively?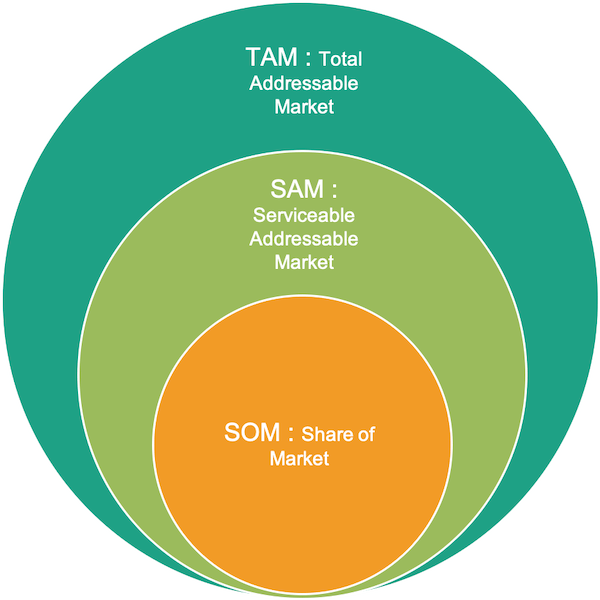 What is the size of the companies and from which industry they belong to?
What are the spending power and demographics of the prospects?
Is there any competitor?
Are there any untapped verticals that should be getting more traction?
The more questions you will ask, the more you will get closer to creating a new sales territory successfully.
Useful Templates: Market Environment, External Environment, Business Environment
2. Analysis and Evaluation
Competitors
The only way to gain a competitive advantage is to set higher benchmarks for your own performance. However, you must not overlook the strategies and offerings of the competitors. While performing a competitive analysis, evaluate the following areas:
Your direct and indirect competitors
Pricing, positioning, and reviews of the competitors' products
The profits and revenue of your rivals
The history and key milestones of the company
Pain points of the competitor's customers and how your products/services can resolve them
What makes your competitors the actual threats for your business?
Competitive intelligence will help you respond strategically to the competitors' actions quickly by staying nimble.
Useful Templates: Competitor Analysis, Competitor Analysis Table, Competitor Orientation
Sales Collateral
By having creative sales collateral prepared ahead of time, you can win deals. Sales collateral speak volumes about your business and help build credibility with prospects. Moreover, they give you a competitive advantage and boost brand recognition. So, ensure that you have customer reviews, demo videos, catalogs, buyer's guides, case studies, and product brochures prepared before you pitch the target group.
Sales Tech Stack
Sales professionals must embrace advanced digital technologies to accelerate sales productivity and get contextual information about customers.
Make sure that you have the following sales stacks available and updates:
Email
Broadband connection
Cloud storage
CRM (Customer Relationship Management)
Team communication software
E-signature tool
Demo software
Scheduling software, etc.
Content
Live chat
Sales enablement software, etc.
Besides these, you can also grab some advanced tools, such as data.com (for acquiring sales data on opportunities), LinkedIn Sales Navigator (for identifying and connecting with prospects), etc. You can also share relevant blogs and articles of your target group's interest to win more prospects.
3. Segmentation
By dividing your market into identifiable segments, you can understand the requirements and expectations of the customers precisely and can make better strategic decisions to serve them with your services.
You can segment the market on the basis of the following four criteria:
Responsiveness
Accessibility
Identifiability & Measurability
Substantiality
The market can also be segmented based on the amount of work required in converting the prospects.
Useful Templates: Market Segmentation and Targeting, Customer Segmentation
4. SWOT Analysis
Perform the analysis of your Strengths, Weakness, Opportunities, and Threats to prepare an efficient sales territory plan.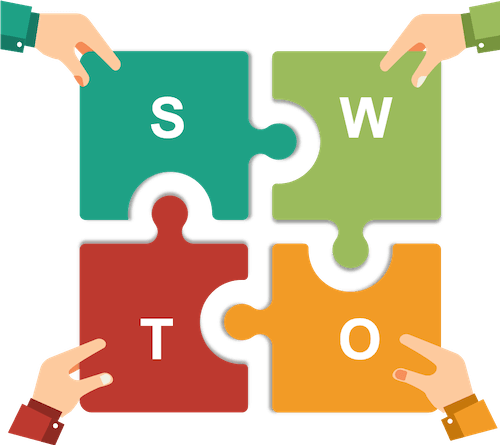 Strengths
Your strengths can be:
All those things that your company really does well
Features and qualities that give you an edge over the competitors
Internal resources, such as dedicated staff, certified developers, and project managers, etc.
Positive public relations and strong brand image
Assets such as infrastructure, intellectual property, capital, etc.
Weaknesses
Your weaknesses can be:
All those things that your company does not perform well as compared to competitors
Insufficient infrastructure and human resources
Lack of involvement from top management
Complex organizational structure, etc.
Opportunities
Your opportunities can be:
Underserved or untapped markets
The high demand for your products/services in the market
A few competitors
New market trends, etc.
Threats
Your threats can be:
Strict government regulations
Cut-throat competition
Negative media coverage, etc.
Useful Template: SWOT Analysis
5. Set SMART Goals
Based on your SWOT analysis, set SMART (Specific, Measurable, Achievable, Realistic, and Time-bound) goals that will help you keep guiding in the right direction for the next 30 days. To measure the performance, define KPIs (Key Performance Indicators) for each goal.
Useful Templates: Smart Goals with Dart, Smart Objectives, Goals and Objectives
Day 31 to Day 60: Implement Your Plan
Now you have the blueprint of the entire plan in your hand; it's time to execute it. So, be ready to move forward and hit your action items.
Find New Leads
You have already done your research in the first phase, and you surely have got a list of new leads. But, as you become more acquainted with your sales territory, you always have the opportunity to grow your customer base.
Satisfied customers play an important role in growing your business as they create positive word-of-mouth for your products/brands. Thus, personalize your offerings and provide compelling services to your existing customers. You can also generate new leads by choosing the right promotional methods and leveraging social media to engage with your potential customers.
Useful Templates: Lead Generation, Lead Management
Optimize Your Route
Now you have the list of all your potential customers; you would certainly want to visit them in-person. In such a case, you can save time and cost by optimizing your sales routes. Optimization will help you visit more customers without spending much time on driving. There are several applications available to serve your purpose. One of them is Badger Maps that provides you information about the apt routes and helps you keep track of leads on the basis of importance.
Obtain Feedback
Seeking qualitative inputs from your prospects, teams, and customers will not only help you improve your products/offering in time according to their expectations and preferences, but also make them feel involved. You can solicit feedback through:
Emails
Questionnaires and surveys
Rating and reviews
Phone calls
Useful Templates: Customer Complaints
Day 61 to Day 90: Leverage the Sales Analytics Data to Optimize the Existing Strategies and Create New Ones
The last 30 days are crucial as you will improvise your business models and processes based on the data in your CRM to strengthen your sales territory plan.
Performance Evaluation
Look at the KPIs you defined in the first phase and feedback of the stakeholders to check out:
if you have met all the goals as decided
is there any gap between the actual and expected outcomes
have you overcome the threats or weaknesses
do your existing plan needs any modification, or you require an entirely new plan
You can leverage the latest technologies, such as Sales Forecasting or Predictive Analytics, to get a clue about the fate of your plan. These technologies predict your future sales with the help of the current data.
Useful Templates: Performance Management, Performance Meter, Performance Management Cycle
Review of Individual Accounts
You can make your customers feel valued and fortify your relationship with them by reviewing the individual account of each customer. You can schedule a meeting with the customers and ask the following questions:
What do you think about our services?
How have our services been helpful to you?
Have we solved your previous concerns for good?
Any suggestions on how we can make our services better?
Is there anything you are struggling with and want our support to overcome it?
It will help you get more referrals and close more deals. It is also an excellent opportunity to cross-sell or upsell existing customers.
Sales Automation
By automating your sales processes, you can eliminate important but time-consuming and mind-numbing tasks, saving several precious work hours for the sales executives or reps. Your sales team will get enough time to focus on delivering quality customer services and generating more leads and revenue.
You can use chatbots, AI-powered sales bots, LinkedIn Sales Navigator, or other tools to automate your sales.
Useful Templates: Sales Automation
Communication is the Key to Success
Once you have created the plan, you must explain it to your team members because they are the ones who are going to help you execute it and make it a success. And, what else can be better than explaining through a professionally and creatively-designed presentation templates? You can use 30 60 90 Day Plan PPT templates to make your action plans and strategies visualize to the intended stakeholders in an appealing manner. These completely customizable and user-friendly templates feature high-definition illustration, editable text placeholders, and stunning color combinations. Moreover, the templates are compatible with Microsoft PowerPoint, Apple Keynote, and Google Slides.
Would you like to add something to this plan? Do share your thoughts in the "Comment" section. If you find this blog post insightful, do share it on Facebook and Twitter.