6 Actionable Tips to Nail Your Next Sales Presentation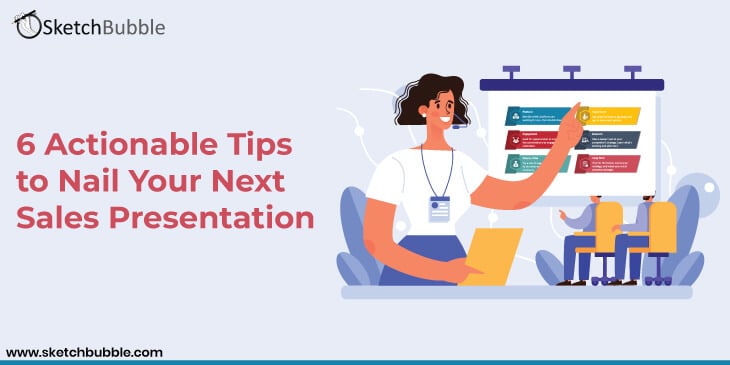 Do you remember the last time when you did extensive research, prepared a list of people you wanted to connect with, wrote a compelling sales email, and then pushed the 'send' button to send it to the target list? Now, take some time to reflect on – Did you get the expected response rate? How many prospects showcased their interest in meeting you for further discussion?
Emails are a great option if you are looking forward to reaching out to and sharing important information with cold leads and following them after the call. However, emails won't give you the desired outcome if you want to educate a lead on the value and solution that your service/product offers. Here a prospect-oriented and personalized sales presentation is your best bet. Unfortunately, many organizations don't mind shelling out a lot of money, effort, and time on advertising and marketing activities of their offerings, but they are reluctant to spend a single penny on training their sales team on how to craft and give a winning sales presentation. The result is – missed opportunities or lost sales. What would you prefer – going with the crowd or standing out from the crowd by investing in a sales presentation?
Delivering a sales presentation is an art. In this blog post, we have provided some useful tips to master this art and improve your conversion rate. Let's dive in!
1. Align the Presentation's Objective with the Prospect's Needs
A sales presentation prepared with an objective to benefit the company is sure to fall flat. Today's buyers are smart; they refrain from interacting with the sales agents who talk about their products/services only, without considering what the buyer actually needs. So, if you want to grab the attention of prospects and want them to listen to what you have to say, be a 'trusted advisor' to them and talk about the benefits that they will get if they buy your products/services.
Before you start preparing the presentation, do adequate research to understand the prospect's business and what challenges they are currently facing. You can have a quick call with prospects to gather more information. Once you complete your research work, craft a presentation that talks about the deepest client need/pain point and how your solution can ease it.
Example: Check this sales deck from Richter, an organization helping B2B companies to expedite their sales journey. They have beautifully represented the problem, followed by a value proposition and solution.
2. Create a Personalized Sales Deck
The one-size-fits-all approach doesn't work in the case of sales presentations. Each client has their business in a specific domain and faces different sets of challenges, so chances are high to miss out on an opportunity to build rapport with the client if you deliver a scripted presentation.
Wondering what approach you should use to deliver the presentation? A hybrid approach can do wonders! You can refer to the script to deliver company messaging and key points accurately while customizing each talk as per the prospect's specific needs and wants. In a nutshell, your sales pitch must pique the interests of prospects and should include all the relevant things that are most important to them for making decisions.
3. Include Case Studies and Testimonials
The advancement in technology has made consumers more empowered and well-informed, but at the same time, this has increased complexities for sales professionals. Well, you can crack the deal by using case studies during the right stage of the buyer's journey. By including case studies in your sales presentation, you can add some color to your slideshow, win prospects' trust, and make them truly believe that your solution can address their pain points effectively. You can also incorporate customer testimonials or quotes to reinforce your sweet spots.
Case studies, use cases, and customer success stories showcase how your solutions, in the past, helped the clients with similar challenges and took their business to new heights. Further, case studies build credibility and reassure the prospects that your offerings are a good fit for their businesses.
Example: Kimola, a big data company helping brands to manage their marketing activities by analyzing their consumers' social media behavior and digital texts, used use cases in its sales presentation to visualize prospects how the company's product can help them reach their target audience.
4. Make it Visually Impressive
No two sales presentations are similar; they differ from company to company, product to product, and prospect to prospect. However, they all have one thing in common – they must be well-structured, professionally designed, persuasive, and informative.
Both visuals and content play an important role in the success of your sales presentation. So, you must choose visually-engaging templates that feature well-researched content, high-definition graphics, and professional designs. Moreover, with the right template, you can turn your sales deck into a captivating story, prolong the attention span of the intended audience, and motivate them to move ahead in the buyer's journey.
Example: Have a look at Apple's 2019 sales presentation! Although the presentation is of more than 2 hours duration, it held the audience and kept them stimulated for such a long time by switching the visual stimuli almost every 30 seconds.
5. Invite Questions
As mentioned above, a sales presentation should not be about your company and offerings; it must be about your audience and how your product/service will benefit them. If you keep flipping through slide after slide, you will lose the audience's attention. So, to keep the audience active, make your presentation conversational and invite questions from them.
Queries from the audience signify that they are interested in your product. By efficiently processing questions while keeping the presentation's momentum moving forward, you can turn the customers' interests into sales orders. Questions are also great feedback that help you improve your next presentations.
Pro Tip: Processing the audience's queries during sales presentations is an important part of closing sales; thus, you must not leave any stone unturned in learning this skill. Practice a lot!
6. Incorporate Call-to-Action (CTA)
You have invested your energy and spent valuable time in preparing your sales presentation, now won't you anticipate getting the highest return on your investment? If yes, finish your sales presentation with the summary of the entire deck representing the main key takeaway points and a high-converting CTA unique to your audience.
A clear CTA will guide your audience towards the next step that they are supposed to take. Don't make your CTA complicated; rather, keep it simple – you can ask the audience to sign up to your mailing list, follow your company's social media profiles, subscribe to your newsletter, etc.
The Bottom Line
A great discovery meeting with the prospect before the sales presentation and a strong follow-up after the sales presentation are crucial to closing the deal and converting prospects into customers. The extra and sincere effort that you put in preparing a customized presentation will definitely pay you off. Moving ahead, be confident while delivering the presentation because it is your confidence that spills over into your prospects and encourages them to invest in your idea/product/service.
Do you have some more tips to make a sales presentation a huge success? Share your insights in the comment section below! Also, if you like the blog post, do share it on your social media handles.