How to Add Humor to Your Presentation?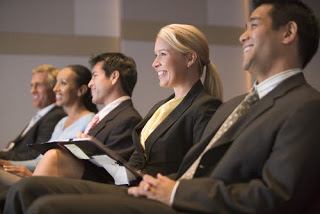 No matter how serious is the subject, the audience is present only to find your presentation interesting and have definitely come to enjoy the time they are spending listening to you. Should you be able to add a little bit of humor and make them laugh or even smile; your presentation is a hit. Now, how does this humor part get its place in even the most serious of presentation subjects? Is it possible? Yes it is. Adding a flavor of humor to your presentation no kid's play though, practice can make everything fall in place.
Humor behaves like an engaging element in your presentation that binds your audience completely, this does not mean that you need to be comedian or keep laughing yourself. It would be disastrous. However, humor is a natural phenomenon and is not forced but with great practice and going deep into your personal experiences can help a lot in this department. Adding humor to your presentation gives your audience a chance to know you better and they will definitely want to hear more from you once they connect with you. Interesting facts mixed with a pinch of humor and surprise can win you fans. Let us look at how this is possible:
What makes you laugh will make them laugh
Remember the moments that make you laugh, actually script your presentations when you are feeling funny as this will make you include real life humorous instances. This will be your actual experience and will be original and new to your listeners. The purpose behind doing this is to keep your audience smiling.
Try to weave real fun into your presentation. This doesn't mean that your audience should laugh all the time. Since it's not possible, select parts of your presentation where you can relate to some funny experiences and share it then and there. It's also possible that you might remember some examples from your life at the moment of presentation. Try not to just blow it out. Take a moment, plan it and then give a balanced pinch of it. This will work if done properly.
Bring out your funny side
Everybody has got a funny side you just need to identify it. This may be a rare phenomenon but you must be having certain situations where you make people laugh. Find out those areas or try being with the same people especially those who bring out your funny side.
Look back into your life, take out pieces and bits about your funny side be it from time spent with family, friends or at certain places and keep these moments with you as examples. When time comes and you find parts of your presentation that you can relate those moments to, just add it smartly and go ahead using it.
Refer to a great source
There are some people who are born humorous and don't need to do extra efforts in making others laugh but if you are not that lucky person you need to make it a daily practice to find sources of literally funny things like actual funny jokes, television serials, text messages, advertisements etc. Take a note of whatever you find funny and try to develop variants of those funny things to make it originally yours.
Watch comedy movies as they are creatively crafted. You can also take comedy movie or advertisement clippings and incorporate them into your presentation by relating it to your chosen topic. Starting your presentation with a light joke or funny quote will set the tone of your presentation and make your audience feel light & ready for your presentation, but do so carefully. If the starting goes off it will be a disaster.
Make it about yourself
Poking fun at yourself is the best way to stay into the business of engaging presentations. This helps you release your stress and that of your audience as well. The presentation may be on a totally different, say academic serious subject but you can always attach your life experience to it. Make it about yourself, drag out situations where you were poked fun at and share it with your audience of course it should be relevant to your presentation somehow. Just remember that, that someone else's story won't do well because it's not about you and that's why you can't handle it on stage. If you can its good but if not, lack of source can totally mess up your presentation.
Work out a great script & keep at it
Writing a great script for a presentation and finalizing your content is the most challenging job as you have to find that perfect wave that blows audience's mind. You can't be a great presenter unless you are a good re-writer. Pen down your first script, funny or not. Then take it from the top, add humor where you see fit and then repeat the process until you find the correct tone of your presentation.
Always keep at it, meaning, always keep looking for great resources of humorous facts from your life. Keep a pocket diary or a small recorder to maintain your treasure of fun facts wherever you get a change to record or pen it down. Keep this into practice and you will always be wealthy with fun facts.