101 Tips to Deliver an Effective Presentation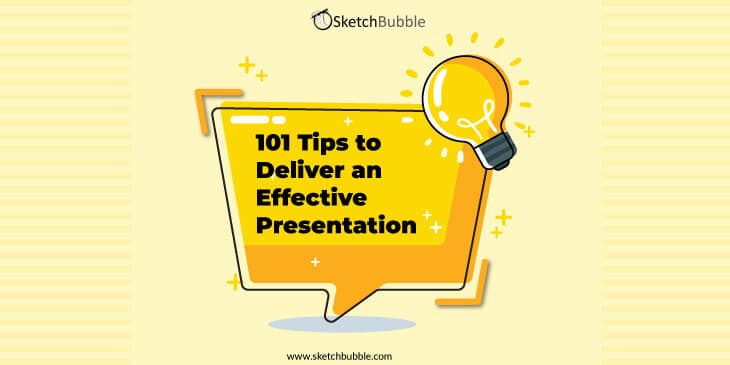 Over the years, a lot has been said and told about Presentation Skills and since then the aspirants are on the quest of "How to be a perfect presenter", but nothing strikes my head more than the thought of how some people actually do it the way it should be. Are there any set rules to be a good presenter or it just happens to the gifted? Well, I have always been a believer of hard work & practice. These two components create a perfect composition of a well-defined public speaking experience.
A perfectly balanced composition of knowledge, practice, creativity, humor & spontaneity brings out a wonderfully engaging presentation that compels its audience and they believe in what the speaker is explaining. How this happens? Years and Years of practice & a hint of confidence. Still there are many aspects, which should not be ignored before delivering your presentation. You may find 10, 20,30 tips on the internet but today I am sharing tips that I have been working upon and have compiled after having a fair share of experience in the field. Let us find out –
Assemble, Formulate & Produce
Get your head right with the subject & know what to present.
First, search your own knowledge bank & then go for references.
Assemble the best possible pointers on your choice of subject.
Pen down your points before digitally handling them.
Plan the sequence of your presentation well.
Get your head to work on better examples.
Always make a point with an instance attached to what you are saying.
Find out good quality images & videos to attach to your presentation.
Master the skill of presentation designing.
Develop a time frame & incorporate all your pointers in it.
Assign appropriate time to explain every pointer.
Practice raw presentation in front of your friends & family.
Include creative suggestions from others.
Think of all possible questions around the topic.
Prepare a Q&A session of your own(in your mind) & practice it too.
Practice alone with the formulated presentation.
Only pointers on your slides please. Stuffing too much content on slides will shift the attention of your listeners and they won't be able to connect. Keep it to points & let them connect to your voice.
Use remote control to move slides.
If technically something goes wrong, keep going with your topic. Don't panic or fumble. Just go a bit slow & include spontaneous examples. You may ask some questions.
Get inspired by watching other's presentations (better one's of course).
Reach before time, prepare for the delivery.
Remember you are there to entertain not to teach some subject.
Practice for better filler words because 'hmmm', 'ummm', 'yes' or 'right' used frequently makes you look unprepared.
Saying sorry repeatedly is gross, avoid it.
You yourself should have fun while presenting, then only your audience will connect.
Gestures, Postures & Slides
You are the face of presentation, not your slides.
Looks are important but not to the extent that your thoughts drift away.
Your personality is in your speech.
Change & modulate your voice according to the size of audience.
If you don't know how to match your body language on stage you will look boring.
Balance your act with standing straight, moving on stage and moving around the audience.
Keep audience engaged by changing slides by remote when you are among them.
Your presentation can go boring if you keep going with single expression.
Maintain eye contact and connect with your listeners.
Too much hand movement can ruin it but not doing it at all is even boring.
Do not bind your hands to small movements either; open your arms while answering questions.
Keep yourself fit & practice to stand on stage for a longer time.
If you are tired you can go sit among the audience make it look like part of your presentation.
You are not a pendulum, don't sway poise yourself aptly.
Dressing for your presentation plays a vital role too. Do so smartly.
Always choose a collar microphone to present.
Look energetic and zealous.
While standing keep your feet a little apart & shoulders straight, shows confidence.
Keep your hands out of pocket please.
Remember you are here to communicate not to preach.
Draw power by deep breathing. Breath in, not out.
Stay away from mumbling, speak every word clearly, open your mouth and pronounce correctly.
Raise your voice from your chest not throat.
Have a positive attitude towards yourself & audience.
Take the feedback as learning & prepare well for next time.
Do's
Try a little humor.
Induce examples.
Judge your audience within few minutes of starting.
Make it easy to understand.
Keep it concise.
Maintain your conduct.
Keep a calming tone.
Lead the audience.
Poke fun at yourself, to connect.
Take your audience into confidence.
Remember that you are here to share.
Always keep a backup plan.
Go beyond your slides, to explain.
Face your audience's questions.
If you don't know something, say it smartly.
Check all digital systems before starting.
Be professional on stage.
Use remote with laser to show points on slide.
Nod while listening to a listener's question.
Smile and also laugh with your audience.
Look into the eye of the questioner & answer, this make them feel important.
Making fun of a silly question is not on the cards, handle it smartly.
Let the questioner finish, interrupting will make you look desperate.
Don'ts
Don't be a slide speaker, be a story teller.
Don't Overdo it. Keep it concise.
Don't be a crammer.
Don't deviate from the subject.
Don't keep anything from your audience.
Don't go too deep.
Don't start questioning your audience.
Don't ignore the back benchers.
Don't make fun of your audience.
Don't keep a piece of paper while presenting.
Don't depend upon digital aspects completely.
Don't make it all about slides.
Don't start telling your life story.
Don't boast your achievements.
Don't dance around too much.
Don't stand in the way of your slides & audience.
Don't show empathy with your audience, help them learn.
Don't go over the top.
Don't go personal with an example.
Don't make it only about images & videos.
Don't challenge your listeners.
Don't force your examples agree to your audience too.
Don't portray a negative body language.
Don't just stare your presentation.
Don't look up or down like a school kid to remember things.
And the 101 no. tip that I would like to share is Practice well, be confident, be at the right place at the right time & don't overlook suggestions. Kept in mind, these tips can really help. If you have more to share please do so. I am open to more suggestions, contribute & learn more.