Best Free PowerPoint Templates for 2023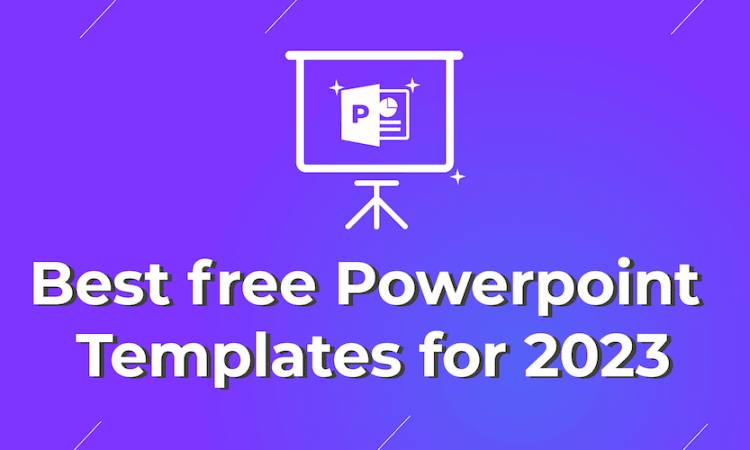 Creating a visually appealing and professional presentation can be daunting, especially if you do not have the right tools or resources. However, as the demand for presentations grows, PowerPoint templates have become increasingly popular as an easy and efficient way to create engaging presentations. With this abundance of presentation templates available online, it has become easier to put together a polished and engaging presentation. In this article, we will be sharing some of the best templates that you can use to elevate your next presentation.
The templates we list here are suitable for professionals working across a wide variety of industries. So, whether you are looking for templates for a business presentation, a school project, or even a personal exhibition, we have got you covered. And the best part is – they are all FREE!
So, let us dive into the top free presentation templates that will make your next presentation stand out.
This professionally designed deck is not only great for showcasing your project's goals and how to achieve them but can also be employed by life coaches and motivational speakers to display the power of small steps and efforts taken every day. Another creative way to utilize this template is by using it in academic presentations to inspire students and showcase to them the true path to success.
Looking for the perfect way to showcase your plans? Want to get your employees or students invested in your plan? What could be a better option other than preparing a monthly, quarterly, or yearly roadmap presentation?
This roadmap template is exactly what you need to serve your purpose well. The slides included in this deck are filled with amazing features, high-quality infographics, visually-pleasing icons, and an overall professional aesthetic. You can use it to clearly showcase your goals and plans in detail, breaking them down into smaller and attainable steps.
As the name suggests, this well-designed deck is the perfect companion for any corporate presentation. You can use it to communicate your company's vision, mission, core values, services, products, team, operations, and more. Moreover, you can also use it to craft the perfect pitch or to deliver company introductions.
All of the slides in this deck are easily editable, and you can completely customize every aspect of the template to specifically fit your company's identity and use case.
If you want to communicate the roles and responsibilities of your team in a visually engaging manner, this particular deck is the way to go. Complemented with high-definition graphics, innovative designs, and textual places for listing roles, duties, and responsibilities, this template is sure to make your presentations a lot more exciting! Not only that, these illustrations are adorned with enticing color combinations to create an engaging experience.
Let us say you are tasked with introducing yourself at a seminar, event, or meeting. Rather than just standing there by yourself, and delivering a monologue, step up and deliver a powerful introductory presentation. It will not only add a layer of elegance and make you look more professional, but it will also help you feel more confident and stick to the point.
This template is fully customizable and ready to be molded to depict your identity perfectly. Get this template today and leverage its benefits for your existing or future presentations!
This template is the right choice to showcase the introduction of your entire team to the intended clients, customers, and stakeholders with efficiency and sophistication. Using this deck, you can highlight their skills, expertise, experience, designation, and much more.
To make it easier for you to present your entire team's introduction, this template is pre-designed with all the necessary visual elements. Using these slides, you can easily represent the introduction of different teams of your organization in one presentation.
Communicating the agenda properly, clearly, and effectively is extremely crucial, don't you think? Well, to make your job easier, this deck template has been designed with all the necessary elements. Whether you are a project manager or a department head, this beautifully designed deck, with its professional infographics, will help you craft the perfect presentation to get your team on the same page.
In order to make it truly yours, there is ample space to add custom content. Download the set today!
The ideal ally for business professionals, this template is designed to help you communicate your mission, vision, and values in a professional manner. This deck can also be used by educators to showcase the mission of their educational programs. Healthcare professionals can also make use of these slides to better depict the purpose of their health campaigns.
To keep you from becoming another face in the crowd, these designs are designed with a unique visual appeal and 100% customizable features so that your presentations aptly convey your story.
A closing slide is the cherry on top of a well-delivered presentation. Unfortunately, many presenters miss adding it. Thus, they are left with an open-ended presentation.
You can make the closing of your presentation as enticing as your starting by downloading and using this set. These slides are rich in graphics and visual elements and let you close your slideshow with a bang.
Well, this is our list of the best free PowerPoint templates for 2023 to help you easily craft and deliver a stunning presentation. The best part? Each and every template listed above comes with professional design elements, such as backgrounds, infographics, graphs & charts, and more, that will result in a great-looking presentation. So, take advantage of these resources to the fullest!
We hope this article was helpful and you found what you were looking for. Stay tuned for more such articles all about presentations! Please drop any feedback in the comments below, and we wish you all the best for future presentations!