How to Build a Unique Style into your Presentation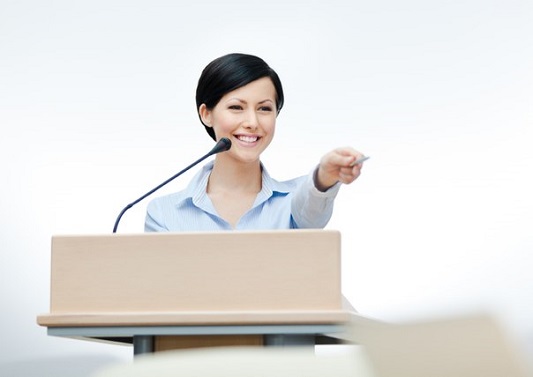 The speaker had 10 minutes to discuss how staying active by getting involved in music, dance and drama could take years off our lives and help people to be happier, more engaged with our world, and more spontaneous.
She wore a trademark pin-striped suit of gray with her hair neatly secured in a bun at the nape of her neck. She had a raft of papers in her hand and a PowerPoint ready to go.
Introduced to her audience, she dutifully delved into her topic with a strong opener and professionally designed slides to illustrate her points.
She was a full minute into her presentation when she was suddenly drowned out by loud polka music. She looked confused as did the audience. Then a costumed elderly couple danced vigorously onto the stage, right in front of the PowerPoint. At the far end of the stage, they seemed to suddenly become aware of the speaker. The elderly man doffed his hat and motioned for the music to stop. He said "Oh, excuse me! We come here to dance each day at this time – we didn't see you!" and they scurried off.
The speaker shrugged her shoulders and launched valiantly into her topic again. Three more slides were delivered when the polka music started again. Again she seemed startled. This time a middle-aged couple danced across the stage, looked shocked as they near the end of the stage and saw her there, and scurried off.
The speech continued, the dancers continued to interrupt her every three or four slides, and each time they were younger than before. The audience began to laugh and enjoy the interruption.
When she said the words "in conclusion" the dancers suddenly reappeared on stage and began to dance a well-rehearsed polka. The speaker looked incredulous, then suddenly threw off her pin-striped jacket and joined the elderly man and gracefully and skillfully danced around the stage herself.
She came back to the microphone and told people that actions always speak louder than words, and she wanted them to be spontaneous and live life to the fullest, even if it meant dancing when they should be speaking.
Then she suggested everyone look under their seats: Taped to the seats were free passes to go to a polka party at a local beer hall that night (it was Octoberfest season), drink tickets, and a coupon for a beer stein to take home. She said she knew most people had other plans, like catching up on their work in their rooms, but she encouraged them to go out and engage in life instead.
When the conference ended and the surveys were done, there was no question which speaker got top marks for offering a unique style.
She had managed to incorporate three great techniques for adding style to her presentation:
She had delivered the unexpected.
She had engaged their senses.
She had delivered a bonus.
Surprising people in a pleasant way is a rare quality in presenters. But in a time of short attention spans and overload of information, it has never been more appreciated.
How do you add your own unique style to your presentations?
Here are four ways that don't involve you dancing the polka to add style to your public speaking:
Embrace PechaKucha – Developed in Japan, this presentation style allows you to show just 20 slides, and to speak about each slide for just 20 seconds. This is a highly discipled method of public speaking with an emphasis on great graphics and speed. You may think that your topic is far too complicated to be handled in a six minute and 40 second speech, but you will be amazed at how well you will hone your editing skills and get to the point. You can even tell your audience at the start at what you are doing; many people who have to do presentations themselves will watch with extra fascination.
Engage more than your audience's sense of hearing and vision. Midway through your remarks pass out stress balls or chocolate chip cookies or pens and notebooks if your budget permits. Get them to touch, taste and feel your words.
Break expected patterns of thought. The reason we all enjoy and remember the quotation that there are three kinds of lies: lies, damned lies and statistics, is that it ends with something we weren't expecting. Group key ideas in your presentation into three-part punches, but make the last point something entirely unexpected.
Engage your audience. Many people are ready for a nap when they settle down for a conference presentation. Wake them up by involving them in your presentation right from the start. Bring 10 people on stage with you for an exercise. Come out from the podium and walk down the aisle with your portable microphone and ask some people a few questions. Don't embarrass them like a comedian would; instead, just involve them. This exercise helps you build empathy with your audience and they see you more as a person than as just the figure behind the podium.
There are other things you can do to create style in your presentation ranging from coordinating color themes in your PowerPoint to embedding videos into your PowerPoint.