8 Actionable Tips for an Awesome Marketing Presentation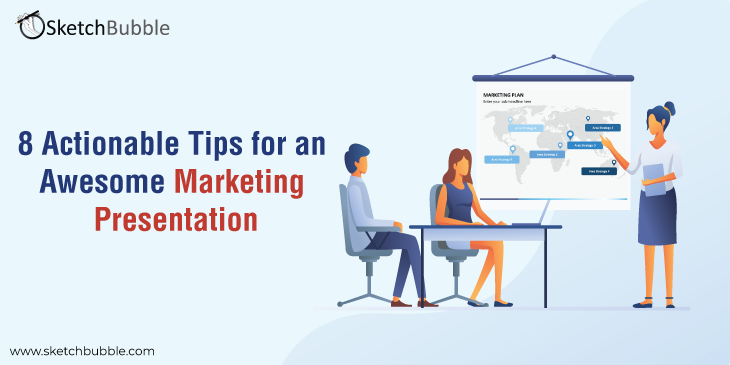 Have you ever wondered the difference between a Nike shoe and the one that you get at a fifty percent discount from a local store down the street? You may consider the comfort or quality, whereas it is all about the marketing. Do you see posters hanging down from the first one's showroom with the shoe's uniqueness, specific brand taglines, sorted pastels, and stories of how one shoe changed somebody's life?
Well, that is the key distinction! Brands stand apart from businesses because they rule the marketing world through their thought-provoking and spellbinding presentations. If you want to know some of their tricks, here are a few!
1. Hook them on the First Slide
The best way to catch attention during your presentation is to captivate people on the first slide itself. You can do this by starting with an impactful quote, rhetoric question, statistical facts, or intriguing data. This mind-blowing method will compel your audience to stay focused on your presentation.
2. Make a Proposal Backed by Value
The best way to market a product, policy, or brand is by backing it with a value that creates an impact. You can do this by adding a social responsibility to it.
For instance, if you are selling a product, make sure that a certain percentage of its profits goes to charity, and provide your customers with the proof that their purchase is creating a difference in somebody's life. This will make people buy your product for its quality as well as for the cause.
Another fail-proof marketing technique is to address a problem and then commit to solving it. If you own a service-oriented organization, promote a potential issue – it could be addressing the loopholes in startups or the lack of knowledge in young entrepreneurs; and then advocate the problem with a solution being provided by your company.
3. Engage via Storytelling
The simplest and shortest way of promotion is by including your products in anecdotes. This age-old method of interacting and connecting through shared experiences never fails to ignite a spark of energy in the room. Not only will it make people feel personally connected to your brand, but your goods will also stay in their hearts through your stories. Checkout Visual Storytelling: A Quick Way to Enhance Your Brand Image
4. Stick to Your Brand Palette
If you are presenting content, make sure to maintain your specific color theme. The most common mistake that establishing brands makes is not sticking to their designated code.
For instance, if somebody gives you two colors, say, red and yellow, and asks you to think of the first brand that pops in your head, it would definitely be McDonald, because of its brand palette on all of its articles.
Useful Tip – You can curate content by picking out ten different shades of your brand hue and then adjust it accordingly. This can be easily done by creating brand palettes in software like Canva and Adobe.
5. Maintain a Specific Content Theme
As necessary as it is to maintain a paint-card of your company, it is important to establish a theme- you must decide if your presentation would have illustrations that are botanical, tropical, minimalist, colorful, black and white, or even a combination of a few of these.
This is derived by looking at the vision, purpose, and strategy of your organization. Not only does it give you an identity, but it also helps you stand apart from others who are in your competition.
Thus, make sure that your marketing graphics are a reflection of your theme.
6. Include Relevant Data
Incorporating data in your slides will help you notch up your marketing game. But it is necessary to use appropriate information in accordance with your audience.
For instance, if you are promoting an article, everybody then needs a reason to buy it from you. If you tell them that it was bought only by ten people, they might not be interested. But if you show them that this was purchased by a hundred thousand customers, and half of them repurchased it, they would be glad to spend their money on it.
Another way of explaining it – if you are standing up for a pitch where you need to market your brand, you must use statistics to depict growth. It could be in terms of your team, sales, income, and even your profits.
The correct dossier will help you achieve your goal.
7. Promote Brand USP
If you have knowledge about your Unique Selling Point (USP), you can ace the marketing game without much effort. It is nothing but a matter of few words that could help you fulfil your goals.
For example, if somebody says 'Delivery in thirty minutes,' it would be Dominos, the pizza company, that would knock your mind because that is how they have promoted their uniqueness. They aren't the only ones selling pizzas, but when it comes to creating an authentic selling point, they're stronger than anybody else in the market.
So, it is extremely crucial for you to dig deep into your USP and promote it.
8. Include Market/Industry Analysis
If you are sitting at a board meeting or presenting at a conference with well-experienced businessmen and businesswomen, make it a point to include the following:
Details about your industry sector – its history, establishment, and how you have incorporated the past lessons into the present.
The current trends, potential problems, and your coping mechanisms for them.
Futuristic data of expected growth with plans of execution.
Useful Tip – Be well-read and educate yourself on these topics before stepping up on the stage. Make sure to be confident with your information.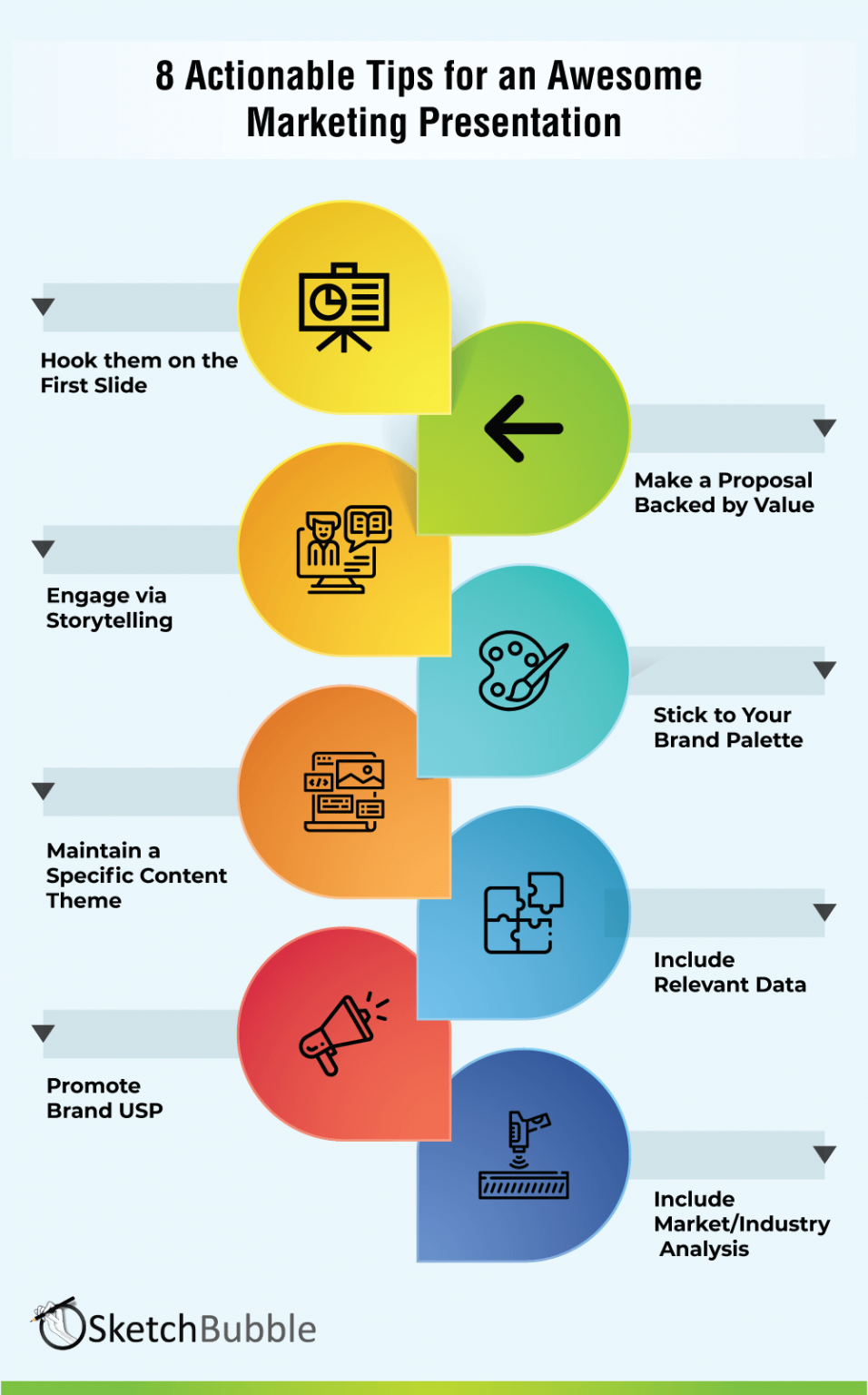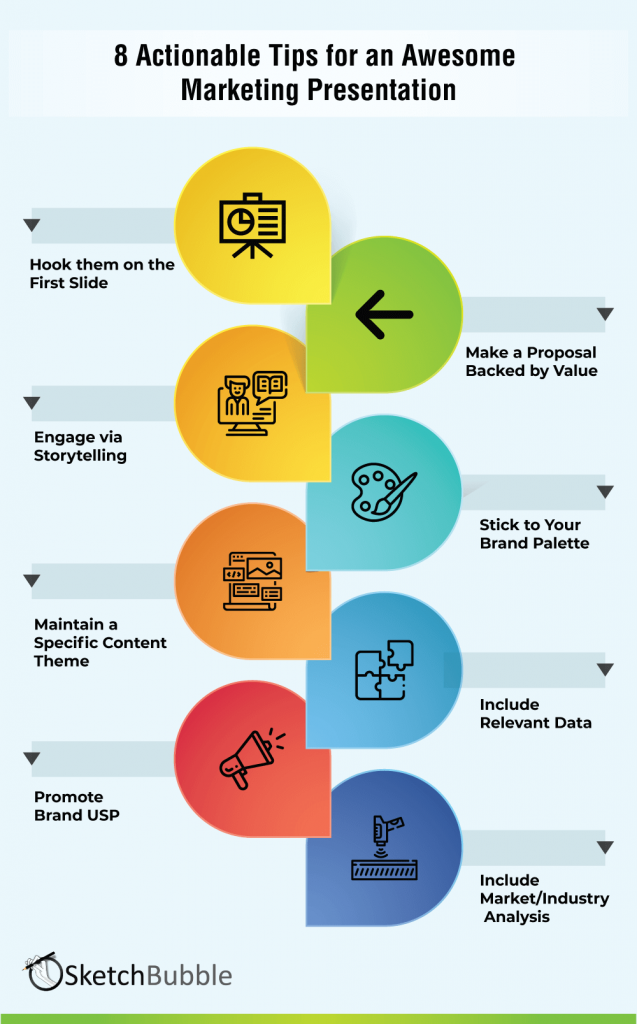 Tips and Tricks
Use templates with high-resolution graphics so that they are crystal clear to those before you. Make sure to include short videos to keep your viewers engaged.
Research about your audience's background and draft your presentation accordingly.
To make your presentation more intriguing, use graphs, pie charts, bars, and pictorial data wherever you can. Here are 9 Ways to Turn Text-Heavy Slides into Stunning Visual Presentation
Stick to the purpose. If you are up for marketing, do not deviate from it. Stay on point even when you are interacting with the audience.
Conclusion
Marketing is an investment. If you want higher returns, make sure to research right and put in your money and efforts wisely. Choose to stand apart by using the methods that suit you the best. We wish you luck in all your marketing endeavours.