Top Presentation Design Trends to Look Out for in 2023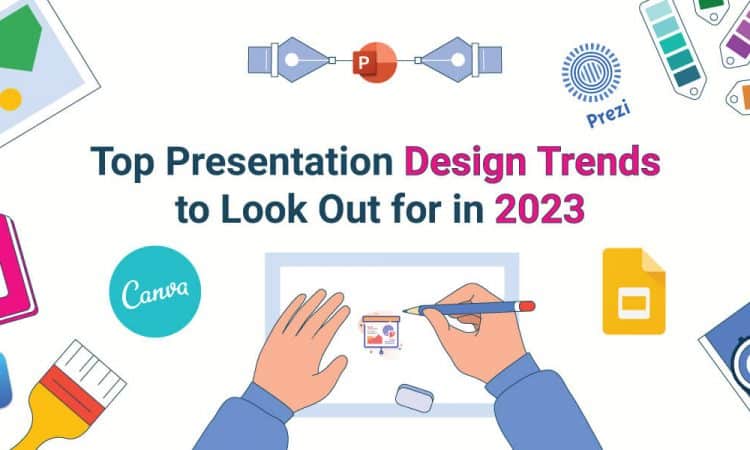 Graphic design trends usually change due to various factors such as political events, world crises, progress in the business world, the evolution of new technologies, etc. All these factors collectively lead to the development of dynamic design trends.
Well, the coming year will witness nostalgic designs that bring a sense of comfort. New design trends are curated for an audience that is always looking for something new and fresh, such as millennials.
Let us have a look at the presentation design trends for 2023.
1. The Newest Vogue Will Be Dark Mode
With the world running online, there has been a drastic increase in people's screen times, which has caused most of us to shift to the dark modes on our cell phones.
Well, the same goes for presentations. Presentations usually require a person to look at the screen, read and comprehend. The dark mode emits lesser blue light and reduces a person's eye strain. Hence, this has become a popular vogue and will remain a constant trend for the digital years to come.
Here are a few reasons to use the Dark Mode in your 2023 presentations-
Makes the content shine without putting in much effort.
Allows readers to easily read even on smaller screens.
Helps create a sense of security and certainty and showcases professionalism.
Contrasts with other colors and makes your slides stand out.
Here are examples of presentations in dark mode –
2. Colorful Text Blocks Will Be the Highlight of 2023
Gone are the days when monochromatic presentations ruled the digital world. Colors are the newest trend for the year 2023. Colors not only highlight abstract elements on your slides, but also make the overall presentation more visually appealing and captivating.
Colorful blocks are dynamic elements and can be used strategically to make your presentations stand out. For instance, if your slides do not have enough images, you can cover some spaces with colorful blocks and add text. You can also use colors to throw some light on your brand palette and communicate your company's branding flawlessly.
Here is an example of how using a set of colors can highlight your brand's palette and help establish your company's image in the audience's minds.
3. Abstract Shapes Will Take Over the Slides
While a previous couple of years saw a rise in design trends that included geometric shapes, the coming year will be dominated by abstract shapes and elements. It includes curvy elements being displayed as backdrops of slides, abstract shapes being used to highlight information, etc.
Here are a few reasons why abstract shapes are worth the hype –
They will instantly catch your audience's attention.
Unusual or abstract shapes will help maintain your viewer's focus.
They make your presentations lively and attractive.
They are versatile and can be used to convey any kind of information.
4. Minimal Tones Will Be the New Aesthetic
Minimal tones are the aesthetics that have been dominating the field for a while now and are here to stay for the year 2023. These tones include neutral shades that have a warmth of browns and light tones of white.
While each color has its own symbolism, these tones of beige and brown convey warmth, comfort, resilience, and faith. Hence, these are popularly used in presentations to usually build trust and depict the company as reliable and unswerving.
Here are a few ways how you can incorporate minimal tones in your presentations –
Use a neutral tone as the background color.
Highlight headings with beige and brown shades.
Use white as a backdrop for images and overlays.
5. Talk of the Town in 2023 – Animated Graphics & Virtual Reality
The animation and motion visual trend is here to add life to your presentations. The growing demand for virtual reality and 3D experiences has changed the face of the graphic industry.
Businesses need to incorporate motions, animations, and 3D graphics into their presentations to meet the expectations of their audiences. Thus, whether you are into education, technology, or services, you must include this design trend in your creative presentations.
Here are a few ways to incorporate animated graphics and virtual reality into your slides-
Use animations to demonstrate product application.
Develop VR experiences to showcase the manufacturing process of your products.
Convert images to AI-generated graphics for team introductions.
6. Bold Backgrounds Will Be the Latest Obsession 
2023 will be the year of using bold and impressive backgrounds in your presentations. This trend will be a show stealer throughout the year, as it complements the trend of incorporating abstract shapes and colorful blocks.
If you are in a creative industry, this trend can be strategically used to convey your message and establish your niche in the market.
7. 2023 Will Be the Year of Inclusive Visuals and Graphics
Inclusivity is a movement that covers all aspects of life, such as gender, race, culture, accessibility, etc. It will be well-reflected in the upcoming graphic and design trends, as it will open doors to better representation opportunities. It allows people to connect better with businesses and brands, as it enables them to see themselves being represented in campaigns through inclusive visuals.
8. Serif Fonts Will Make a Comeback
Design trends repeat themselves over the years, and this font style will be here to stay for a while. Serif fonts showcase a sense of tradition, commitment, and security, and hence are being widely used in presentations and designs.
Here are a few reasons why you should use Serif fonts in your slides –
They are the symbol of professionalism and depict consistency.
They can be used for highlighting titles, headings, and sub-headings.
Serif fonts easily blend with most kinds of designs, color palettes, and dynamic themes.
9. Botanicals and Nature Inspired Elements Will Gain Massive Traction
With the rise of environmental crises, there has also been an increase in awareness among people. This is quite visible in the current presentation trends and graphic designs as companies have been focusing on showcasing their concern for the cause.
Usage of botanical graphics and symbols of earth and trees have been in use for some time now. With companies being endowed with corporate responsibilities towards the environment and the rise of more environment-friendly industries, nature-inspired visuals and graphics will be the biggest trend of 2023.
Conclusion
To stay at the top of your game, it is extremely crucial to keep up with the latest presentation design trends. While there may be a dozen trending designs, it is important for companies to carefully pick the ones that would suit their brand the most and help them communicate their message efficiently.
If you find it burdensome to find the latest trends, draft presentations and design your slides from scratch, you can use expert-designed presentation templates that can be customized according to your requirements.