A Complete Guide for Preparing Outstanding Executive-Level Presentations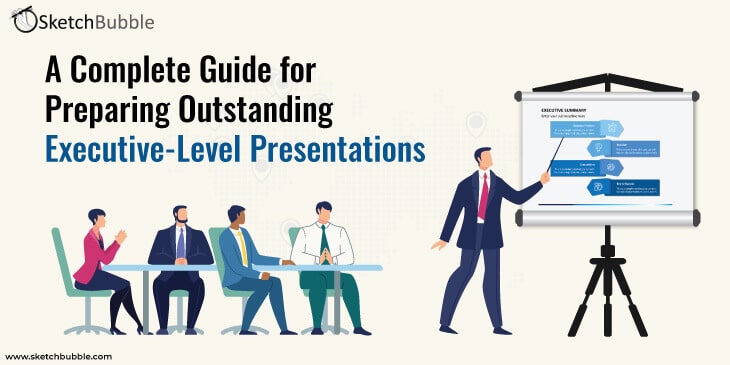 Every challenge comes with an opportunity. Likewise, presenting to C-level executives is not less than a nightmare for many employees, but at the same time, it is the golden opportunity to make a significant difference in your career. Before preparing the executive-level presentation, you must know that senior executives are one of the toughest audiences to convince. They have jam-packed schedules, and their brains remain occupied with a variety of business-related matters. Amidst all these, gaining their attention to what you have to say is a hard row to hoe.
Unlike any other presentation, executive presentations are not at all about persuading and inspiring, rather, it is about presenting the most meaningful and relevant data in a concise manner for quick decision-making. So, as a presenter, you require an entirely different approach to wow the top executives in the first attempt.
Here are a few tips that will set you up for success. Take a look!
1. Know the Audience's Mindset
Executives are analytical and impatient. Their high-stake decisions and actions determine the future of the company. They don't have much time to listen to funny introductions, minute details of the project, or a long story; instead, they want the presenter to get to the point right away. As soon as you start putting forward your ideas/proposals, they begin analyzing data, making calculations in their heads, and connecting disparate dots. So, if you want to grab the attention of the executives, you need to place yourself in their shoes, understand their mindset, and adapt your presentation style for their needs.
2. Commence with Key Takeaways
If you are presenting to C-level leaders, there is a strong reason behind it – it may be your promising solution or expertise in a specific area. They are listening to you because they feel you can provide them with the missing piece of information that will ultimately help them make the right decision. Therefore, to live up to their expectations and start on a strong note, present the summary slides first before covering anything else. This approach will set the right tone for the rest of the presentation.
Executive focus on returns, costs, and trade-offs. So, your first few slides must be around these points. For instance, if you are pitching the executives to raise money, your initial slides must include ROI calculations to provide them a quick glance at what they will get if they invest in your project.
3. Be Careful while Preparing the Content
If you are one of those presenters who prefer creating hype to get to the big reveal or adding fluff to the content just to portray themselves as more intelligent, you are required to work hard and come up with a new approach to presentation. C-suite executives have short attention spans. Keeping this fact in mind, include only the absolutely necessary content in the slides. Consider the following pro tips:
Ensure that your content is to the point, brief, and easy to process.
Skip the storytelling and add only valuable information that helps executives make quick decisions.
Don't include any information that the audience already knows.
Represent your idea right upfront and provide supporting points.
Distill your ideas into a few takeaways.
Keep the number of slides less, follow the 10 20 30 PowerPoint rule.
4. Choose Visuals Consciously
If you really want to craft an outstanding executive presentation, include visuals not to make your slides look cool, but to support your information and make it more meaningful.
Use images, graphics, tables, and charts wherever required to convey your message with less text.
Avoid using fancy graphics or animations as it will only distract the audience and negatively impact your credibility.
Incorporate the best quality and high-definition images and visuals to give a professional look to your slideshows.
To maintain consistency, you can use pre-designed templates and customize them according to your presentation's requirements.
5. Present with Confidence
Presenting to senior executives is undoubtedly nerve-racking; however, you can conquer this fear by understanding that they are a person too. They have passions and interests. Understand that you are assigned the task of presentation because of the knowledge and expertise possessed by you. Believe that you are providing the right solution and put across your message with confidence, energy, and commitment. Moreover, your gestures and body language must also reflect your confidence and give the executives an impression that you are a horse worth betting on.
6. Consider Time Constraints
C-level leaders have loads of responsibilities and priority tasks they could be performing in the 30-60 minutes they have given to you. So, you must respect their valuable time and prepare your presentation in such a way that it includes all crucial points and can be wrapped up in the allotted time. Also, ensure that you have ample time for questions or discussion. In addition, you need to be flexible while delivering the presentation as executives may interrupt you to ask questions. They may also ask you to fast forward through your slides or jump back to a previous slide.
The Bottom Line
If you are assigned a task to present in front of the executives, it is apparent that you are considered a capable and smart employee of the organization. You must seize this opportunity to rise and shine in your dream job. All you need to do is, calm your nerves, turn your jitters into enthusiasm, and present with confidence. Do your preparations well – conduct extensive research, create backup slides with supporting facts and data, and practice your presentation several times.
Have you ever presented to senior executives? If so, share your experience and useful tips with us in the "Comment" section. Don't forget to share the blog post on your social media handle.