Make Your Social Media Presentations Outstanding with these Tips and Templates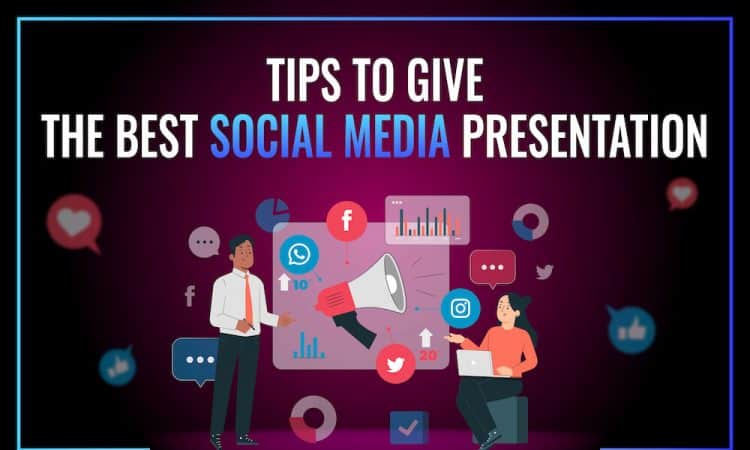 According to research by Global WebIndex, as of April 2023, social media is used by 60% of the world's population, and the daily usage (on average) is 2 hours and 24 minutes (citation: Smart Insights). These statistics reveal how crucial it is for businesses to have a prominent social media presence to reach their existing and potential customers. It also helps you gain insights into customers' preferences, behaviors, and expectations and know their feedback.
Social media presentations are a great tool to showcase the information gathered from social media analytics to your team so they can understand your strategy. You can also create a presentation for your clients to showcase how the campaign is doing.
A thoughtfully designed and precisely delivered social media presentation can shape the future and open up a plethora of opportunities for your business. Therefore, in this article, we have provided you with a complete guide to creating an insightful and engaging presentation.
Let's dive in!
Steps to Create a Stellar Social Media Presentation
1. Do Thorough Research
Behind every stellar and successful presentation is thorough research. For your social media presentation, you can focus your research on the following questions:
a). Who is your audience?
Whether you want to present to your team members and managers (internal stakeholders) or pitch to clients and investors (external stakeholders)?
For example, suppose you are a social media marketer working in an agency and planning to pitch a social media plan to a client; you must have an in-depth understanding of their business, brand, industry, competitors, pain points, and current social strategy.
Knowing your audience is important to create the further roadmap of your presentation.
b). What is your presentation objective?
Every presentation is designed and delivered with an objective or goal in mind. What's your social media presentation objective?
Below are some common objectives-
For internal stakeholders (C-suite executives, senior managers, and team members):
showcasing your competitor's standing
presenting the performance of your ongoing social media campaigns
depicting your upcoming social media plan or strategy
informing the team members about market trends and consumer behaviors
persuading the executive to buy in for a new social tool

For external stakeholders (clients and investors):
showing your work for winning big social media projects
The purpose keeps you guided and focused in the right direction and increases the chances of presentation success.
c). What is the hook?
A hook is an anchor that fastens your audience to your presentation till the last slide, keeping them active and engaged. You can intrigue them with rhetorical questions, shocking statistics, mind-blowing KPIs, growth stats, or engagement metrics.
2. Draft an Outline
Now you have a clear understanding of your audience, goal, and hook; it's time to make the outline of your presentation.
An outline is a synopsis of your talk and a structured arrangement of ideas in a logical manner, which helps you ensure that you have not missed any important points. It also lets you rehearse well and keep you on track while delivering the presentation.
In this step, you:
decide what to include in the presentation
group ideas into main points
organize your points, sub-points, Q&A, and various elements of the speech in the logical flow
highlight 2-3 key takeaways
3. Design and Organize Your Slides
Design and structure your slides on the basis of the presentation outline. Think out-of-the-box ideas to make a great first impression on the audience.
Follow the below-given tips for better outcomes.
a). Keep Your Slides Simple and Succinct
If you want to avoid distraction and keep your audience attentive:
keep your slides focused, simple, and free from unnecessary content.
show one idea per slide.
ensure the slide has enough white space and clean typography to enhance readability and comprehension.
b). Use Colors Purposefully
Using colors for the sake of decorating slides can backfire. So, be mindful while choosing colors. For better brand recognition, follow the color scheme guidelines provided in your brand's or company's style guide.
Understand the psychology, emotions, and perceptions associated with colors so that you can use them aptly to reinforce your message. For example, yellow denotes joy, hope, and danger. Green symbolizes freshness, growth, and nature.
Whatever color scheme you choose, use it consistently throughout your presentation.
c). Include Data Visualization
Your audience will be easily able to connect the dots, understand the patterns and trends, gain valuable insights, and make informed decisions if you present complex and boring data in a visually pleasing manner through charts and graphs.
However, don't visualize every single data point; highlight the important ones only. Use different colors for each crucial data point to make it pop.
d). Share Examples of Your Work
Sharing examples of your work is necessary if you are pitching to a client. You can include statistics or screenshots of successful posts to give your potential clients a glimpse of how your tactics have worked for previous clients.
This way, you can portray yourself as the right fit for the potential clients' projects, making them believe in your skills, capabilities, and expertise.
e). Define a Call to Action
Don't conclude your presentation without letting your audience know what they need to do after the presentation.
Use a strong and persuasive action word to compel the audience to act on it. Your CTA must be short, clear, relevant, and contextual.
Suppose you want your potential client to visit your website to explore your social media services; you can use any of the following CTAs (providing your website link).
Learn more on our website!
Ready for a deeper dive? Head to our website for more information!
Visit our website to explore our offerings!
4. Plan Your Delivery
Presentation delivery is not just about sharing information; it is about building trust, inspiring confidence, and showcasing the value of your work. If delivered with the right pace, tone, and approach, a well-designed presentation can bring lots of opportunities for your business.
Here are a few tips to make your presentation delivery more effective-
a). Use Your Tone and Pitch to Elicit Emotional Responses
The tone and pitch depend on the goal (inform, persuade, inspire, or engage) of your presentation. A lower pitch indicates authority, seriousness, or calmness. On the other hand, a higher pitch reflects fear, surprise, enthusiasm, or excitement.
So, first, identify the goal and then choose your words and pitch accordingly.
For instance, if you want to inform your audience, use descriptive words to create vivid images and keep your pitch low.
If you have grown the social audience of your client by 60% and want to convey the same, say it this way with excitement in your voice-
"60% growth in the last quarter, that's incredible!"
b). Pay Heed to Your Body Language
Your body language utters a lot about your feelings to the audience and can make or break your presentation.
You can follow these tips to look confident and professional-
Maintain proper eye contact; don't stare.
Maintain a communicative and open posture.
Hold yourself upright to look more authoritative and convincing.
Use hand gestures to support your message.
c). Focus on Your Movements
Hiding behind the podium or standing in one place throughout your talk may diminish the overall effect. If you want to make a difference, use the stage effectively and purposefully.
If you are presenting to a large audience on a big stage, move around at a normal pace. While transitioning your movements, take a pause to make eye contact with the audience. Your movements must not look choreographed.
If you are presenting to a small audience, limit your movements.
d). Engage Your Audience
The attention span of the audience is low. So, if you want them to participate actively, add interactive elements to your presentation. You can add polls, audio or visual elements, and quizzes to break the monotony.
You can also ask the audience to raise questions or invite them on the stage to share their thoughts/feedback. It will give you a clear picture of whether your audience is understanding what you are saying or not. You can change your delivery approach if the audience is not getting your point.
You can use props, as Bill Gates used in his Mosquitoes, Malaria, and Education presentation, to draw the audience's attention. Remember, the prop must be relevant to your topic and must complement your core message.
e). Tell a Story or Use Analogies 
Unleash the power of stories and analogies to tap into the prior feelings, experiences, and knowledge of the audience and connect with their values and emotions. It prompts them to listen to you attentively, understand your message effortlessly, and remember it for longer.
Misleading analogies and inappropriate stories can weaken the impact of your presentation and undermine your credibility. Therefore, to avoid confusion and distraction, use analogies and narrate stories that resonate with the audience's backgrounds, needs, and interests.
5. Rehearse Till You Ace It
A perfect and flawless presentation delivery can't be mastered overnight; it takes consistent effort. Rehearse until you can do it effortlessly, without vocal disfluencies.
Practice under mild stress to prevent yourself from choking when you present on the real stage amidst high levels of stress.
Record your rehearsal and go through the recording to figure out your distracting habits or weaknesses where you have to do some extra work.
Practice in front of your family members or friends and ask them for feedback. Take their feedback sincerely and incorporate them in your next rehearsal.
Slides that Must be Included
If you are pitching a client to win a social media marketing project for your company, you must incorporate the following slides-
Has it happened to you ever that you purchased a book just by seeing its cover and title?
The title slide works as the cover of your presentation, telling the audience what the slideshow is about. It is the first slide that sets the tone for the rest of your presentation. It gives a clue to the audience whether your presentation is worth their time or not.
A visually appealing slide with a background relevant to the topic and an attention-grabbing title and subtitle can hook the audience from the very first moment. Contrary to this, a slide with irrelevant background, dull colors, and a lengthy title and subtitle can distract the audience, taking the edge off a well-prepared presentation.
Tips to make impactful title slide:
Keep the title clear and concise.
The title must be compelling and must represent the purpose of your presentation.
Use high-definition graphics or images aligned with the main theme.
Choose a relevant color scheme that accentuates the theme and enhances readability.
Include your company's logo and branding elements to increase credibility.
Use the right and consistent typography for the title and other text.
Arrange the title, subtitle, graphics or images, and other information in an aesthetically pleasing manner, giving a balanced look to the slide.
Leave enough white space to avoid clutter.
The agenda slide gives the audience an overview of the points/topics you will be covering in the next 40-60 minutes. This slide also provides a clue to them about the value they will walk away with at the end and gives them a reason to stay with you for the rest of the presentation. 
Tips to make an impressive agenda slide-
Use simple and specific language.
Don't be too verbose.
Avoid acronyms and jargon.
Use numbers or bullet points, headings, and subheadings to structure your agenda.
By incorporating this slide, you can provide your clients insights about the specific customer group you want to target through your social media campaign. You can highlight their age, gender, marital status, nation, annual income, etc. Depending on the objective of your campaign, you can customize the text to include information about the customers' pain points, interests, buying behavior, etc.
With this slide, you can showcase the performance of the competitor's social media campaigns on various platforms, such as LinkedIn, Facebook, Instagram, etc. You can depict details about their total followers/subscribers, number of page posts, post types, engagement rates, total interactions (likes, reactions, replies, etc.), post days, etc.
It will give an idea to clients where they stand against their competitors. They can also set the right benchmarks for assessing the social media presence of their company.
You can showcase the competitive positioning of the client's company through this slide.
Strength – The goals that you are meeting or exceeding, things you are doing right
Weakness – Areas that need improvement
Opportunity – Factors that indicate that you have chances to excel
Threat – Factors that could impact your social media campaign
The competitive landscape and SWOT analysis will help your audience understand the objective of your campaign.
This slide will help you present the goals you want to achieve through the social media campaign. These goals must be aligned with the client's objectives. 
This slide allows you to depict a detailed plan to launch your campaign. You can present the following information-
social media platforms on which you will roll out the campaign
KPIs and metrics
Key deliverables
Type of content
Resources required
This slide indicates the Q&A session. You can display this slide on the projector and ask the audience to raise their questions. 
This slide also gives a clue to the audience that you are about to wrap up your presentation.
This slide allows you to display the summary of your key points before concluding the presentation. 
With this slide, you can show your gratitude to your audience for the valuable time they took to attend your presentation.
Closing Thoughts
Social media presentations are highly relevant in today's digital era. Businesses must stay innovative and agile in creating social media presentations that align with the evolving landscape of marketing, communication, and engagement.
A consistent and engaging presentation fosters a sense of transparency and trust with the audience, so you must pay heed to each and every aspect while crafting it. Incorporate the above-mentioned tips to make your social media presentations truly stand out.