MS PowerPoint Vs Google Slides: Which Platform is Better for Business Presentations?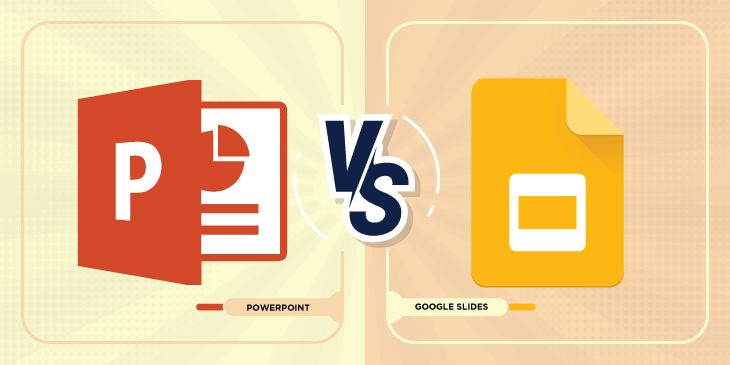 Amid the upheaval caused by Covid-19, work from home became an overnight requirement for most of the organizations. In a matter of a few months, face-to-face meetings and business processes turned digital. With a huge shift and transformation in business communication, virtual presentations have become the new normal. Virtual presentations have posed a big challenge in front of the presenters – which platform to select for delivering the presentation in an engaging way?
With so many presentation software available off the shelf, the two most popular ones are Microsoft PowerPoint and Google Slides. However, choosing one out of these two is not less than a herculean task. Most of you go back and forth trying hard to figure out which one is the best pick. In one minute you think you have made up your mind between them only to question yourself in the next minute. Does this story sound similar to yours?
To lessen your burden and help you take an informed decision, we have come up with this blog post that presents the in-depth comparison of MS PowerPoint and Google Slides. So, keep calm, and give it a read!
MS PowerPoint and Google Slides: A Quick Glance
MS PowerPoint, a software that has been ruling the market since its launch in 1987 and has entirely changed the world of presenting, is believed to be a brainchild of Bill Gates. But only few people know that PowerPoint was actually developed by Robert Gaskins and was released by a software company named Forethought, Inc. Sensing its potential, Microsoft purchased the PowerPoint for $14 million just three months after its launch. Microsoft took it to new heights by making several upgrades. Today, this platform offers several pre-designed templates and animations to users for giving a sleek and professional look to their presentations. Owing to its popularity, PowerPoint seems to stay here for longer.
Google Slides was developed and released by Google LLC in 2006 within its Google Drive Service. Google Slides is available as a desktop application on Google's Chrome Operating System, mobile app for iOS, Android, Windows, BlackBerry, and as a web application. Though Google Slides is a new entrant in the presentation world, it is giving a stiff competition to MS PowerPoint with its impressive features.
MS PowerPoint Vs Google Slides: Which one to pick?
We have compared both the platforms on various parameters. Take a look!
1. Pricing
For business entities, Google Slides comes as a part of the G Suite package. It is absolutely free for individuals.
PowerPoint comes along with the MS Office package; thus, you must have a license for Microsoft Office to use it. The price depends on whether you take a one-time subscription or annual subscription.
2. Availability of Templates
A handful templates (27 to be precise) are available with Google Slides. As most templates are casual, only a few fits your business needs.
Microsoft PowerPoint offers you plenty of creative and customizable templates to bring your ideas to life. You can choose the one that goes well with your presentation theme.
However, if you don't find relevant templates in the PowerPoint or Google Slides, you can count on SketchBubble, one of the leading presentation templates providers having more than 150,000 pre-designed and entirely customizable slides in its store.
3. Online and Offline Access
Google Slides is a cloud-based software that supports an online mode. However, you can also access it offline by turning on this option.
PowerPoint can also be accessed online through an online web-based app or Office 365. Offline access is also supported by this presentation platform.
4. Collaboration
Google Slides provides you seamless collaboration. You can easily make edits and do comments in the presentation and the rest of the team can view the changes in the real-time.
PowerPoint doesn't provide you the facility to collaborate. However, collaboration is possible if you have PowerPoint 2010 or later. You need to save your template on OneDrive and share it with your team. You can also collaborate with your team using PowerPoint Online.
5. Special Effects
Google Slides offers limited transitions and animations effects. So, with this presentation software, you have restricted scope to make your slideshows more creative.
In comparison to Google Slides, PowerPoint offers many more special effects (such as fancy transitions, 3D, reflections) in its desktop-based version.
6. Fonts
All Google Fonts are supported by Google Slides, and they appear aptly when you present. So, with this platform, you need not install a variety of fonts.
Locally installed fonts are used by PowerPoint. If you wish to install fancy fonts for your presentation, then you have to be very considerate about the screen on which you are presenting as all computers don't support all the fonts.
7. Storage and Backups
Google Slides save all presentations automatically on Google Drive, so you are not required to hit "Save" each time you make changes. Furthermore, this platform provides you the option of reviewing the history and restoring any of the versions, if needed.
In case of PowerPoint, you need to have the latest versions of PowerPoint or the subscription of Office 365 for saving your presentations automatically. If you turn on the AutoSave option, your presentation will get saved on OneDrive every few seconds. The AutoRecover option will let you recover your presentation in case of unanticipated crashes.
8. Export/Conversion
Google Slides are easily convertible into different file formats (.odp, .pptx, .pdf, .txt, .svg, .jpg, png).
PowerPoint supports several export formats, such as:
For PowerPoint presentation formats – .ppt, .pptx, .odp, .potx, .pdf, .ppsx, .pot, .pps, .potm, .ppsm, .pptm
For an image file format – .jpeg, .tiff, .png, .gif, or .bmp
9. Linking
Google Slides allows you to link text and images to other slides or URLs in the presentation. You can insert and link other Google files to the source. And if the source file gets updated, it will get synced with the inserted file.
PowerPoint allows you to link some parts of your presentation so that you can quickly go to the web, different presentations, etc.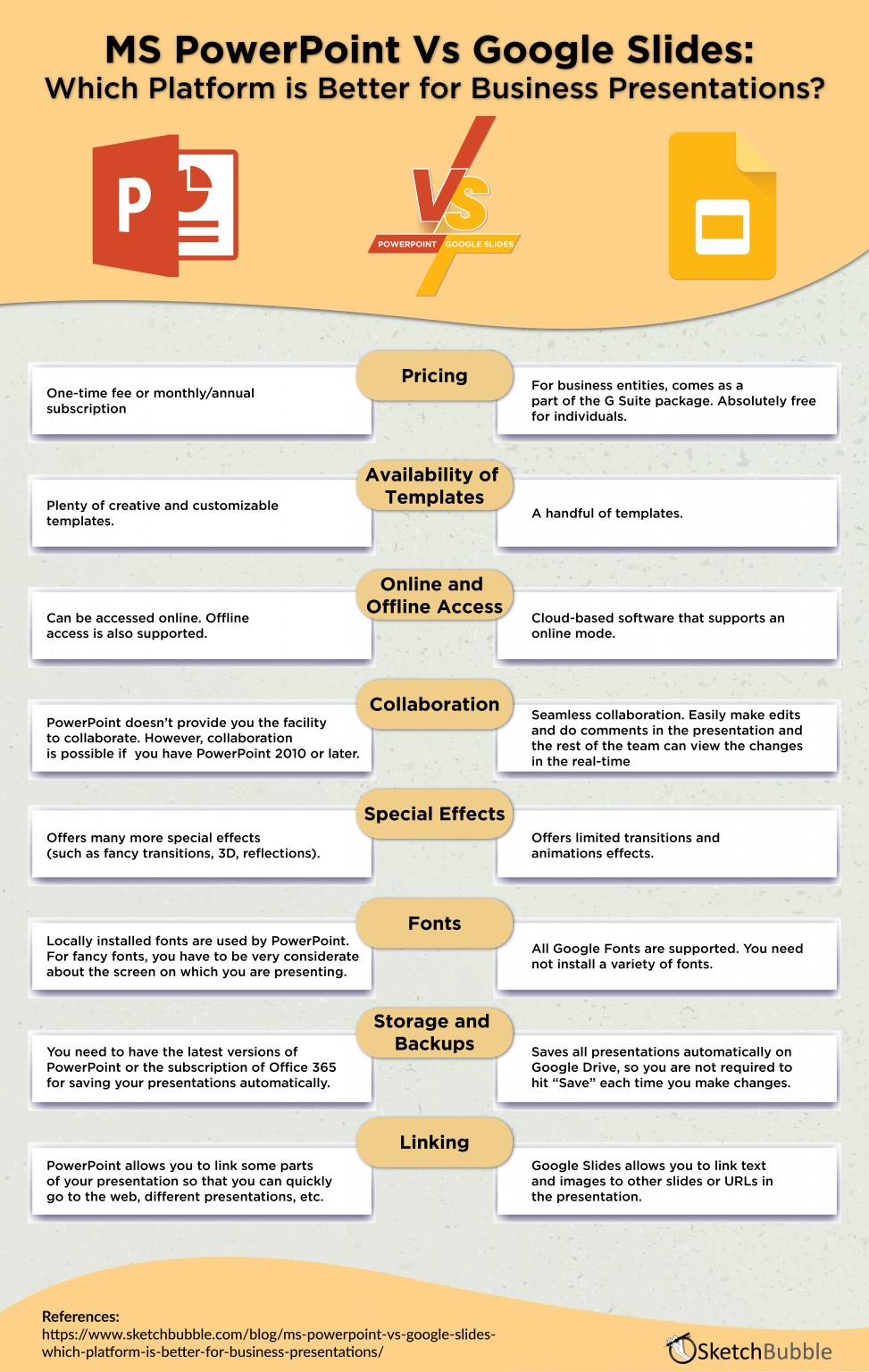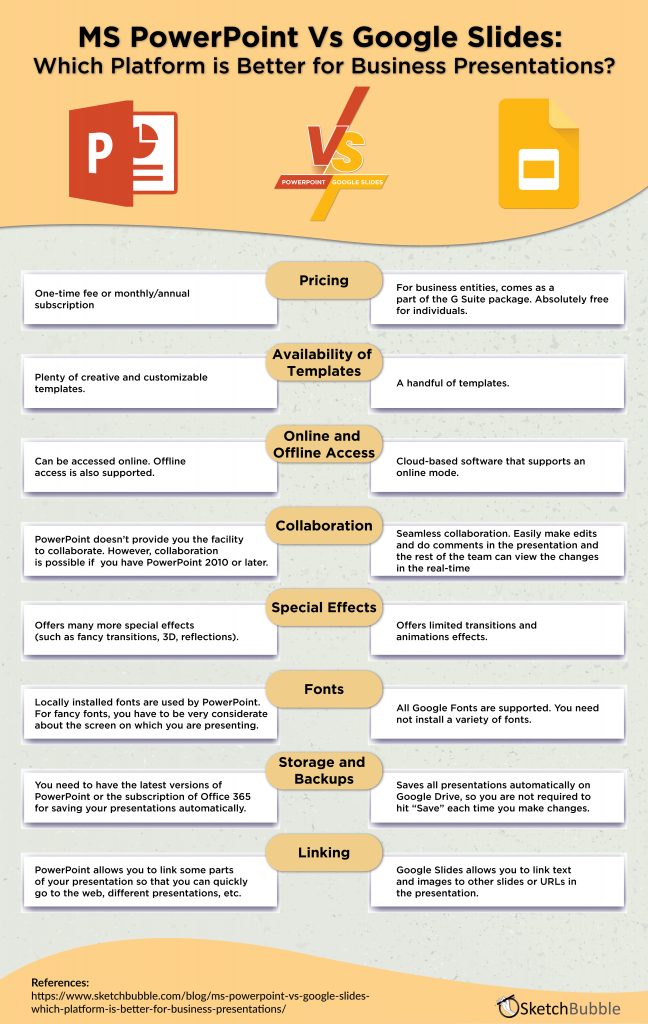 The Bottom Line
Both Google Slides and PowerPoint have their own unique features and advantages. Google Slides is multi-functional, user-friendly, and provides easy collaboration. PowerPoint, on the other hand, has much more advanced features, but it comes with limited co-working. So, which platform to choose completely depends on the demands and priorities of your presentation.
Do you have any other differences in your mind that we have missed to include in this blog post? Do share your suggestions and thoughts in the "Comment" section below. And, if you like this blog, do share it on your social media handles.