5 Expert Tips to Ace Your First Marketing Presentation with Flying Colors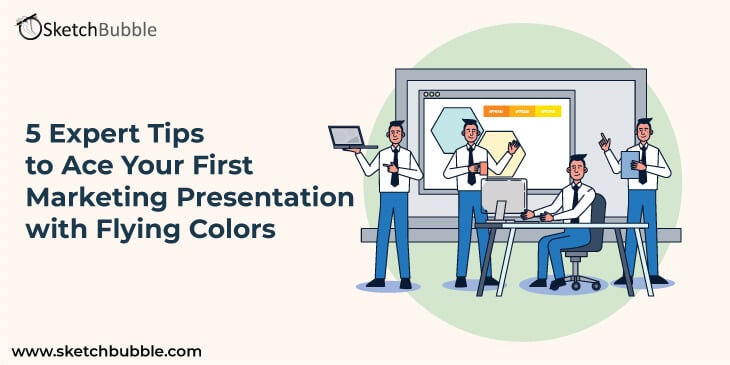 There was a time when direct marketing was one of the most preferred strategies for organizations to sell their offerings. Marketers used to knock door-to-door to distribute flyers, pamphlets, and brochures and make people aware of their products/services. In today's digital era, technological advancements have considerably reduced face-to-face interaction, giving virtual marketing conferences and networking events great momentum. Further, the advent of presentation software, such as Google Slides, PowerPoint, Keynote, etc., has made it easy for marketing professionals to engage with potential customers, convey ideas and messages impressively, and create sales interest without meeting them in person. However, it has also made it mandatory for marketers to learn presentation skills to make their brands more memorable, relatable, and recognizable.
Speaking at marketing events, networking meetups, conferences, and webinars puts a human face on your brand. That's why; when we hear the words Microsoft and Apple, we instantly tend to think of Bill Gates and Steve Jobs. To sum things up, excellent presentation skill is the need of the hour, and every marketer must master this skill to create brand awareness, build people's trust in the brand, and drive sales.
If you are new to the presentation world and unsure about how to deliver your first marketing presentation effectively, you have landed at the right place! In this blog post, we have rounded up some expert tips to help you out. Give it a read!
1. Customize Your Presentation for the Intended Audience
All the greatest speakers of the world have one thing in common – their capability to keep the audience intrigued till the last slide of the presentation. Now you might be wondering how they manage to do it so effortlessly. And the secret is – they speak for the audience, not for themselves!
You can tailor and customize your presentation according to your audience's interest by researching them beforehand. Know about their background, demographics, business, needs, expectations, pain points, and pressing issues. The more you know your audience, the better you can prepare your marketing presentation. Moreover, audience analysis will help you uncover information that you can use to build common ground and connectivity between you and the audience members.
2. Take Your Audience on an Emotional Rollercoaster Ride
Most people consider marketing presentations boring and monotonous. You can change their perception by crafting a gripping presentation that appeals to their emotions and let them connect with you at the personal level. In a nutshell, you can convert the mind-numbing presentation to mind-blowing by incorporating 'hooks' in your slides, such as an unexpected piece of information, inspirational quote, or interesting statistics. Further, prepare your slideshows in such a way that it makes your audience think, act, laugh, and learn.
Here are a few tips to tap into the audience's emotion through your slides:
Add a personal touch by narrating a story.
Paint a picture of the pain points that your audience is experiencing.
Provide a solution and specific benefits that your solution offers.
Incorporate humor and anecdotes that better resonate with the audience and are appropriate for the context.
Include a clear call-to-action (CTA).
Pro Tip – Refrain from overdosing your presentation with emotions. Strike the right analytical and emotional balance.
3. Use the Right Templates with High-Quality Image
Use professionally designed PowerPoint templates enriched with high-definition images, infographics, charts, graphs, etc., to craft your marketing presentations. Visuals help you add tangibility to complex and abstract information and portray a huge chunk of data in a meaningful manner. Moreover, you can increase the recall-value of the text, data, and facts and make them etched in the audience's mind by incorporating the relevant images.
Some quick tips for choosing the right images for your presentations –
Avoid using pixelated and copyrighted images.
If you are using copyright images, make sure to give credit to the image source.
Pay heed to the size and quality of the images; they must be clearly visible to everyone no matter how huge the conference/meeting room is.
Don't use images and other visuals just for the sake of beautifying the slides; use them to reinforce the core message of your presentation.
Instead of picking the images randomly, choose those that best fit the context.
4. Back-Up Bold Statements with Relevant Marketing Data
The marketing world is ever-changing and dynamic – technologies and trends keep evolving. People prefer to buy products from companies that keep up with the latest trends. By supporting your information with the relevant research data, you can make the target audience believe that you better understand their problems and provide them with future-proof solutions.
For instance, you are an IT professional providing Salesforce services. If, in your presentation (which is intended to pitch a client), you are claiming that Salesforce is #1 CRM, you can support your claim by including the following tweet by Marc Benioff, chairman and CEO of Salesforce.
You can also incorporate this graphical data to reinforce your point.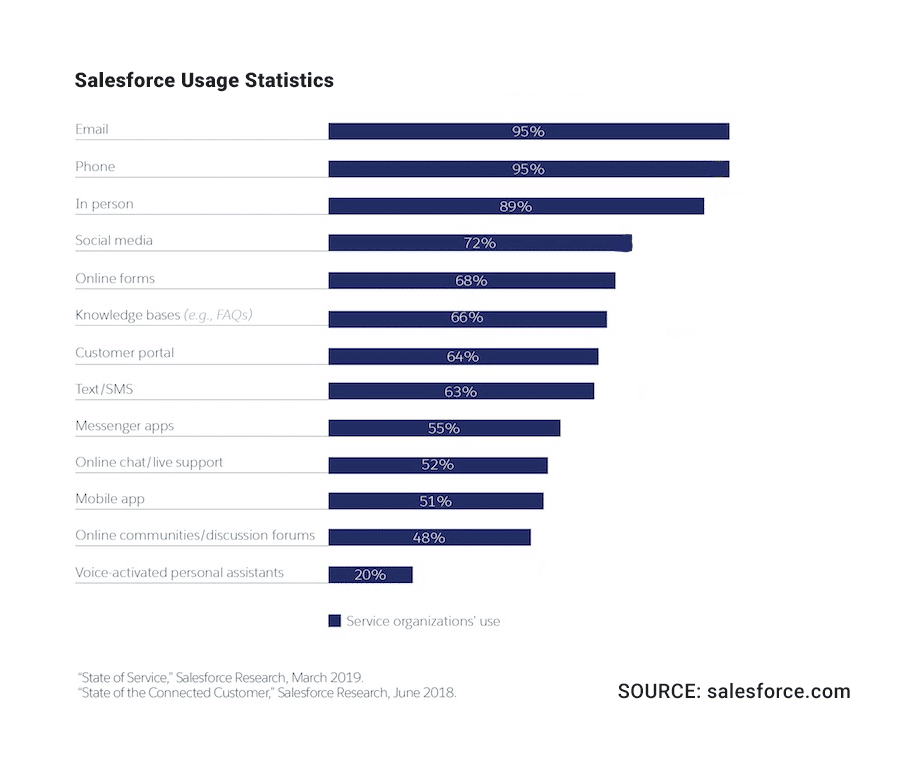 Further, you can move one step forward towards closing sales by including a visually appealing case study. A case study illustrates an in-depth and detailed analysis of a particular project, such as the challenges that your customers/clients faced, how you resolved them, and how your solution benefitted their businesses.
5. Practice to Boost Your Confidence
Have you ever wondered how some speakers convince the audience without a hitch and keep them intrigued and captivated throughout the slideshow? Well, they are not born with out-of-the-box presentation skill; instead, they acquired it with constant practice and learning from their mistakes.
So, rehearse beforehand as much as you can. You can ask your friends or colleagues to record your practice session so that you can watch the recording later and point out the areas of improvement. Work on your flaws and practice again. Keep rehearsing until you gain confidence to stand in front of a mass audience and deliver your speech effectively. Practice will also help you learn time management and improve your body language.
Conclusion
Many marketers give little significance or completely overlook the power of presentations in taking their marketing initiatives to the next level. The outcome is – missed opportunities and lost sales. If you are also committing the same mistake, it's high time to wake up!
Well-structured and professionally designed marketing presentations can do wonders when proposing a new marketing campaign, pitching ideas to management/clients, and launching a new product. Moreover, a presentation equipped with a strong message, high-quality visuals, and professional taglines boosts your marketing efforts and elevates your positioning in the competitive market.
Hope you find this blog post insightful and helpful. If you want to add more to the above-provided information, we would like to hear from you. Do write your thoughts in the "Comment" section. And if you like the blog post, do share it on your social media handles.